A Journey Into Hip-Hop's Favorite Clothing Lines
Vice magazine published an article celebrating Wu Wear's decade and a half of success. In honor of the Wu Tang Clan's ability to stand strong in the face of fashion downfalls for 15 years, The Boombox gives credit to several other hip-hop-inspired clothing lines from days past. Some are still around, and others weren't originally made for the genre yet became staples in music videos and on album covers nonetheless. Check out these 10 throwback threads.
Theo Wargo, WireImage
Ralph Lauren's Polo line has been a staple in hip-hop forever. If Kangols were the official hat of the '80s, then Polos were the official shirt of the '90s. To date, crews like the Lo Lifes still scour vintage bins for Polo gear. Rappers like Thirstin Howl III (aka Big Vic-Lo) still lead the charge for Polo preservation with the Lo Lifes. To make an entire crew out of a designer clothing line speaks volumes about its impact on hip-hop culture.
Kevin Mazur, WireImage
Known for its wild colors and all-inclusive motto, "Clothes Without Prejudice," Cross Colours set a movement in the early '90s with jeans in a variety of hues, from red to green to purple. Started by Carl Jones in 1989, The Cross Colours logo became a trademark immediately recognizable within hip-hop. However, it was the color patterns that really turned Cross Colours into an identifiable trend. While Cross Colours is still an active brand, it has shifted from hip-hop to mainstream fashion.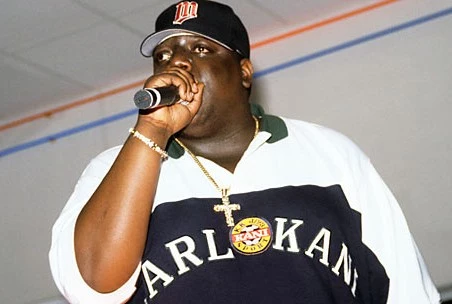 Gregory Jackson, Retna
Karl Kani was launched in 1989 by a man named Carl Williams, aka Karl Kani. The line started the movement of metal plates on jeans, which showcased the following message: "Inspired by the vitality of the streets of Brooklyn, New York. Karl Kani, the young African-American designer of Karl Kani Jeans, encourages you to follow your dreams and accomplish your goals. Wear the clothing that represents the knowledge of African-American creativity and determination. Recognize the signature that symbolizes African American unit and pride. Peace, Karl Kani."
Ron Galella, WireImage
Originally, when it was created in 1992, FUBU stood for "Five Urban Brothers United." However, the tag line "For Us, By Us" eventually took over as the meaning of the acronym. FUBU was widely popularized by
LL Cool J
, who helped launch the line. In 2005, the rapper sued the company for inadequately compensating him. The line went defunct for a while, only to announce this year it would resurrect as FB Legacy with testimonials from rappers. LL will not be one of them.
Chi Modu, Getty Images
"S" marks the spot. Starter, around for decades as an athletic clothing company, gained traction within hip-hop in the early '90s through team jackets and baseball caps. The caps became a huge phenomenon, especially around the time of DJ Jazzy Jeff & the Fresh Prince during the 'Fresh Prince of Bel Air' era. Jeff even became a spokesperson for the company with his classic
commercial/tutorial
on how to properly rock a Starter hat.
Dr. Jays.com
Another line started in 1989, Triple Five Soul, or 555 Soul, made a gigantic impact during the latter half of the '90s at a time when underground hip-hop and independent labels like Rawkus Records were heavily involved in the preservation of "real" hip-hop. Triple Five Soul became hugely popular during this time, supporting said artists in their campaigns, website and in-store soundtracks.
Mos Def
was one of the most famous spokespeople for Triple Five Soul.
Michael Benabib, Retna
Like Timberland, Carhartt was a heavy-duty workman's clothing line before hip-hop, in primarily the West Coast, jumped on it during the late '80s and '90s. While the Cali climate didn't necessarily accommodate the tough threads of the brand, that didn't stop rappers like
Dr. Dre
from sporting their jackets and vests heavily. Check out the 'F--- Wit Dre Day'
video
, where both he and Snoop are decked out in the fashions.
Patrick Semansky, AP
Triple Fat Goose has been around since 1987, with the Snorkel being the most popular item in its brand for hip-hop. In
Nas
' track 'Doo Rag' he reminisces about Triple Fat Goose in the hook "The doo rags are back, fitted hats, Snorkels, and furs. And back they are, as Triple Fat Goose has redesigned itself and is once again a winter staple for hip-hop heads, only second to The North Face. Even
Eminem
name-checked the brand on last year's song 'Underground.'
AACA (African American College Alliance)
David Corio, Redferns
The African American College Alliance clothing line was a big deal during the late '80s and '90s when shows like 'A Different World' and groups like
De La Soul
and
A Tribe Called Quest
permeated the airwaves. The line is marked by its signature logo on hoodies and shirts from universities like Temple and Grambling, along with Malcolm X College. On the AACA site, the company aligns itself with coming into fruition in "the year hip-hop catapulted into its greatest era."
Ethan Miller, Getty Images
In 1986, PNB Nation first released their line of shirts with a giant "Hello My Name Is" sticker image on the front. PNB Nation came as an amalgam of New York City streetwear and the graffiti scene. When the popularity of PNB began to taper off,
Nick Cannon
took the reins in 2007 to change the direction of the line. Though it's revamping itself to become more upscale, PNB will forever be recognized as a brand that was born from graffiti, one of the ultimate nods to hip-hop.
document.write(unescape("%3Cscript src="http://o.aolcdn.com/os/aol/jquery-1.4.2.min.js" type="text/javascript" %3E%3C/script%3E"));
document.write(unescape("%3Cscript src="http://o.aolcdn.com/os/aol/jquery.event.special.sonar.min.js" type="text/javascript" %3E%3C/script%3E"));
try { console.info("jquery-1.4.2.min.js and jquery.event.special.sonar.min.js dynamically included") } catch (e) {};
$("img[lazyload]").bind("onscreen", function(evt) { if ($(this).attr("src")=="") $(this).attr("src", $(this).attr("lazyload")); });