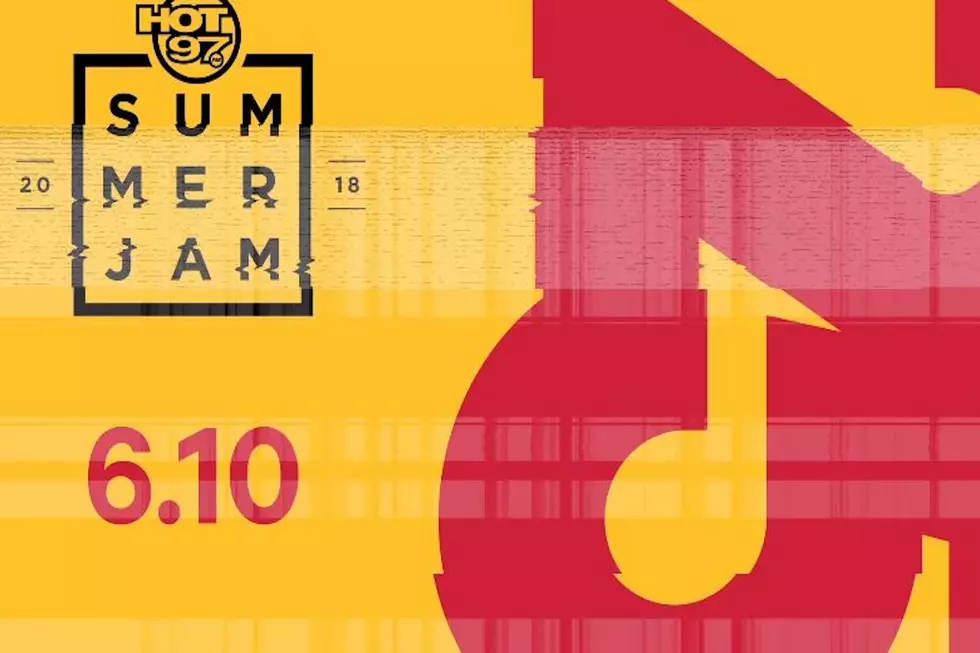 The 25 Greatest Moments from Hot 97's Summer Jam
via Hot 97's website.
Any conversation regarding the cultural institutions of hip-hop is not complete without mentioning WQHT (97.1 FM) —better known as Hot 97. Hot 97, New York's preeminent radio station and the place "Where Hip-Hop Lives" initially catered to fans of pop, house, freestyle, and dance. In 1993, Hot 97 began to shift its focus to rap and  R&B, enlisting new talent like Funkmaster Flex, Angie Martinez, and Wendy Williams to lead the charge in bringing the station back to prominence.
By 1994, Hot 97 had taken over the New York City airwaves, with all five boroughs tuning in to hear new tracks from their favorite artists on a daily basis. With Hot 97 becoming a force to be reckoned with in hip-hop, Steve Smith, the station's program director at the time, decided to take a page out of San Franciso's KMEL's playbook and put together a concert hosted by the station called Summer Jam.
The first Summer Jam took place at Meadowlands Arena in East Rutherford, N.J., on June 21, 1994. Coinciding with New York's booming rap renaissance at the time, the concert's lineup reflected the times, with acts like Nas, Wu-Tang Clan, Gang Starr, Black Moon and A Tribe Called Quest all gracing the stage and participating in the festivities.
Since the inaugural concert, Summer Jam has become one of the most anticipated yearly events in hip-hop, with fans all over the world tuning in via live stream or traveling to New Jersey to experience the show up close and personal.
Given the high-profile status as a home away from home for many rap stars, Summer Jam has been the setting for some of the most historic and controversial moments in hip-hop history. In celebration of its 25th Anniversary, The Boombox looks back on the 25 Greatest Moments from Hot 97's Summer Jam.
25

Summer Jam has been the catalyst for reunions between artists for quite some time, but one of the concert's recent feel-good stories involved 50 Cent taking the stage with G-Unit in a show of solidarity between himself, Young Buck, Lloyd Banks and Tony Yayo. Running through a medley of their hottest singles and mixtape material, G-Unit made fans in attendance feel like it was 2003 all over again.

24

Slowbucks Gets His Chain Snatched

Summer Jam is known for being an arena for random occurrences of thuggery, which rap fans were reminded of in 2014 when Slowbucks —a former G-Unit affiliate— was the victim of a chain snatching while onstage during 50 Cent's performance. The snatching allegedly stemmed from a heated feud the Slow had with Fif on social media involving the rapper's son, Marquise. Although an investigation was launched, no charges were brought against 50 Cent, making it another win for rap's Teflon Don.

23

Nicki Minaj Skips Summer Jam

Hot 97 has had its fair share of differences with artists over the years, but one of the tensest situations in Summer Jam history was when Nicki Minaj took umbrage to radio personality Peter Rosenberg's thoughts on her 2012 single "Starships." Minaj, at the behest of Lil Wayne, would cancel her performance slated for that night, as would fellow Young Money affiliate, DJ Khaled. With the headliner gone, Rick Ross and MMG stepped up to close the show in Nicki's place.

22

Big Pun Beats Up Security

Big Pun was only able to attend one Summer Jam as a performer during his brief career, but the Bronx native made his presence felt on and off the stage. Rumor has it that Pun got into a fight with security before taking the stage in 1998. "I heard something crazy happened before he went on stage with security, like security didn't want to let Pun on," Fat Joe recalled of the altercation during an interview. "I think he beat n***as up. He beat up the security, then went on there and killed that shit—that sounds like a Terror Squad extravaganza."

21

The Game Brings His G-UNOT Campaign To Summer Jam

Following  50 Cent and The Game's feud that resulted in the Compton rapper being ousted from G-Unit, The Game went on a campaign against 50 Cent, and G-Unit during his Summer Jam set in 2005. Using a chunk of his set to disparage Fif and company in their hometown, The Game threw his G-Unit chain into the crowd and served a beatdown to two men in gorilla and rat costumes on stage along with his cronies. The Game had blood in his eye throughout his inaugural Summer Jam performance, which came at the height of his beef with his former crew.

20

Eminem Headlines Summer Jam

Eminem may have seemed to be an odd choice to headline Summer Jam in 2003, but Slim Shady muted all concerns about his connection to the notoriously harsh crowd, as he ripped the stage to shreds, leaving the audience in awe. From smashing his Source Award, to running through his catalog of hits, Eminem put on a show to remember in one of the iconic sets the Summer Jam audience has ever witnessed.

19

Kanye West And Swizz Beatz Battle It Out (2007)

Nearly a decade before competing with Just Blaze in an epic beat battle, Swizz Beatz tested his mettle against Kanye West during Summer Jam, of all places, in 2007. The two legendary producers blessed the crowd with a back-and-forth of their hottest hits. While no victor would be declared in the battle, the moment itself was hip-hop at its finest, speaking to the raw creative energy that surrounds artists that participate in the Summer Jam.

18

Destiny's Child Gets Booed

It's hard to imagine Beyoncé being booed under any circumstances, but that's exactly what happened during Destiny's Child's appearance at Summer Jam in 2001. Receiving backlash for wearing L.A. Lakers attire in Philadelphia during the NBA Finals, the vitriol carried over into NYC, with the crowd booing at the sheer mention of Destiny's Child being in the building. However, Beyoncé and company would take the stage and power through their performance, in what is the trio's sole appearance at Summer Jam, thus far.

17

Trey Songz Makes Out With A Fan Onstage (2010)

In 2010, Trey Songz turned the heat all the way up with his performance at Summer Jam, during which he brought a fan onstage and proceeded to make out with her for the whole building to see. "Mr. Steal Your Girl" isn't just a nickname, it's a lifestyle for Trigga.

16

JAY-Z Disses 50 Cent (2000)

50 Cent's initial claim to fame was "How to Rob," a single on which the rapper dissed a who's who of the industry, including JAY-Z, whom Fif crossed paths with at Hot 97's Summer Jam concert in 1999. Hov —who famously gave 50 Cent fair warning about what was about to go down —took the stage and dropped the infamous line "I'm about a dollar, what the f**k is 50 Cent," a shot that would give him the last word in the back and forth and further add to his Summer Jam resume.

15

Nicki Minaj Brings Out Young Money

After skipping out on her performance in 2012 due to beef with Hot 97 personality Peter Rosenberg, Nicki Minaj returned to the Summer Jam lineup in 2014 as the headliner, becoming the first woman in the concert's history to receive that honor. Taking full advantage of the spotlight, the Jamaica, Queens native put on for her hometown with an electric performance, which included appearances from Soulja Boy, Young Thug, Drake and Lil Wayne.

14

Remy Ma Puts Nicki Minaj On The Summer Jam Screen

One of the more recent moments in Summer Jam history that will forever be talked about is Remy Ma's visual and verbal assault on Nicki Minaj at during the 2017 concert. After bringing out Young M.A, Cardi B, Lil Kim, Rah Digga, Monie Love, and Lady of Rage, the Bronx rapper took a step back and gave Queen Latifah center stage to perform her classic "U.N.I.T.Y." Following the moment that united women in rap, Remy performed her epic diss track "Shether" in front of the Summer Jam screen that posted unflattering pictures of Nicki Minaj.

13

Shabba Ranks Brings Reggae To Summer Jam

Shabba Ranks inserted himself into Summer Jam history in 1995 with a performance that further marked rap's relationship with reggae. While you'll be hard-pressed to find footage of his set, Shabba being the first reggae artist to appear on the Summer Jam bill is enough reason to consider it an iconic moment.

12

Foxy Brown Disses Lil Kim At Summer Jam

The bitter rivalry between Foxy Brown and Lil Kim took a violent turn in February 2001, when the entourage of Fox Boogie's affiliates Capone-N-Noreaga and members of Junior M.A.F.I.A. got into a shootout while crossing paths outside the Hot 97 station. A year later, during N.O.R.E.'s Summer Jam set, he would be joined by Foxy and partner-in-rhyme Capone for a performance of "Bang Bang," the record that led to the bad blood between the parties in what would be a bold move given the circumstances surrounding the song.

11

Lauryn Hill's Surprise Performance

In 2012, Lauryn Hill graced the Summer Jam stage for the first time since headlining the concert as a member of the Fugees in '96. Brought out as a special guest during Nas' set, the two legends performed their classic collaboration "If I Ruled The World (Imagine That)," with L-Boogie also hyping up the crowd with "Lost One" in one of the most exciting cameos in Summer Jam history.

10

Nas Returns To Summer Jam (2012)

After sparking a bitter feud with the station "Where Hip-Hop Lives," Nas and Hot 97 eventually patched things up, opening the door for Esco to return to the Summer Jam stage in 2012. The performance, which came weeks before the release of his eleventh studio album, Life Is Good, included Nas running through classics as well as new material, even bringing out an unexpected guest to add to the magic in the air.

9

T-Pain Crashes JAY-Z Performance (2009)

When you're the King of Summer Jam, you're afforded certain privileges, which JAY-Z took advantage of when he decided to make a surprise guest appearance at the 2009 concert. However, Hov's performance of his single "D.O.A. (Death of Autotune)" was a bit awkward with T-Pain— who was also slated to perform— in attendance. But when T-Pain decided to crash the stage in the middle of JAY-Z's set and rock out with him, it turned what could've been a contentious moment into a Summer Jam highlight.

8

Kanye West Performs With A Choir

At his first ever Summer Jam, Kanye West pulled out all of the stops, going as far as performing hits like "All Falls Down" and "Jesus Walks" while backed by a choir, one of the earliest indicators of his knack for over-the-top showmanship.

7

G-Unit Gets Into A Brawl (2004)

When 50 Cent and G-Unit were announced as the headliners for the 2004 Summer Jam concert, there was plenty of reason to believe their performance would be one to remember; however, nobody foresaw just how infamous it would be. The crew would get into a chair-throwing incident with former friend-turned-foe Bang 'Em Smurf and his affiliates, ultimately leading Fif to drop his mic and storm offstage.

6

The Notorious B.I.G. Headlines

The Notorious B.I.G. was the new big thing in hip-hop in 1995 thanks to his multi-platinum debut album, Ready to Die, so it was only right for the King of New York to headline that year's Summer Jam concert. Hitting the stage with Total for a performance of their single "Can't You See," Biggie would then perform a medley of his fan favorites in what was one of the highlights of his '95 victory lap.

5

Bad Boy Takes Over Summer Jam

The death of The Notorious B.I.G. on March 9, 1997, was a tremendous loss for the hip-hop community, especially in his hometown of New York City. While Bad Boy was not originally slated to perform on the bill, Diddy put in the last minute request to put on a tribute performance for Biggie, resulting in a star-studded set, featuring Ma$e, Lil Kim The LOX, Black Rob, and the rest of the family.

4

Nas' Cancelled Performance

Following the release of his JAY-Z diss record "Ether," and his fifth studio album, Stillmatic, Nas was billed as the headliner of the 2002 Summer Jam, a performance that many rap fans were anticipating. However, when Nas —who had planned to lynch a life-like dummy that resembled JAY-Z— was informed that he would not be able to go through with the act, the QB rap God refused to perform. After leaving the venue, Nas headed over to rival radio station Power 105.1 and went on one of the most epic rants to ever to hit rap radio.

3

Following years of subtle jabs between himself, Nas and Mobb Deep member Prodigy, JAY-Z threw down the gauntlet during the 2001 Summer Jam, previewing a portion of his unreleased diss record "The Takeover." Going acapella on the second verse, Hov took Prodigy to task while unveiling a compromising photo of the rapper on the Summer Jam jumbotron. While the takedown of Prodigy would've been enough to make the set buzzworthy, JAY-Z sent a not so subliminal threat at Nas at the end of the verse, which marks the beginning of one of the most famous rap beefs in hip-hop history. Hov's performance has since become the standard for waging war against rival rappers in a public setting and forever altered the course of rap history.

2

Wu-Tang Clan Disses Hot 97 (1997)

In 1997, Hot 97 tapped Wu-Tang Clan, who were riding high off the release of their sophomore double album Wu-Tang Forever, to be the headliners of that year's Summer Jam concert. However, the Wu's top-billing on the concert lineup would backfire against them, as many of the attendees began filtering out of the stadium in an event to beat the after show traffic jam. Voicing their disdain by barking "F**k Hot 97, we listen to Kiss FM!," the Wu were not at all pleased with the station's handling of the situation, but returned as headliners fifteen years later, at Summer Jam 2013.

Frazer Harrison, Getty Images

Frazer Harrison, Getty Images

1

JAY-Z Brings Micheal Jackson on Stage

JAY-Z solidified his status as a Summer Jam legend in 2001, when the Brooklyn don brought musical icon Micheal Jackson out on stage, sending the crowd into a frenzy. Pulling off the power play after his performance of "Izzo (H.O.V.A.)," Hov summoned the King of Pop to come from behind the curtain and greet the crowd. The notoriously shy MJ simply said "I love you all," before leaving, capping off one of the most memorable nights in Summer Jam history.