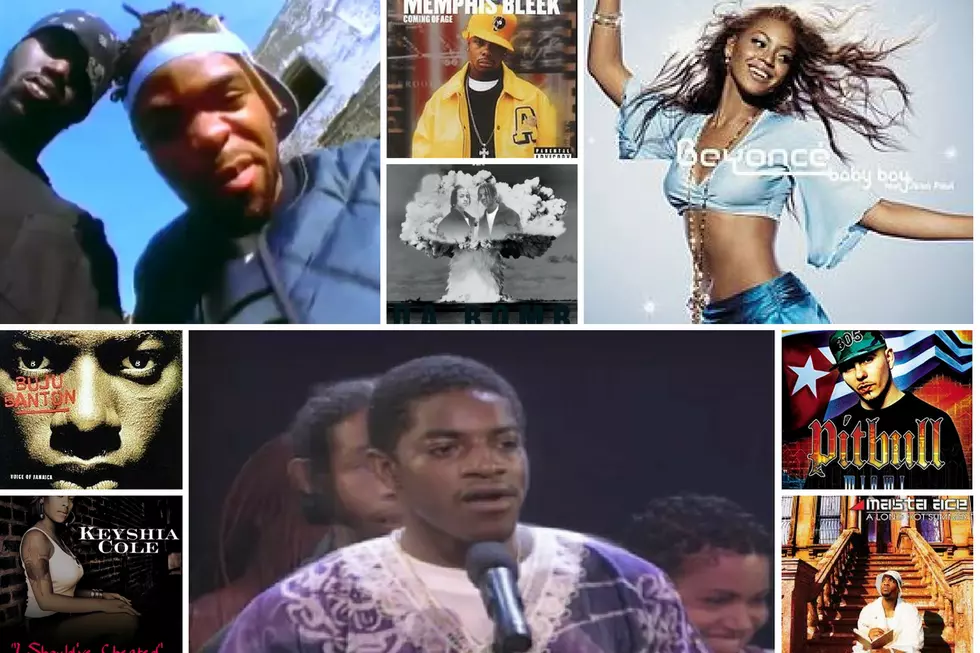 The South Joins Rap's Coastal Feud: August 3 in Hip-Hop History
iTunes, YouTube
Beyonce goes dancehall, Wu-Tang introduces their first solo star, Andre 3000 makes a declaration for the south on hip-hop's biggest stage, and more in today's hip-hop history.
1993 - Kriss Kross Drop Da Bomb
On this day the duo of Chris "Mac Daddy" Kelly and Chris "Daddy Mac" Smith released their sophomore effort Da Bomb through Ruffhouse/Columbia Records. The album was a complete deviation of their successful debut, Totally Krossed Out, opting for edgier and hardcore gangsta lyricism. Gone was the kiddy humor of missing the bus, now the duo rapped about of gunplay and botched drug deals. The album was largely panned not just for their overhaul in presentation, but their use of the word 'n***a' in their titular single "Da Bomb" and "Take Um Out."
The album still managed to go platinum with over 1.1 million copies sold in the US and 4 million worldwide.
Following Kelly's death in 2013, Smith started working on new music but admitted it wasn't the same without his best friend. "It's like very hour I'm thinking about Chris and I know that he would want me to continue doing what we love and what he loved," he told XXL. "This was our passion since we were eleven years old, so we found the love for music at a very early age. I know he would just want me to continue on the path that we started. It will never be the same."
1993 - Buju Banton Becomes the Voice of Jamaica
Reggae artist Buju Banton was already making a name for himself in his hometown of Kingston, Jamaica with his first two albums Quick and Mr. Mention. When he signed his first major deal with Mercury Records, all eyes outside of his home country began to turn to him. His third studio album and first major label release, Voice of Jamaica did what was needed to silence skeptics. It was his first album that hit the Billboard 200 at No. 159 and No. 6 on the Top Reggae Albums chart. Rising emcee and Leaders of the New School member Busta Rhymes makes an appearance on "Wicked Act" while Wayne Wonder appears on "Commitment."
1993 - Wu-Tang Clan Unleased Their Star in "Method Man"
The Wu-Tang Clan's debut 36 Chambers: Enter the Wu is without a shadow of a doubt a classic in contemporary East Coast Hip-Hop. Rugged, gritty, insular, and unlike anything anyone has ever heard before, the nine-piece group out of Staten Island were grabbing the industry by the throat since entering the game. In the midst of that stranglehold came a superstar out of the group in Method Man.
His impact was almost immediate with his eponymous solo outing on the album, with a vocal delivery that was vicious as it was intoxicating. The famous "M-E-T-H-O-D" refrain was derived from the classic Hall & Oates song "Method of Modern Love," and Method Man manages to add Rolling Stones and Dr. Seuss references throughout the song as well. The song served as a launching pad for Method Man to be a solo star, along with Ol' Dirty Bastard, to tap into an audience that the other members wouldn't be able to. It is safe to say that the strategy worked as his debut solo album Tical would go platinum eight months after its release.
1995 - The Source Awards in NYC: The East Coast/West Coast Feud Hits a Fever Pitch While Andre 3000 Declares That "The South Got Something To Say"
The second annual Source Awards in New York City is a night that will forever live in infamy. At a time when The Source was the most reputable media outlet for hip-hop coverage and Viacom, and the Grammys were still behind on the growth of the genre, the magazine's awards show at Madison Square Garden served as a celebration of hip-hop across all platforms. It also became the battleground for the bubbling regional war between New York's Bad Boy Records and Los Angeles' Death Row Records.
We all know about the verbal shot heard 'round the hip-hop world from Death Row CEO Suge Knight that kicked off a volatile night:
"Any artist out there that wanna be an artist and wanna stay a star and don't wanna have to worry about the executive producer being all in the videos, all in the records...dancing, come to Death Row!"
That comment was immediately met with backlash and boos from the New York audience towards Death Row members. Snoop Dogg was visually upset on how the East Coast wasn't showing him any love and challenged anyone to step to him. Throughout the chaos that ensued, ?uestlove of The Roots noticed that a major shift was about to happen from this night:
"The ideology of what I considered 'real' hip-hop died at the 1995 Source Awards. I was literally at its funeral—I sat three rows behind Nas. In the audience, the Bad Boy camp was on the far right, the West Coast and the Southern rappers were in the middle, and on the far right were all the underground New York rappers like Wu-Tang, Mobb Deep, Nas, Busta Rhymes, and us. That was the day Suge called out Puffy, and there were fights in the audience. I felt like a bomb was going to explode."
In his interview with Pitchfork, ?uestlove further broke the glass-case fantasy of how the Golden Era was perceived in the '90s when Nas was completely snubbed.
"Nas' body language that day told the whole story of where we about to go. The more he got ignored for Illmatic, I literally saw his body melt in his seat. Almost like he was ashamed. He just looked so defeated. I was like 'Yo, he's not gonna be the same after this shit.' None of us were the same after that day. I feel like the true underground lost its oxygen that night."
In the midst of the bickering between the East Coast and West Coast and the underground taking a backseat to what was popular, the South was caught in the crossfire. The Atlanta duo OutKast had won the Best New Group award and were met with massive boos from the New York crowd. The moment that occurred next would help change the course of hip-hop in the decades that followed. Andre 3000 would deliver a statement that rose an entire region from the ashes of obscurity and into the hip-hop lexicon:
"But it's like this tho'..I'm tired of folks..you know what I'm sayin'-close minded folks. It's like we got a demo tape and don't nobody wanna hear it. But it's like this: The South got somethin' to say. That's all I got to say"
That singular moment smack dabbed in the middle of a fracturing beef that ensued and the violence that followed gave way to the South becoming to new beacon for the growth of hip-hop.
In the 18 months that past following the awards show, 2Pac signed with Death Row and intensified the feud with Biggie and Bad Boy. Dr. Dre eventually left Death Row and all of his masters stayed with Suge Knight. The vocal barbs between Pac and Biggie led to their untimely deaths and the dismantling of Death Row Records. Bad Boy began to rise even further in the wake of The Notorious B.I.G.'s death, Jay-Z became the new king of New York and underground acts like Busta Rhymes, DMX, and Eminem began to grow in popularity.
Still, the South had something to say when No Limit and Cash Money Records became a force too hard to ignore. OutKast grew to become one of the all-time greatest rap groups that sold millions of records worldwide, and runs in Houston (UGK, Scarface, Swishahouse), Memphis (Three Six Mafia, 8Ball & MJG), Miami (Trick Daddy, Trina, Rick Ross) and Atlanta (Jermaine Dupri, Young Jeezy, T.I., Ludacris) help expand the sound of the South nationwide.
And like that, nothing was the same.
1999 - Memphis Bleek Drops Coming of Age
A right-hand man of Jay-Z, Memphis Bleek emerged as Hov's protege on the Reasonable Doubt deep cut "Coming of Age." After appearing on some Roc-A-Fella posse cuts including "It's Alright," his solo debut named after his introductory song to the masses was released on this day in 1999. Distributed by Def Jam Records/Roc-A-Fella/Get Low, Coming of Age spawned only one single with "Memphis Bleek Is…" and was later certified gold with over 500,000 copies sold.
2001 - Rush Hour II Hits the Theaters
Martial Arts/action superstar Jackie Chan and comedic playboy Chris Tucker reunited for the sequel of the commercially successful Rush Hour. Releasing in theaters on this day, Rush Hour II follows Detective James Carter (Tucker) and Inspector Lee (Chan) as their vacation plans in Hong Kong quickly turns into an investigation following the death of two US customs agents. Roselyn Sanchez, Zhang Ziyi, John Lone and Don Cheadle also star in the cast, with Ziyi making her US film debut.
The movie was a box office smash, earning $347.3 million worldwide and spawned a second sequel, Rush Hour III, in 2007.
2001 - Whitney Houston Signs the Biggest Record Deal Ever
The R&B and Pop icon Whitney Houston signed an exclusive deal with her home record label Arista Records on this day in 2001. The multi-album agreement with Artista valued at $100 million for six albums, topping Mariah Carey's 2001 Virgin Records deal. Houston was a part of Artista since 1983 and became the label's best-selling artist, selling over 200 million records worldwide. The "I Always Love You" singer was ecstatic on starting a new chapter with the label, and it's new label head, L.A. Reid.
"Artista Records has been my home since the beginning of my career. I am happy to be continuing the relationship and I look forward to working with L.A. Reid and the new Artista Family," Houston said in a statement.
Unfortunately for Arista and Houston, she didn't get to complete her deal all the way through. She managed to released three albums since (Just Whitney…, One Wish: The Holiday Album, and I Look to You) before passing away at 48 years old in 2012.
2003 - Beyonce Releases "Baby Boy" Featuring Sean Paul
Following the tremendous success of her debut solo single, "Crazy In Love," Beyonce wines it down on this day with "Baby Boy." The follow-up single from her debut album Dangerously In Love, the dancehall hybrid produced by Scott Storch featured Sean Paul who was at the top of his game thanks to the dancehall takeover of the '00s. The single reached No. 1 on the Billboard Hot 100 for nine consecutive weeks and would be her longest streak at the top of the charts until "Irreplaceable" a few years later.
2004 - Masta Ace has A Long Hot Summer
Influential Brownsville emcee Masta Ace released A Long Hot Summer on this day in 2004. A concept album in the same vein as his previous record Disposable Arts, as he travels through Brooklyn with Fats Belvedere. It garnered minor critical acclaim with production from 9th Wonder, Khrysis, Marco Polo, and DJ Spinna.
2004 - Pitbull Takes You to His M.I.A.M.I.
Before he became the international superstar collaborating with Flo-Rida and Daddy Yankee and when "Dale" wasn't just a catchphrase but a way of life, Pitbull was running alongside Lil Jon. After a standout performance on Jon's King of Crunk album in 2002, Pitbull would lay the foundation for his solo debut two years later. Released on this day in 2004, M.I.A.M.I. (a backronym for Money is a Major Issue) through TVT Records, the album was Pitbull's start to having a footing in the reggaeton and pop world. The Spanglish-ode to booties, "Culo," was the top single from the album due to the Coolie Dance riddim that was popularized by Nina Sky and Elephant Man beforehand. Little did many know he would parlay this style into a decade of owning the clubs.
2005 - Keyshia Cole Drops "I Should've Cheated."
Oakland's Keyshia Cole was a star on the rise early in 2005 with her debut The Way It Is. She centered on singing about broken relationships and mixing R&B with hip-hop in the vein of Mary J. Blige, gaining a large following as a result. While "Love" became her biggest single to date, it was the preceding "I Should've Cheated" still recieves major spins. Produced and written by 112's Daron Jones, the song revolves around a girl suspecting that her man is creeping around and in turn, she wishes she should have done the same when he questions her.
The song peaked No. 30 on Billboard Hot 100 and No. 4 on the Hot R&B/Hip-Hop Songs.