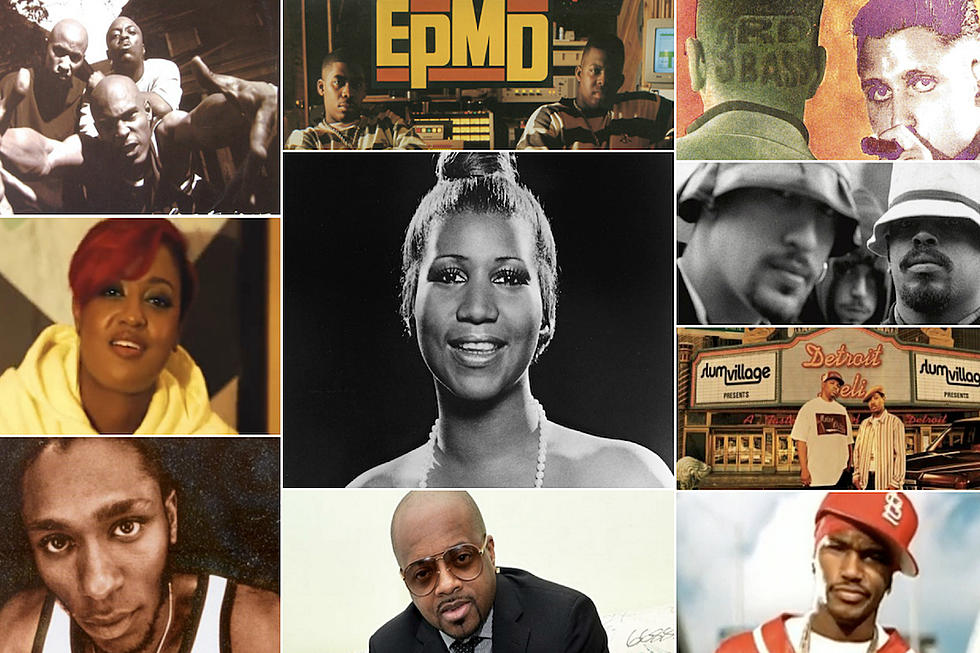 20 Rap Songs That Sample Aretha Franklin
Hulton Archive, Getty Images / The Boombox
The world is mourning the loss of the undisputed Queen of Soul, Aretha Franklin. The music icon passed away on Thursday morning (Aug.16) at her Detroit home surrounded by family and loved ones. The official cause of death was pancreatic cancer, according to a statement from Franklin's publicist. She was 76.
"In one of the darkest moments of our lives, we are not able to find the appropriate words to express the pain in our heart. We have lost the matriarch and rock of our family. The love she had for her children, grandchildren, nieces, nephews and cousins knew no bounds," reads a statement from the family (via E! News).
For six decades, Aretha Franklin serenaded audiences with her impeccable voice and inspired almost every R&B singer who came after her. In the hip-hop world, rappers routinely dig through her discography and have sampled hundreds of her classic tunes. Artists such as EPMD, Public Enemy, Rapsody, KRS-One, Big Sean, Jermaine Dupri, Kanye West, Onyx, Cam'ron, Cypress Hill and many others have used Franklin's music as the foundation on which to build new classics, or as flourishes to make their music stand out.
In memory of the Queen of Soul, we've compiled this testament of how Aretha Franklin not only influenced popular music but hip-hop culture as well. Rest in peace, Queen. And thank you.
---
Mos Def (aka Yasiin Bey), 'Ms. Fat Booty'

From: 'Black on Both Sides' (1999)

One of Yasiin Bey's most popular songs is his summertime track "Ms. Fat Booty," in which he tells a story about his dealings with a girl with an "ass so fat that you could see it from the front." Producer Ayatollah sampled Franklin's 1967 song "One Step Ahead" for Bey's infectious track.

EPMD, 'I'm Housin''

From: 'Strictly Business' (1988)

One of Franklin's most sampled songs is the funky "Rock Steady." Public Enemy and the late J Dilla built beats around it, and iconic New York rap duo EPMD famously sampled the "Rock Steady" instrumental for their track "I'm Housin'." According to Erick Sermon, he and Parrish Smith happened to hear Franklin's song while crate-digging and knew instantly they had to use it for their album.

Styles P, 'The Life' Feat. Pharoahe Monch

From: 'A Gangster and a Gentleman' (2002)

This is a fantastic song by Styles P and Pharoahe Monch with Ayatollah once again in the producer's chair. Here, he chopped up the Queen of Soul's vocals and used the soothing organs from her 1972 cover of the Beatles' "The Long and Winding Road."

Rapsody, 'Laila's Wisdom'

From: 'Laila's Wisdom' (2017)

Aretha Franklin's 1972 gospel take on Nina Simone's "Young, Gifted & Black" has been sampled by several rap artists including Gang Starr and Big Daddy Kane. For Rapsody's empowering track, producer Nottz sampled mostly the song's intro (which features Franklin and her gospel choir singing "young, gifted and black") and piano melodies.

Big Sean, 'Call Me'

From: 'Finally Famous' Mixtape (2012)

Franklin's 1970 ballad "Call Me" is another classic song rappers love to sample. On Big Sean's track, producer No I.D. simply sped up the veteran songbird's vocals, which sound like Alvin and the Chipmunks singing "I love you." Interestingly, No I.D.'s mentee Kanye West also sampled the same tune for Slum Village's "Selfish," which appears later on this list.

Cypress Hill, 'The Funky Cypress Hill Shit'

From: 'Cypress Hill' (1991)

Cypress Hill's "The Funky Cypress Hill Shit" samples a slew of songs, including Bar-Kays' 1979 song "Humpin'." But if you listen closely, you can hear Franklin singing repeatedly on the chorus. Producer DJ Muggs chopped up the soul queen's vocals from her bluesy 1967 song "You Are My Sunshine."

3rd Bass, 'Gas Face' Feat. Zev Love X

From: 'The Cactus Album' (1989)

In 1989, 3rd Bass delivered a hilarious track explaining the meaning of the gas face, which is a facial expression a person makes at something that's totally wack (or disrespectful). On the song, producer Prince Paul sampled the piano groove from Aretha Franklin's 1968 tune "Think."

Capone-N-Noreaga, 'Halfway Thugs'

From: 'The War Report' (1997)

Capone-N-Noreaga's gritty track "Halfway Thugs" samples Aretha Franklin's vocals from her 1976 tune "A Change Is Gonna Come," a cover of Sam Cooke's indelible 1964 soul classic.

Kanye West, 'School Spirit'

From: 'College Dropout' (2004)

Kanye West has sampled several of Franklin's great songs in his illustrious career. For "School Spirit" from his classic debut album, the Chicago rapper/producer sped up the soul queen's vocals from her 1970 dance track "Spirit in the Dark" and also chopped up the piano chords as well.

N-Tyce, 'Black to the Point'

From: 12-inch single (1990)

Back in 1990, Wu-Tang Clan-affiliated rhymer N-Tyce released her black empowerment anthem "Black to the Point." To drive home her lyrics about black pride and unity, the production team the Dice Sound appropriately sampled Franklin's vocals from "Young, Gifted & Black."

Pete Rock, 'The Best Secret' Feat. Lords of the Underground

From: 'NY's Finest' (2008)

Hip-hop icon and producer Pete Rock used a great Aretha Franklin sample for "The Best Secret." This is a bit tricky because Rock — the great producer that he is — used only a tiny bit of Franklin's vocals on the smooth track. If you listen closely, you will hear Franklin sing "jump to it." That's from her 1982 chart-topping hit, "Jump to It," which was written and produced by the late soul vocalist Luther Vandross.

Nas, 'Rise and Fall'

From: 'The Lost Tapes' (2005)

Nas chronicles his ups and downs in the music business on this great track. There are several samples on here — the first being Slick Rick's "The Moment I Feared" on the chorus. The twinkling melodies you hear throughout are from Franklin's 1974 tune "A Song for You," a cover of Leon Russell's 1970 classic, which was also covered,  quite powerfully, by Donny Hathaway.

Sean Price, 'Bye Bye' Feat. Buckshot

From: 'Monkey Barz' (2005)

Sean Price's head-nodding banger features a vocal sample from the Queen of Soul's 1977 song "No One Could Ever Love You More." Producer Khrysis also used the song's violins to give Price's track an orchestral feel. Overall, it's a brilliant use of the sample.

KRS-One, 'I Remember'

From: 'My People' (2016)

KRS-One gives fans an oral history of hip-hop and the rappers, places and things that have influenced the culture. The Blastmaster sampled Franklin's vocals and the piano riff at the intro of her 1970 song "One Way Ticket."

Jermaine Dupri, 'All That's Got to Go' Feat. Da Brat

From: 'Life in 1472' (1998)

Back in the '90s Jermaine Dupri was known for sampling throwback R&B hits for his dance tracks. For his 1998 song "All That's Got to Go," featuring Da Brat, the Atlanta producer used the instrumental and vocals from Franklin's R&B hit "Jump to It."

Public Enemy, 'Night of the Living Baseheads'

From: 'It Takes a Nation of Millions to Hold Us Back' (1988)

Public Enemy has sampled a number of Aretha Franklin songs in their time, but one song in particular seems to be their go-to: "Rock Steady." They've used it on "Miuzi Weighs a Ton," "Shut 'Em Down" and "Revolutionary Generation." But we saved the best for last: the classic "Night of the Living Baseheads" uses only a snippet of Franklin's vocals from "Rock Steady." If you listen closely, you will hear it.

Slum Village, 'Selfish'

From: 'Detroit Deli (A Taste of Detroit)' [2004]

Slum Village tapped Kanye West to produce their 2004 single, "Selfish," which features a sample of Franklin's "Call Me." Ironically, West's mentor No I.D. used the same sample for Big Sean's tune "Call Me." Sean Don is an artist on West's G.O.O.D. Music label. It's a small world, isn't it?

Onyx, 'Last Dayz'

From: 'All We Got Iz Us' (1995)

This is a great song from Onyx. Produced by Fredro Starr, the bald-headed crew rap about diabolical acts they would commit if the world was going to end in a few days. The song is haunting due to Franklin's sampled wails from "A Song for You" that are heard throughout the track. The beat also contains a sample from Bob James "Love Lips" and Lee Dorsey's Allen Toussaint-penned "Get Out My Life Woman."

Cam'ron, 'Daydreaming'

From: 'Come Home With Me' (2002)

Cam'ron's "Daydreaming" features a sample from Franklin's 1972 song "Day Dreaming." The Queen of Soul's tune has some interesting history. The late soul icon Donny Hathaway played electric piano on the song and influential jazz musician Hubert Laws played the flute. The song is about Temptations singer Dennis Edwards, whom she dated during the '70s. "I liked him a lot," Franklin told Oprah Winfrey in 1999. "I did write that with him in mind."

*BONUS* Masters of Ceremony, 'Rock Steady'

From: 'Dynamite' (1988)

Now this is a real throwback song. Masters of Ceremony were a short-lived rap group in the '80s from New Rochelle, N.Y. Its members included Grand Puba Maxwell (who later moved on to form Brand Nubian), Dr. Who and DJ Shabazz. Historic info aside, this song is a banger. Of course, you should be familiar with the sample that is being played throughout. It's Aretha Franklin's "Rock Steady." As we have said previously, it's probably the Queen of Soul's most sampled song in her expansive discography.