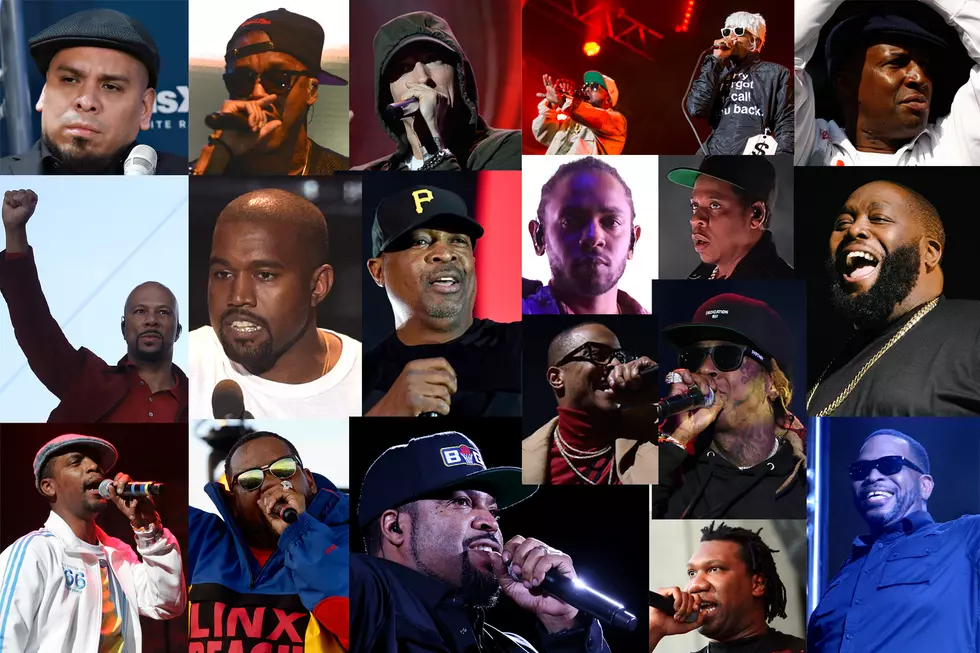 28 Rap Songs From the 'Other America'
Getty Images
As America gears up to celebrate another Fourth of July holiday, the country feels more torn than it has ever been in recent history. Hip-hop has played a significant role in showcasing some of America's greatest ills, particularly as it pertains to the treatment of the black community. In the list below, we're looking at 28 times hip-hop has portrayed the "other America" -- black America.
The current issues up for debate in this country are plenty— from immigration policy to the pharmaceutical industry, healthcare, women's rights and racist policing— America finds itself in political turmoil as it struggles to decide what kind of nation it wants to present to the world.
Maybe the most significant representation of this country's internal battle with its morality is its continued treatment of the black community. Like Shawty Lo said back in 2008, there "must be two sides" to this country—one black and one white. As the adage goes, if America has a cold, black America has the flu.
Since Grandmaster Flash & the Furious 5's blistering song, "The Message," hip-hop has often become a voice for the voiceless, bringing the struggles of the black community— struggles usually created by racist policy—to light through clever wordplay. Sometimes the songs are scathing, pointing the finger at America's pervading racism. Others times, the songs are meant to unify and resistance oppression, while others directly bring to light the longstanding issues the black community faces after decades of deliberate oppressive policy.
To that end, from 2 Pac and Ice Cube to KRS-One, Public Enemy, Scarface, Jay-Z, Yasiin Bey, dead prez, and Common, these are liberation and resistance songs from the other America.
Ice Cube, "I Wanna Kill Sam"

From: 'Death Certificate' (1991)

Ice Cube helped lay the blueprint for rap's sociopolitical foundation, but remains firmly tied to the real-life experiences of black men struggling to survive in oppressive communities with his first two incredible solo outings, Amerikka's Most Wanted and his classic 1991 follow-up, Death Certificate.

On that album there was a standout track, produced by Sir Jinx and Cube himself, which took America to task, "I Wanna Kill Sam." Cube goes off on the song, delivering rough bars about the atrocities committed against black folks under the guise of American patriotism aka Uncle Sam, namely slavery and Jim Crow.

Cube's mean delivery and knowledge about history (he even briefly breaks down the destruction of jazz music) set a standard for future rappers who would also take America to task, including Killer Mike and dead prez.

"Here's why I wanna kill the punk / Cause he tried to take a motherfuckin' chunk of the funk / He came to my house, I let 'em bail in / Cause he said he was down with the LM / He gave up a little dap / Then turned around, and pulled out a gat / I knew it was a caper / I said, 'Please don't kill my mother,' so he raped her / Tied me up, took me outside /And I was thrown in a big truck / And it was packed like sardines / Full of niggas, who fell for the same scheme / Took us to a place and made us work / All day, and we couldn't have shit to say / Broke up the families forever / And to this day black folks can't stick together / And it's odd, Broke us down, made us pray - to his God / And when I think about it / It make me say "DAMN! ...I wanna kill Sam."

Public Enemy, "By the Time I Get to Arizona"

From: 'Apocalypse 91... The Enemy Strikes Black' (1991)

You can't talk about politically-inclined rap artists without mentioning Public Enemy, one of the first groups to take the experiences of black people on their back over hard-hitting beats, garnering mainstream attention in the process.

In 1991, they dropped one of their most memorable, if not controversial tracks yet, "By The Time I Get to Arizona" from their album, Apocalypse '91: The Enemy Strikes Black.  The video — which recreated imagery of black protestors being beaten and humiliated, King's assassination, and a militarized black army running into government buildings and assassinating racist politicians — only aired on MTV one time before it was pulled. Specifically, the song was a response to the state of Arizona's 1990 decision to vote down a proposal to create a state holiday for Dr. Martin Luther King, Jr. by a margin of 17,000 votes. The vote came two years after then-Governor Evan Mecham canceled MLK Day.

Chuck D's response? Pure, righteous anger, which he delivered masterfully on "By the Time I Get to Arizona" over a grinding rock bass line, highlighted by black gospel chorus vocals and a Jackson 5 organ sample, produced by G-Wiz. Sistah Souljah appears a the beginning of the song and Ice-T is briefly featured in the video, which takes America to task.

"I'm counting down to the day deserving fitting for a king / I'm waiting for the time when I can get to Arizona / Cause my money is spent on the goddamn rent / Neither party is mine, not the jackass or the elephant / 20,000 niggy niggy brothers in the corner / Of the cell block but they come from California / Population is none in the desert and sun / With a gun cracker running things under his thumb / Staring hard at the postcards, isn't it odd and unique / Seeing people smile wild in the heat? / 120 degrees, cause I want to be free / What's a smiling face when the whole state's racist? / Why I want a holiday? Damn it, cause I wanna / So what if I celebrate it standing on a corner."

Kendrick Lamar, "Hood Politics"

From: 'To Pimp a Butterfly' (2015)

From his early mixtapes, Kendrick has always had his eye on the experiences of his community, and his own struggles with morality. And on his seminal 2015 album, To Pimp a Butterfly, his perspective came full circle. The messaging is sprinkled throughout the entire project, from "These Walls" to the album's breakout track, the Pharrell-produced protest anthem, "Alright."

But on "Hood Politics," Kenny juxtaposes the boisterous, posturing hood lifestyle with the tenuous place that young black men find themselves in America—trying to survive while evading racist, oppressive systems that could care less about the daily struggles of hood life. The song plays excellently on the complex duality that Kendrick has become a master at presenting. He also delivers a wake-up call about law enforcement interaction with the black community and the corrupt nature of a two-party political system.

"Slow motion for the ambulance, the project filled with cameras /The LAPD gamblin', scramblin', football numbers slanderin' / Niggas names on paper, you snitched all summer / Streets don't fail me now, they tell me it's a new gang in town / From Compton to Congress, set trippin' all around / Ain't nothin' new, but a flu of new Demo-Crips and Re-Blood-licans / Red state versus a blue state, which one you governin'? / They give us guns and drugs, call us thugs / Make it they promise to fuck with you / No condom, they fuck with you, Obama say, 'What it do?'

Jay-Z, "American Dreamin'"

From: 'American Gangster' (2007)

Back in 2003 on The Black Album's "Moment of Clarity" Jay-Z warned us, "I'd probably be lyrically Talib Kweli,
Truthfully I want to rhyme like Common Sense." He's since brought that vision into fruition on 4:44 and his collaboration with wife Beyoncé, Everything Is Love. Both projects lyrically hone in on black excellence, the importance of black financial empowerment, and how to maneuver through a system designed to oppress.

However, there have always been tracks sprinkled throughout Jay's massive discography that focused on that perspective, as was the case with "American Dreamin'" from Jay's American Gangster soundtrack. American Gangster is one of his best, if not overlooked projects, and over a Marvin Gaye sample, he details drug life, and the ways that America is culpable for its role in it.

"Oh no-oh, I never gave up no way / I never felt that before (American dreamin') / Oh no-oh, I never gave up no way / I never felt that before (Just American dreamin') / Oh no-oh, I never gave up no way / I never felt that before (American dreamin') / But there's always, that's all, that's all baby?"

Kanye West, "New Slaves"

From: 'Yeezus' (2013)

Once upon a time, Kanye West's thoughts about American slavery weren't so obtuse. One of the standout tracks on his 2013 album, the choppy and experimental Yeezus, was "New Slaves," which made longtime fans remember what Kanye was always so great at: writing relatable, self-examining and sometimes self-deprecating lyrics that still manage to speak to more significant issues and take corrupt systems to task.

"My mama was raised in the era when / Clean water was only served to the fairer skin / Doin' clothes, you woulda thought I had help / But they wasn't satisfied unless I picked the cotton myself / You see it's broke nigga racism / That's that 'Don't touch anything in the store' / And it's rich nigga racism / That's that 'Come in, please buy more' / 'What you want, a Bentley? Fur coat? A diamond chain? / Al you blacks want all the same things' / Used to only be niggas, now everybody playin' / Spendin' everything on Alexander Wang / New slaves"

 

dead prez, "Walk Like a Warrior"

From: 'RBG: Revolutionary but Gangsta' (2004)

In 2000, dead prez ushered in a new era of revolutionary rap music, aimed firmly at uplifting the entire black community in the midst of American racism. stic.man and M-1's debut album, Let's Get Free, was about exactly that, getting free. And their 2004 follow-up, RBG: Revolutionary but Gangsta was more of the same. One of the standout songs from the album that detailed the tone of the entire project is "Walk Like a Warrior" featuring Krayzie Bone. M-1 kicks off the song with a pointed verse, and the rest of the track follows his messaging.

"I was trained to defend myself for my brain and my mental health / The white man got the wealth we held back / We're living in hell black and niggas can sell crack / But that ain't gonna change this thang / If you gonna bang, then bang for change, don't bang for crazy thangs / If not don't bang / If ya gonna ball play the game how it should be played / Can you dribble a grenade?"

T.I., "40 Acres"

From: 'Us or Else' (2016)

In 2016, T.I. dropped Us or Else, an EP that was created as a companion piece to the Black Lives Matter movement. The record was born in the wake of a string of police killings of unarmed black people captured on video—specifically the deaths of Philando Castile, Freddie Gray, and Alton Sterling.

Later released as a full-length, Us or Else brought to light the strength of Tip's political commentary (he'd go on to be instrumental in the 2018 election of Atlanta mayor Keisha Lance Bottoms and serve on her advisory team alongside fellow Atlanta rapper Killer Mike). One of the most hard-hitting tracks on Us or Else is "40 Acres," though the most scathing verse comes courtesy of Killer Mike, who takes on colonialism with 16 unflinching bars.

"Anybody interrupt freedom, kill 'em / Word to Robert F. Williams, feel 'em / Devil got me sick to my stomach, boo / Word to Elijah Muhammad, ooh / I don't give a damn what the preacher ever tell y'all / Jesus, Muhammad, ain't comin', woo / I'mma tell y'all what the ancestors shoulda done did when they seen the first boat comin, yeah / Killed every man, child, woman, yeah / Killed every damn thing on it, yeah / Killed everything if it looked European, send it back to the Queen like, ho / You ever step your foot in Kemet, bitch we slit your throat / We send them funny fuck boy preacher types back to the Pope / Fuck is you? Fuck your Zeus, fuck Medusa / This the school of Shaka Zulu / Fast forward to the future, choppa do ya / We done dyin' and they cryin' and we screamin' hallelujah / When them crackas ask why say we did it for Lumumba, fucker"

Jay-Z and Kanye West, "Made In America"

From: 'Watch the Throne' (2011)

A study on the hustler mentality born from the deliberate subjugation of an entire people, Jay and Kanye's "Made In  America," featuring a weeping hook from Frank Ocean, is one of the most solid offerings from their 2011 Watch the Throne collaboration.

From Jay's second verse:

"I pledge allegiance to my Grandma / For that banana pudding, our piece of Americana / Our apple pie was supplied through Arm and Hammer / Straight out the kitchen, shh, don't wake Nana / Built a republic that still stands / I'm tryna lead a nation, to leave to my little man's"

2 Live Crew, "Banned in the U.S.A."

From: 'Banned in the U.S.A.' (1990)

An ode to the ills of censorship after their album, Nasty As They Want to Be, was banned, 2 Live Crew's "Banned in the U.S.A." may have incorporated a Florida bass beat, but the message was serious.

"We've got white-collar people trying to grab our style / Saying we're too nasty and we're 2 Live / Corrupted politicians playing games / Bringing us down to boost their fame / They must be joking, thinking we will fall / But they're like flies movin' the wall / We stand tall from beginning to end"

Wu-Tang Clan, "America"

From: 'America Is Dying Slowly' (1996)

From the 1996 Red Hot AIDS Benefit Series compilation, America Is Dying Slowly, the Wu-Tang Clan's "America" details the impact of AIDS in the black community.

Raekwon's verse sums up the song's intent:

"Overcome with passion, big ass want lust upon him / But nigga he forsake to grab the condom / 'Fuck it', he said 'AIDS was government made / To keep niggas afraid, so they won't get laid no babies be made / And the black population will decrease within a decade / German warfare product against the dark shade'"

KRS-One, "Sound of Da Police"

From: 'Return of the Boom Bap' (1993)

One of the forefathers of sociopolitical rap, KRS-One's "Sound of Da Police" from 1993's Return of the Boom Bap, remains one of hip-hop's most poignant tracks about racist policing tactics in black and brown communities. Reigning with Public Enemy, X-Clan and Ice Cube as rap's foremost authorities on community and political commentary in the early '90s, this is one of KRS's defining moments.

"Policeman come, we bust him out the park / I know this for a fact, you don't like how I act / You claim I'm sellin' crack, but you be doin' that / I'd rather say see ya, 'cause I would never be ya / Be an officer? You wicked overseer! / You hotshot, wanna get props and be a savior / First show a little respect, change your behavior."

Lupe Fiasco, "Around My Way (Freedom Ain't Free)

From: 'Food & Liquor II: The Great American Rap Album, Pt. 1' (2012)

Lupe Fiasco's "Around My Way (Freedom Ain't Free)" from Food & Liquor II: The Great American Rap Album, Pt. 1, further establishes the Chicago emcee as one of the most formidable lyricists in rap, as he goes in over a sample of the Pete Rock & CL Smooth classic, "Reminisce." This is one of the notable lyrical showings from one of rap's greatest writers.

"And we marvel at the state of Ottoman / Then turn around and treat Ghana like a garbage can / America's a big motherfuckin' garbageman / If you ain't know, you're part and parcel of the problem / You say no you ain't, and I say yes you is / Soon as you find out what planned obsolescence is / You say no they didn't, and I say yes they did / The definition of unnecessary-ness manifested / Say that we should protest just to get arrested / That goes against all my hustling ethics / A bunch of jail niggas say its highly ineffective / Depart from Martin, connect on Malcolm X tip / Insert Baldwin to similar the separate / To me, the truth is more fulfilling than a meth hit / Or finding really fast internet to have some sex with / It's all one song short of a set list / Couple croissants shy of a continental breakfast / Or blowing out your birthday candles just to make a death wish/So absurd, word to Chief Bone Necklace / Down at the Lakota Sioux Casino / A whole culture boiled down to giving you pokeno / I go as left as a heart in the chest / Cause the Horn of Africa is now starving to death"

"

Lil Wayne, "Georgia... Bush"

'The Dedication 2' (2006)

Dedicated to George W. Bush and taking him to task for his treatment of displaced survivors of 2005's Hurricane Katrina, Lil Wayne's "Georgia... Bush" from 2006's The Dedication 2 finds the Louisiana native delivering a heartfelt verse about the tragedy.

"And fat shout, to all the rappers that helped out / Yeah we like to thank all of y'all, but fuck President (Georgia) Bush / When you see them Confederate flags, you know what it is / A white cracker muthafucka that probably voted for him / And no he ain't gonna drop no dollars, but he do drop bombs / R.I.P. Tig' cause he died in the storm / Fuck President (Georgia) Bush"

Eminem, "Mosh"

From: 'The Marshall LP' (2000)

Eminem has taken frequently taken white America to task for its complicity in perpetuating white privilege over the course of his career—including on The Marshall LP, which was chock full of such songs. He continued the sentiment on "Mosh," where he name drops former president George W. Bush as a culprit of corruption.

"All the people up top on the side and the middle / Come together lets all form and swamp just a little / Just let it gradually build from the front to the back / All you can see is a sea of people some white and some black / Don't matter what color, all that matters we gathered together / To celebrate for the same cause don't matter the weather / If it rains let it rain, yea the wetter the better / They ain't gonna stop us they can't, we stronger now more than ever / They tell us no we say yea, they tell us stop we say go / Rebel with a rebel yell, raise hell we gonna let em know / Stomp, push, shove, mush, fuck Bush, until they bring our troops home (c'mon)"

Killer Mike, "Reagan"

From: 'R.A.P. Music' (2012)

There's a reason why Kendrick Lamar name-dropped Killer Mike on To Pimp a Butterfly's "Hood Politics" as one of the best lyricists in all of rap music. Not only does Mike have the perspective and the long track record of service in the community, but the lyrical skill to deliver complex messaging with deep socio-political undertones that aren't alienating or off-putting. After years in the game, Mike had a major breakthrough via his stellar 2012 album, R.A.P. Music, a prelude of what was to come from his group with producer El-P, Run the Jewels.

"Reagan" might just be one of the hardest hitting political songs in rap history, laced with deep references and knowledge of political happenings over abrasive, yet slow-building production from El-P.

"The end of the Reagan Era, I'm like 'leven, twelve, or / Old enough to understand the shit'll change forever / They declared the war on drugs like a war on terror / But it really did was let the police terrorize whoever / But mostly black boys, but they would call us "niggers" / And lay us on our belly, while they fingers on they triggers / They boots was on our head, they dogs was on our crotches / And they would beat us up if we had diamonds on our watches / And they would take our drugs and money, as they pick our pockets / I guess that that's the privilege of policing for some profit / But thanks to Reaganomics, prisons turned to profits / 'Cause free labor is the cornerstone of US economics / 'Cause slavery was abolished, unless you are in prison / You think I am bullshitting, then read the 13th Amendment / Involuntary servitude and slavery it prohibits / That's why they giving drug offenders time in double digits / Ronald Reagan was an actor, not at all a factor / Just an employee of the country's real masters / Just like the Bushes, Clinton and Obama / Just another talking head telling lies on teleprompters / If you don't believe the theory, then argue with this logic / Why did Reagan and Obama both go after Qaddafi / We invaded sovereign soil, going after oil / Taking countries is a hobby paid for by the oil lobby / Same as in Iraq, and Afghanistan / And Ahmadinejad say they coming for Iran / They only love the rich, and how they loathe the poor / If I say any more they might be at my door / (Shh..) Who the fuck is that staring in my window / Doing that surveillance on Mister Michael Render / I'm dropping off the grid before they pump the lead / I leave you with four words: I'm glad Reagan dead."

Mos Def, "Mathematics"

From: 'Black on Both Sides' (1999)

Yasiin Bey (formerly known as Mos Def) is firmly considered one of rap's most talented lyricists ever, and "Mathematics" produced by DJ Premier, from his classic solo debut, Black on Both Sides, is one of the songs that helped define his legacy while taking the system to task.

"Like I got, 13 to 32 bars to rock it / But only 15 percent of profits, ever see my pockets like / 69 billion in the last 20 years / Spent on national defense but folks still live in fear like / Nearly half of America's largest cities is one-quarter black / That's why they gave Ricky Ross all the crack / 16 ounces to a pound, 20 more to a ki / A five-minute sentence hearing and you no longer free / 40 percent of Americans own a cell phone / So they can hear, everything that you say when you ain't home / I guess, Michael Jackson was right, "You Are Not Alone" / Rock your hardhat black cause you in the Terrordome / Full of hard niggas, large niggas, dice tumblers / Young teens and prison greens facing life numbers / Crack mothers, crack babies and AIDS patients / Young bloods can't spell, but they could rock you in PlayStation / This new math is whipping motherfuckers ass / You wanna know how to rhyme you better learn how to add/It's mathematics."

Immortal Technique, "Impeach the President"

From: 'Alive on Arrival' (2006)

Immortal Technique, like many rappers during that era, was intent on calling out George W. Bush and Dick Cheney. Alongside Saigon and dead prez, "Impeach the President" pinpointed the racist reaction to Hurricane Katrina, racist drug policy, the Patriot Act, and a slew of other relevant issues of the day.

"George, you're something else / Osama, could be 10,000 times worser than you / Find him your fucking self / And why act like you care about the troops in Iraq? / Cause if you did, you would let them fly back / It's because of you that those planes got hijacked / You're also the reason Katrina victims had to die like that / They say you was hesitant, we say you was negligent."

Grandmaster Flash & the Furious 5, "The Message"

From: 'The Message' (1982)

If this isn't the best rap song ever, it's arguably the most important. Released in 1982, "The Message" stands as one of the first songs to illustrate that hip-hop could be more than a creative outlet for underserved communities, but a voice for the voiceless.

"My brother's doin' bad, stole my mother's TV / Says she watches too much, it's just not healthy / All My Children in the daytime, Dallas at night / Can't even see the game or the Sugar Ray fight / The bill collectors, they ring my phone / And scare my wife when I'm not home / Got a bum education, double-digit inflation / Can't take the train to the job, there's a strike at the station / Neon King Kong standin' on my back / Can't stop to turn around, broke my sacroiliac / A mid-range migraine, cancered membrane/ Sometimes I think I'm goin' insane / I swear I might hijack a plane!"

Arrested Development, "Revolution"

From: 'Malcolm X' (1992)

Literally calling for a "Revolution," Arrested Development's song is all about black empowerment and resistance in the face of continued injustice.

"I struttle strut through the ghetto / The rain this time I feel is mental / The goal of this rain I feel is spiritual / Saw through the eyes of the inflicted people / Their eyes are hard as a million tombstones / Marked with the names of the millions of kin thrown / To the dust that gave them their colored skin / Fade to black is the scene they're embalmed in / The rain many nights have witnessed her / Receiving the sperm of a brother into a sister / And blessed that life to guaranteed existence / A conscious baby for a black resistance / I feel the rain enhances the revolution / And reminds us of a spiritual solution / And reminds us of an unnatural supernatural solution"

 

The Geto Boys, "The Point of No Return"

From: 'The Resurrection' (1995)

Possibly the Geto Boys' best album, 1995's The Resurrection comes with scathing political commentary courtesy of Willie D, Scarface and Bushwick Bill. Focusing on racist policing was a regular thing for the Houston group, and this track takes specific aim at law enforcement, featuring a raw verse from 'Face.

"What if I learn to work your beat  / And fuck with you in the ways that you fuck with me / And underline all y'all downfalls for ya / Catch you fuckin' up and bring the pound down on ya / Infect your neighborhood with this drug called hate / Ish out your income and control y'all fate / Provide you motherfuckers with this shit that look cool / And price it outta range to keep your ass outta school / You don't work you don't eat you don't eat you don't sleep / And then I got your ass upon these motherfuckin' streets / Poising your own breed turning you from Jesus / Get you out your faith and hit your ass with diseases / And now you can't reproduce there goes your children / Don't worry about you dying slow I'm a get to killin' / And shot up your motherfuckin' dreams from the jump / And hold you in the penitentiary like a punk / But you can't do shit unless a motherfucker tell ya / You ain't a motherfuckin' man nigga yous a failure / You wonder why I hate cha and I paint this picture? / Cause the government is fucked up and I ain't that nigga / So you can point the fingers at the motherfuckin' press / Cause they be feeding me with all the shit that I address / It ain't my motherfuckin' fault niggas ain't learnin' / We in too deep and ain't no returnin'." 

Nas, "Want to Talk to You"

From: 'I Am...' (1999)

Nas is widely considered to be one of the rap's best sociopolitical commentators, and on "Want to Talk To You" from his album I Am..., he gets right down to business, letting the mayor, members of Congress, FBI and the CIA know he wants a few words with them.

"I'm just a black man, why y'all made it so hard damn / Niggaz gotta go create their own job / Mr. Mayor imagine if this was your backyard / Mr. Governor imagine if it was your kids that starved / Imagine your kids gotta sling crack to survive / Swing a mack to be live cart ack to get high / It's the ghetto life yea I celebrate it I live it / And all I got is what you left me with I'ma get it / Now y'all combinin all the countries we goin do the same / Combine all the cliques to make one gang / It ain't all about a black and white thing / It's to make the change, citizens of a higher plane"

OutKast, "Gasoline Dreams"

From: 'Stankonia' (2000)

At the 1995 Source Awards, Andre 3000 let everyone know, "the south got something to say," and as it pertained to OutKast in particular— it was a lot. Maybe the greatest rap group ever, he and Big Boi crafted a discography that spoke to the state of the community, brought a fresh Afro-futuristic perspective to rap music, and detailed the tribulations that come with being young and black, without ever getting preachy. The rock-guitar laced "Gasoline Dreams" from 2001's Stankonia is one of many such tracks. Andre gets right to it on the hook.

"Don't everybody like the smell of gasoline? / Well burn motherfucker burn American Dream / Don't everybody like the taste of apple pie? / We'll snap for your slice of life I'm tellin' ya why / I hear that mother nature's now on birth control / The coldest pimp be looking for somebody to ho / The highway up to Heaven got a crook on the toll / Youth full of fire ain't got nowhere to go nowhere to go." 

And Big Boi drives the messaging home with his standout verse:

"It's shitty like Ricky Stratton got a million bucks / My cousin Ricky Walker got 10 years doing fed time / On a first offense drug bust, fuck the Holice / That's if ya racist or ya crooked / Arrest me for this dope I didn't weight it up or cook it / You gotta charge the world cause over a million people took it / Look at me, you outta your jurisdiction now ya lookin' stupid / Officer, get off me sir / Don't make me call L.A. he'll have ya walking sir / A couple of months ago they gave OutKast the key to the city / But I still gotta pay my taxes and they give us no pity / About the youngsters amongst us / You think they respect the law / They think they monsters, they love us, reality rappin' / And giving the youth the truth from this booth / And when we on stage we scream"

Goodie Mob, "I Refuse Limitation"

From: 'Still Standing' (1998)

Although Goodie Mob's groundbreaking 1995 album, Soul Food, stands as one of southern rap's pivotal albums and ranks among the best hip-hop records of all-time, Still Standing is the album where the group's holistic street musings really came together and peaked. One of the most chilling verses on the album came courtesy of lyrical powerhouse Cee-Lo Green on "I Refuse Limitation." Its haunting, melancholy production only added to Lo's captivating verse.

"Well I woke up this mornin with the same frustration from situations like these / Got a call about some work from one of them temporary agencies / No high school diploma or any college degrees / I can't enlist but they'll draft me if there's a war overseas / Oh please / Of course I can slice some OZs / But see I'm one of those aspirin MCs / And uh bills are due so at times I'm doubtful, and everyone disagrees / But I'd rather struggle on my feet than to live on my knees / So my uniform tight workin all night at Mickey D's / Got about 90 dollars and some change after the government / Get they fees / These minimum wages ain't enough to feed my babies / Purposely these limitations on black folks opportunities / So I quit cuz I'm tired of being one of those overworked / Underpaid employees / Stop carin' at all went on and did a few small burglaries / It seems like my faith done turned into forgotten memories / And I ain't gettin away with nothing because I know He always sees / But see right now I need to see how I can get this here dope sold / I done stuffed in my pocket as many rocks as it can hold / They gonna get high so I'm gonna get my money even though it's freezin' cold / Now how many times you done heard this story told? / Believe it or not, there's some very intelligent junkies / But dependencies is eating away at they souls like disease / Anyone can turn into somebody who covets and envies / Unequal economics can easily make you some enemies / And the crime rate never drops so the cops ride around in threes / I knew he would have killed me if I did anything but freeze / They found the rest of the dope in some nearby shrubberies / In a dimlit room being questioned by these authorities / And they gave me some time in correctional facilities / And now my woman's gotta take on a man's responsibilities"

Scarface, "Heaven"

From: 'The Fix' (2000)

Known for his spiritual, street-wise perspective and rumination on relationships, community and how that intertwines with the realities of being black in America, Scarface's 2000 album, The Fix, is a study on blackness in the midst of racist turmoil. "Heaven" finds him exploring the ways spirituality often mixes with politics—how it can be used as both a freeing agent but also warped to oppress.

"America, the Beautiful, don't be so cold/How do you expecting our seeds gonna grow? / When you trap us in the ghetto / And show love, to the other motherfuckers / While we right here starvin' at home / I'd cry, if I thought, that me sheddin' a tear might help / Then again, me sheddin' tears don't help / Wanna call up to the President, and see if he know help / Let him know you up shit creek yourself, we all sinners / Facin' the winter, with no socks, and no shoes / In a position, where we all gon' loose / Instead of penitentiaries, we gon' need more schools / Or what the fuck is we gonna do? / Sit around and let the world pass us by? / Waitin' on a message from the reverend / And he ain't but another man, tryin' to get to (heaven...)"

Common, "Black America Again"

From: 'Black America Again' (2016)

Long known for his community commentary, Common's 2016 album, Black America Again, was directly inspired the wave of police killings and the Black Lives Matter Movement. The title track finds him addressing police brutality with the help of Stevie Wonder.

"Here we go, here, here we go again / Trayvon'll never get to be an older man / Black children, they childhood stole from them / Robbed of our names and our language, stole again / Who stole the soul from black folk? / Same man that stole the lamb from cheap black smoke / And made the whip crackle on our back slow / And made us go through the back door / And rap for black bodies on the slave blocks / Now we slave to the blocks, on 'em we spray shots / Leaving our own to lay in a box / Black mother's stomachs stay in a knot / We kill each other, it's part of the plot / I wish the hating will stop (war) / And the battle with us / I know that black lives matter and they matter to us / These are the things we gotta discuss / The new plantation, mass incarceration / Instead of educate, they'd rather convict the kids / As dirty as the water in Flint, the system is / Is it a felony or a misdemeanor / Maria Sharapova making more than Serena / It took Viola Davis to say this / The rose of the help and the gangsters is really all they gave us / We need Avas, Ta-Nehisis, and Cory Bookers / The salt of the Earth to get us off of sugar and greasy foods / I don't believe the news or radio, stereotypes we refuse / Brainwashed in the cycle to spin / We write our own story, black America again"

E-40, "Every Year"

From: 'Rhyme & Reason' (1997)

Bay Area vet, E-40's life game-laced lyrics have made him a rap legend, and on "Every Year" from the Rhyme & Reason soundtrack, he spits verses about what life is like after prison and the disparities in the prison industrial complex.

"Just come home from Quentin, and all I know is strind / Grind, time-uhh dope game been gone / It's either white collared crime or uhh, clickin' da bones / How can I make some sort of dividends / How can I get my mathematics on how can I get in where I fit in / How can I, get in get gone / Every year about this time it's always, someone like me / They uhh, handcuff and shackle, and uhh, throw away the key / Every year about this time it's always, someone like me / They uhh, handcuff and shackle, and uhh, throw away the key"

A Tribe Called Quest, "Space Program"

From: 'We Got It From Here... Thank You 4 Your Service' (2016)

A defining track from A Tribe Called Quest's final album, "Space Program" details the deliberate limitations placed on black people and lack of inclusive policy from the government. Q-Tip preaches about building a community within to combat the lack of inclusion.

"Reputation ain't glowing, reparations ain't flowing / If you find yourself stuck in a creek, you better start rowing / Used to see the TV screen as the place I'd land my dream in / And the car stereo where they would promote the show / Optimistic little brother with a hope you know...There ain't a space program for niggas."

2 Pac, "White Man'z World"

From: 'The Don Killuminati: The 7 Day Theory' (1996)

A quick voyage through 2 Pac's massive catalogue explains why he still resonates so deeply with people. His heart and vision for community, the way he pinpointed injustice and voiced the struggle to survive in a system designed to degrade the lives of black people, is evident throughout his discography.

"White Man's World" from The Don Killuminati: The 7 Day Theory is just one of the tracks that illustrates Pac's vision for his community, complete with a shout out to political prisoners at the song's closing.

"Bein' born with less I must confess only adds on to the stress / Two gunshots to my homie's head, dyed in his vest / Shot him to death and left him bleedin' for his family to see / I pass his casket gently askin', is there heaven for G's? / My homeboy's doin life, his baby momma be stressin' / Sheddin' tears when her son, finally ask that questions / Where my daddy at? Mama why we live so poor? / Why you cryin'? Heard you late night through my bedroom door / Now do you love me mama? Whitey keep on callin' me nigga? / Get my weight up with my hate and pay 'em back when I'm bigger / And still thuggin' in this jail cell, missin' my block / Hearin' brothers screamin' all night, wishin' they'd stop / Proud to be black but why we act like we don't love ourselves / Don't look around busta (you sucka) check yourselves / Know what it means to be black, whether a man or girl / We still strugglin' in this white man's world"