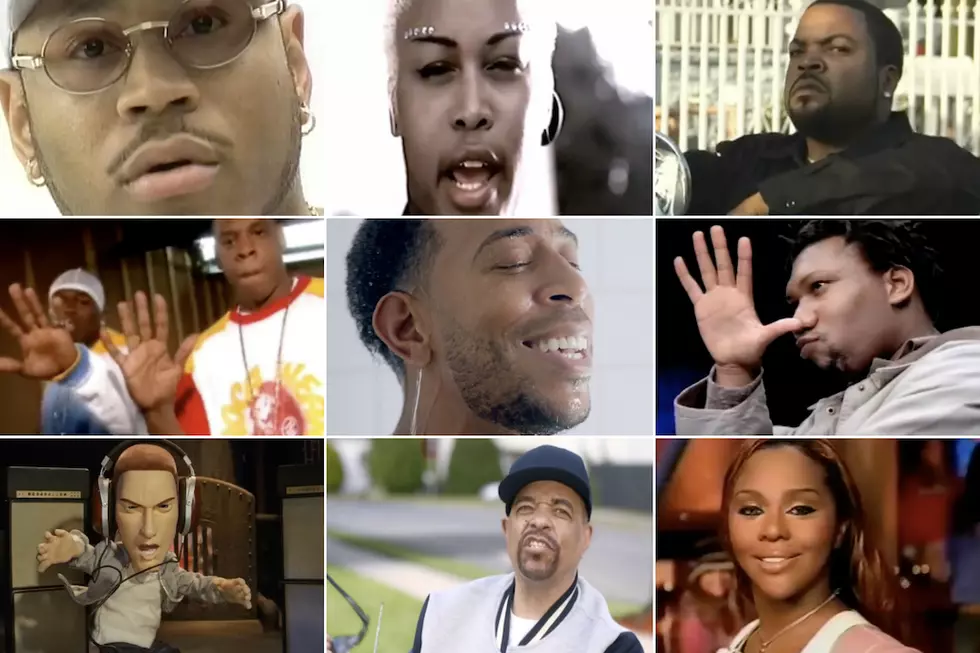 20 Rappers Starring In Fun Commercials [VIDEO]
YouTube
For years, corporate America has been using hip-hop to sell just about anything to consumers. From soda to liquor to cars to clothes to shaving products, companies have tapped some of your favorite rappers to promote their products.
Recently, Ludacris lathered up in a fun ad for Harry's body wash and bar soap. But Luda is hardly the first rapper to appear in a fun commercial. Rappers like Drake, Ice-T, Run-DMC, LL Cool J, Lil' Kim, Ice Cube, 50 Cent, the Wu-Tang Clan and many other have been pitchmen for corporate America. So The Boombox selected 20 ads starring rappers that we thought were entertaining. Check it out below.
---
Ludacris Lathers Up for Harry's (2016)
In the spot below, Ludacris plays a dad who reads a children's book Chicka Chicka Boom Boom to his son, but can't get the title phrase out of his head. He's singing it while washing the dishes and while lathering up with Harry's body wash. Chicka, chicka, boom, boom, indeed.
---
Eminem and Brisk Iced Tea Drink (2011)
Eminem rarely does commercials so when he does one, it's an event. In this claymation ad for Brisk, the diabolical Detroit rhymer explains to the viewers why he doesn't do a lot of commercials and you will completely understand his point of view.
---
Run-DMC Kicks It With Adidas (1986)
Run-DMC was the first rap group to secure a major contract with a sneaker company. Along with their classic 1986 song "My Adidas," they catapulted the shoe brand's sales and set the standard for future hip-hop ad partnerships to come. In this 26-second spot, the legendary rap trio are flown by helicopter to their concert in New York City. Decked out in Adidas gear from head to toe, the kings from Queens are looking fresh to def.
---
Ice-T Prefers Lemonade In Geico Ad (2016)
In this clever ad, the rap icon is supervising a neighborhood lemonade stand but get annoyed when people walk by and ask, "Is that iced tea?"
---
Drake Can't Get the Hot Chick in Virginia Black Ad (2017)
We all know that Drake is a debonair guy who can get any girl in the world. In this fun spot for whiskey brand Virginia Black, Drizzy has to play second fiddle to "The Realest Dude Ever" -- Dennis Graham, who also happens to be his father.
---
Kanye West, Ludacris and the Game Salute Their Hometowns in Boost Mobile Ad (2004)
Originally appearing on Kanye West's third installment of his Freshmen Adjustment mixtape series, the song and ad features Yeezy, Ludacris and the Game shouting out their native hometowns Chicago, Atlanta and Compton, respectively.
---
Kurtis Blow Is Bubbling Up With Sprite (1986)
Hip-hop icon Kurtis Blow is a rapping anchorman in this fun '80s ad for Sprite soda.
---
MC Hammer Dances for Chicken in KFC Ads (1992)
Like we said in the introduction, for years, corporate America has been using hip-hop to sell everything -- including fried chicken. MC Hammer appeared in two commercials for KFC where he's dancing for chicken. Ads like these would be frown upon in today's "stay woke" climate. In the second commercial, you can help but cringe as you watch Hammer dance for some popcorn chicken. Legendary comedian Paul Mooney explains perfectly why MC Hammer dancing for fried chicken is wrong on so many different levels.
---
KRS-One Vs. MC Shan: "Rhyme For Rhyme" Sprite Commercial (1982)
KRS-One and MC Shan recreated their infamous "Bride Wars" for their Sprite ad and it's fantastic. Rap legends Kool DJ Red Alert, Chuck Chillout and Kid Capri (as the referee) make cameos in the spot. The only downer is that it's only 30 seconds long.
---
LL Cool J Promotes Another Brand in His Classic Gap Ad (1999)
LL Cool J added another clothing brand - FUBU - into the lyrics for the Gap commercial as well as wore a FUBU hat. The hidden product placement probably wouldn't have been a big deal if LL didn't added the line "For Us, By Us, on the low," which was FUBU's mantra. Gap had no idea at that time what LL did and in the advertising world this is a big no-no.
"I was supporting this company [FUBU]. I was a partner in the company," Uncle L told Oprah Winfrey in 2013. "I wanted to support what we were doing. I felt like, honestly, that Gap was big enough to handle that and not be hurt by it, and it worked out for everybody, 'cause it didn't hurt them. It made them cool."
**BONUS**: Check out LL Cool J's commercial for FUBU.
---
Ice Cube and Geto Boys Rock St. Ides (1992)
St. Ides was a popular malt liquor brand that enlisted several rappers to promote their brand in television spots that aired heavily on hip-hop video programs like Yo! MTV Raps and Fox's Pump It Up. Here's one ad featuring rap legends Ice Cube and the Geto Boys.
---
50 Cent and JAY-Z Team Up With Reebok to Launch Signature Shoes (2003)
In 2003, 50 Cent and Jay-Z became the first two non-athletes to nab signature footwear deals with athletic shoe brand. The ad campaign below was for 50 Cent's shoe called the "G-Unit Collection by Rbk" and JAY-Z's "S. Carter Collection by Rbk," which was inspired by Gucci's classic '80s sneaker.
---
Lil' Kim Keeps It Hood in Old Navy Commercial (2003)
Lil' Kim - before the plastic surgeries - is selling hoodies in this fun Old Navy Christmas ad.
---
JAY-Z Drinks Only the Finest of Beers in Heineken Ad
Throughout his career, JAY-Z has secured a slew of product endorsement deals. In this ad for Heineken, Hov manages to include his Pharrell-assisted single "Excuse Me" and name drop his Nas diss song "The Takeover into the mix.
---
Missy Elliott Salutes Powerful Women in Reebok Commercial (2002)
Missy Elliott explains why "It's a Women's World" in empowering Reebok campaign.
---
Snoop Dogg Decides Who's the Winner in Pepsi Zero Ad
The Cola Wars come to ahead in this ad starring Snoop Dogg. In the clip below, the Pepsi Max driver and the Coke Zero driver battle it out to see who has the best zero-calorie soda. The Doggfather appears at the end of the commercial to make it clear which brand is No. 1.
---
50 Cent Joins the Symphony in Vitamin Water Commercial (2007)
50 Cent made a wise investment with Vitamin Water. The rap mogul reportedly received $100 million after Coca Cola bought the maker of Vitamin Water for 4.1 billion i 2007. In this fun ad, Fif conducts the National Symphony for a orchestral rendition of his chart-topping hit "In da Club."
---
The Wu-Tang Clan Kicks It With St. Ides (1994)
St. Ides enlisted the help of the Shaolin crew to sell their St. Ides malt liquor brew. There's actually a longer version of the song, which you can listen here.
---
Jadakiss and Allen Iverson Hoop It up in Reebok's Answer V commercial (1996)
Veteran rapper Jadakiss and NBA Hall-of-Famer Allen Iverson team up to promote AI's signature A5 sneakers for Reebok back in the '90s. This ad does a great job of mixing rap and sports together. They also teamed up for the A6's with Iverson spitting a couple bars of his own.
Kool Keith, Eve, Angie Martinez, Mia X, Amil and Roxanne Shante - Sprite's "5 Deadly Venoms" Commercials (1999)
Inspired by the 1978 kung-fu flick The Five Deadly Venoms, Kool Keith plays a villain who encounters five different fighters who each possess an unique form of kung-fu. Eve is the Blond Bee, Angie Martinez is the Firefly, Mia X is the Ladybug, Amil is the Praying Mantis and Roxanne Shanté is the Black Widow.
---
Ice Cube Gives No F's in Nike's P-Rod SB Sneaker Ad
Skateboard king Paul Rodriguez is having a good day skateboarding through the hood in his new Nike SB P-Rod sneaker, that is until he falls off his skateboard and Ice Cube runs it over with his Chevy Impala.
---
Keeping It Real: Rappers Who Dabbled in Reality TV