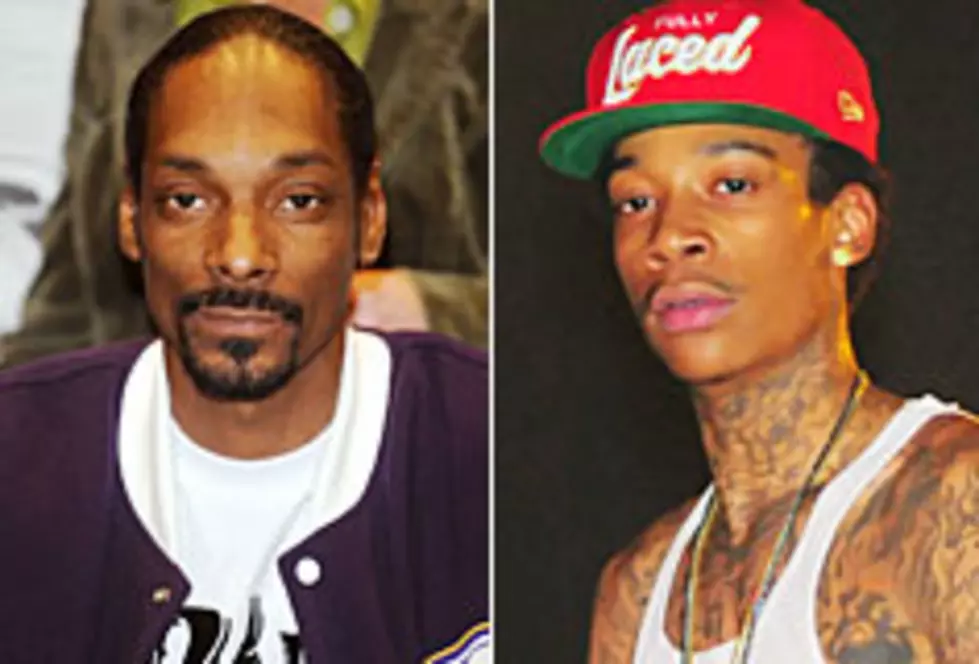 Snoop Dogg, Wiz Khalifa Drop New Song, 'The Weed Iz Mine'
Getty Images, FilmMagic
Wiz Khalifa and his herbal advisor, Snoop Dogg, continue their string of successful collaborations with a new song, entitled 'The Weed Iz Mine,' from their upcoming film, 'High School.'
An ode to the marijuana-friendly MCs' mutual passions, 'The Weed Iz Mine' is at once an homage to their favorite herb and a reference to Michael Jackson and Paul McCartney's 'The Girl is Mine,' proving yet again that Snoop and Wiz have good chemistry.
"I wake up early in the morning and it feels so good/ Smoking on some s--- that you wish you could," Snoop begins, smooth-as-ever over the funky synth-infused beat. "Jealousy, envy, please don't feel bad/ This weed is mine, get your own bag."
The song will also appear on Snoop's new album, 'Doggumentary,' which is scheduled to hit shelves on March 29, the same day as Wiz Khalifa's highly anticipated 'Rolling Papers.' The two rappers have already appeared on several songs together in the past year, including 'That Good' and the official 'G-Mix,' a remix to Wiz's breakout hit 'Black and Yellow.'
Snoop and Wiz announced that they would be collaborating on the 'High School' film last year, and have since revealed that they will begin shooting in May.
"We decided to go ahead and say, 'You know what? Let's do a movie and a soundtrack and just become, you know, bosom buddies and do what we do 'cause we love what we do and we love each other and at the same time we know what the people want," Snoop said, in an interview about the film.
"The people want to see the two generations come together where hip-hop ain't about old school and new school," he continued. "It's just about good music and making good moves and putting something out there that's classic where people can respect it and say, 'Yeah, so now, this was some gangsta s--- that really made hip-hop gradually grow to another level."
'High School' will be Wiz's first appearance on film, while Snoop has a long history on the silver screen, with appearances in 'Baby Boy,' 'Training Day,' 'Starsky & Hutch' and many more.


Listen to Snoop Dogg and Wiz Khalifa's 'The Weed Iz Mine'