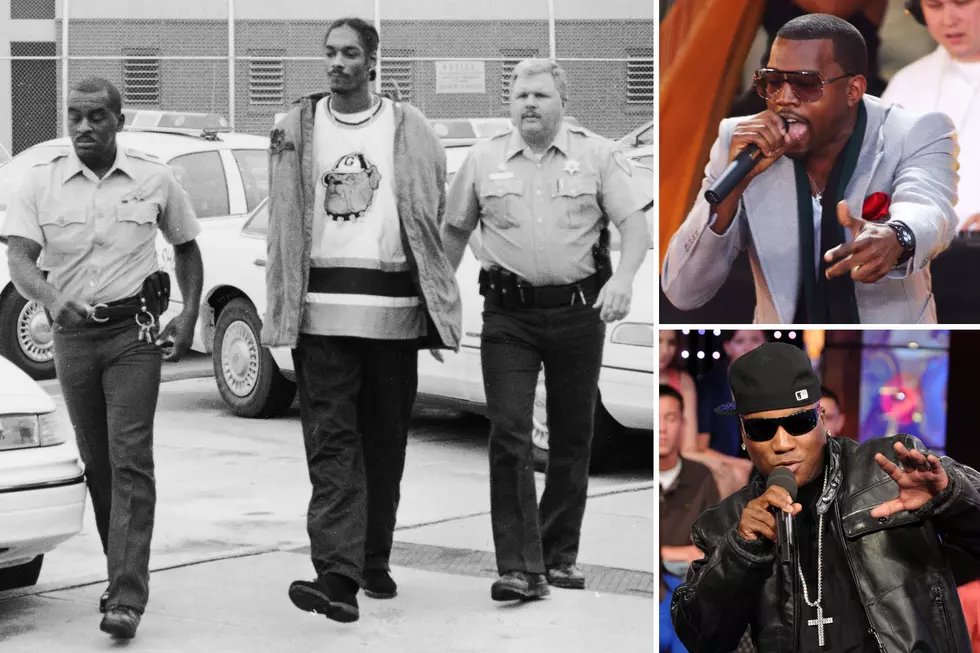 Snoop Dogg Charged With Murder: Sept. 2 in Hip-Hop History
Hulton Archive / Brad Barket / Bryan Bedder, Getty Images
On Sept. 2 in hip-hop history, murder was the case for Snoop Dogg, and Kanye West spoke out against the Bush Administration's response to Hurricane Katrina. Read about these events and more below.
1969: K-Ci of Jodeci is born
Cedric "K-Ci" Hailey was born on Sept. 2, 1969 in North Carolina. Although he began his career with his brother, Joel ('JoJo"), and his father, singing gospel as Little Cedric and the Hailey Singers, he and Joel eventually met up the DeGrate brothers, Donald ("DeVanté Swing") and Dalvin ("Mr. Dalvin") to form Jodeci. The group rose to fame in the early '90s thanks to No. 1 R&B hits like "Forever My Lady," "Come and Talk to Me" and "Cry for You." After their split, he and JoJo recorded five albums together, and Jodeci reunited in 2014, with The Past, The Present, The Future coming out in 2015.
1971: Katt Williams is born
A native of Cincinnati, Micah "Katt" Williams started as a stand-up comedian, eventually moving into an acting career that saw him star as Money Mike in 2002's Friday After Next in his film debut. He brought that character into music, featuring on tracks by Baby Bash ("That's What the Pimpin's There for"), the Game ("Palm Pilot"), and Suga Free ("So Fly"), and has frequently rapped on his comedy albums.
1976: Syleena Johnson is born
Syleena Johnson made her recorded debut singing on 1994's Back in the Game, an album by her father, Chicago soul great Syl Johnson. In 1999, she put out her first solo record, Love Hangover, and signed with Jive two years later. Since then, all of her albums of original material (the exception being 2017's covers record Rebirth of Soul) have been titled after chapters, with 2002's Chapter 2: The Voice containing her biggest hit, "Guess What."
1983: Rich Boy is born
Hailing from Mobile, Ala., Maurice "Rich Boy" Richards made a big splash in 2006 with his debut single, "Throw Some D's," which peaked at No. 2 on Billboard's Rap chart and No. 6 on the Hot 100. For his efforts, he won the Rookie of the Year at the BET Hip-Hop Awards. But although he's continued to write and record since then, nothing he's put out has had the commercial impact of his debut.
1993: Snoop Dogg officially charged with murder
After serving as a presenter at the MTV Video Music Awards, Snoop Dogg turned himself in to Los Angeles police for the murder of of Philip Woldemariam, which took place a week prior. Earlier in the day, the other two suspects, McKinley Lee and Sean Smith, had been arrested. He was released on $1 million bail and then eventually charged with first- and second-degree murder, conspiracy to commit assault, voluntary manslaughter and accessory to a murder after the fact.
"There is nothing you can do to prepare yourself for what I'm going through," Snoop told the Los Angeles Times. "But I believe everything happens for a reason. The ups. The downs. I just got to deal with it and keep on going. It's all in God's hands now."
The trial began in November 1995 and concluded with all three men cleared of all charges. Although there was little doubt that Lee, Snoop's bodyguard, pulled the trigger, their attorneys successfully argued that they acted in self-defense, with Woldermariam, a member of a rival gang, showing them his own gun shortly before the shooting.
2005: Kanye West says "George Bush doesn't care about black people" on live TV
During "A Concert for Hurricane Relief," a telethon on NBC following the devastation caused by Hurricane Katrina, Kanye West went off-script during a segment with actor Mike Myers. He spoke about the portrayal of African Americans in the media, and how the government's poor response was "because most of the people are black."
He then admitted that he had difficulty watching the footage from New Orleans and that he had gone shopping before giving a donation. "I mean, the Red Cross is doing everything they can," he continued. "We already realize a lot of people that could help are at war right now, fighting another way—and they've given them permission to go down and shoot us!"
Myers went back to what was on the teleprompter, but West ad libbed again by saying "George Bush doesn't care about black people," at which point NBC cut to Chris Tucker.
"Kanye West departed from the scripted comments that were prepared for him, and his opinions in no way represent the views of the networks," NBC said in a statement. "It would be most unfortunate if the efforts of the artists who participated tonight and the generosity of millions of Americans who are helping those in need are overshadowed by one person's opinion."
But West defended his remarks a week later on The Ellen DeGeneres Show. "People have lost their lives, lost their families," he said. "It's the least I could do to go up there and say something from my heart, to say something that's real."
2008: Jeezy drops 'The Recession'
With the American economy in a downturn, Jeezy put out his third album, The Recession. The record featured the hit "Put On," which featured a guest rap by Kanye West, his first appearance on a song after the death of his mother and the first time he used Auto-Tune. The track was produced by Drumma Boy, who told Billboard that he "wanted it to feel like a new anthem for the Chicago Bulls when they came out on the floor. I was thinking about the Bulls anthem with Phil Jackson and Michael Jordan in primetime. I made that beat in 30 minutes and put it into Pro Tools and sent it over to Jeezy fresh off the press."
"I turned off all the lights and got the feeling I did when I was a kid walking into the studio for the first time and seeing all the different lights, meters flashing, computer on desktop mode and everything was just a vibe," he added. "I rolled up a couple blunts and lit up the first one to get in the zone. The first sounds I played made me feel like I was in The Twilight Zone."