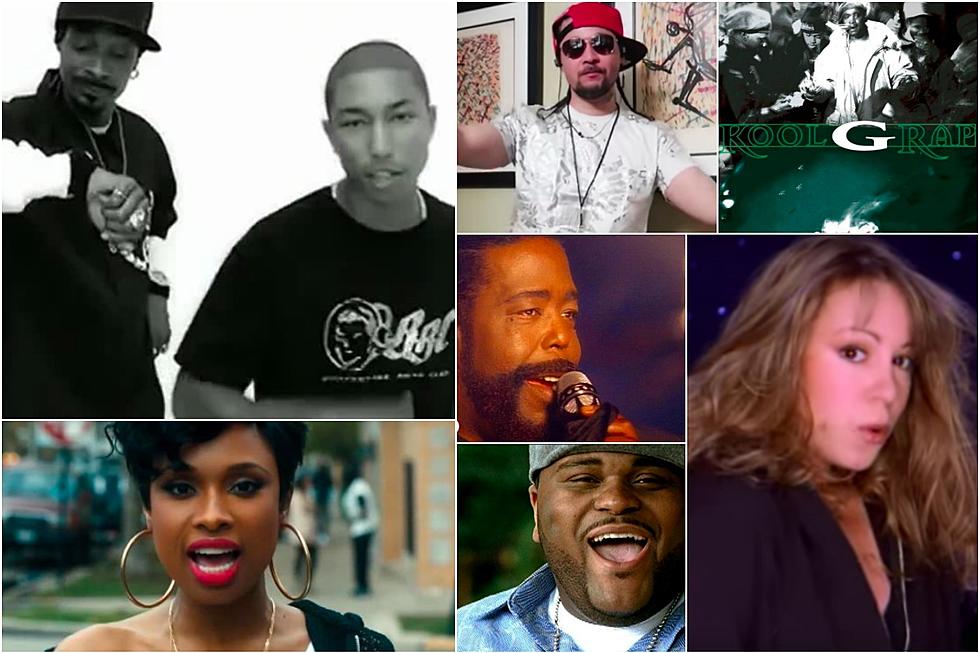 Snoop Dogg & Pharrell Make You 'Drop It Like It's Hot': Sept. 12 in Hip-Hop History
YouTube/Cold Chillin' Records
On this day, Mariah Carey breaks records with "Fantasy," Kool G Rap continues his lyrical reign, Snoop Dogg and Pharrell make everyone "drop it like it's hot," and Jennifer Hudson is born.
1995: Mariah Carey drops "Fantasy" 
The lead single from Mariah Carey's fifth album, "Fantasy," was a history-making record. It became the second song in Billboard history to debut atop the Hot 100, and the first song by a woman to do so. It stayed there for eight consecutive weeks and was the second best-selling song of 1995 in the U.S. The song (which heavily samples Tom Tom Club's "Genius of Love") was written by Carey and Dave Hall, both of whom shared production credit on the track along with Sean "Diddy" Combs. The song came from the Daydream album, which found her breaking from her traditional pop sound, and dabbling more heavily in R&B and hip-hop, signaling the beginning of a significant musical shift for Carey. To that end, Ol' Dirty Bastard showed up on the remix to "Fantasy," with a classic rap verse, where he declared, "Me and Mariah go back like babies with pacifiers." Daydream went on to become Carey's second album to be certified diamond. "In listening to the album, I just felt that it had a very dreamy mood," Carey said in a 1996 interview with Dutch radio station 3FM. "I thought that it would be fitting to call the album Daydream."
1995: Kool G Rap drops his solo debut, 4,5,6 
Kool G Rap's solo debut, 4,5,6, arrived in 1995 on Cold Chillin' Records following his breakup with DJ Polo in 1993. Signifying the respect he'd garnered as a pioneering influencer of rap, the album peaked at No. 1 on the R&B/Hip-Hop chart, and the single "Fast Life" featuring Nas hit the Billboard Hot 100.
The Queens rapper came up with the legendary Juice Crew and, alongside Rakim, is considered one of the architects of lyrical rap, with a flow that's been mimicked and adapted by generations after him. "To me, it was the influence of hearing artists when I was younger," he told Rolling Stone in 2017 about his personal influences and how they pushed him to step his lyrical game up. "To me, they was one step into the future, outside everybody else at the time, and that was Melle Mel, Kool Moe Dee, Silver Fox from Fantasy Three. A lot of people are not aware of them, but Silver Fox was a dope, dope rapper. It was listening to those guys and see how they didn't just settle for being just like everybody else. They wanted to go the extra distance to stand out and be better than everybody. I was an artist that had the same desires. I didn't want to blend in with anybody else and what they doing. I wanted to be technical. I wanted to be complex. I wanted to make my act a hard act to follow. Bottom line. And so I just kept pushing and pushing myself. Just do more than what everybody else was doing."
2004: Snoop Dogg teams up with Pharrell for "Drop It Like It's Hot"
One of the biggest songs in Snoop Dogg's long career came over a decade after his debut via 2004's monster hit, "Drop It Like It's Hot" featuring Pharrell. The song remains a signature Snoop record, and snagged the Long Beach rhymer his first No. 1 Billboard Hot 100 hit. Produce by the Neptunes, the track features the now instantly recognizable tongue-popping, which plays along with the bass drum on the otherwise minimal track.
The black and white video was directed by Paul Hunter, and features a dancing (sometimes crip-walking) Snoop Dogg, while Skateboard P handles the first verse. In a 2014 interview on Snoop's GGN, Snoop talked to Pharrell about making the song, which P says came about specifically because of the conditions in the studio. "I was in the room with all that crip," Pharrell remembered. "That's what it was. That and a helluva lot of contact. I started putting spray cans on the beat!"
Barry White, Bizzy Bone, Ruben Studdard and Jennifer Hudson Are Born 
Legendary singer, songwriter, producer and composer Barry White was born on Sept. 12, 1944. With over 100 million records sold over the course of his decades long career, White, who passed away in 2003, remains one of the most influential artists of the past 50 years.
Byron "Bizzy Bone" McCane, one-fourth of the platinum-selling Cleveland-based rap group Bone Thugs-n-Harmony, was born on Sept. 12, 1976. Most recently, Bizzy has branched out from music and acting gigs to launch a vlogging channel, JAM TV, which focuses on family life with his wife, Jessica "J. Cass."
Grammy-nominated singer Ruben Studdard, who shot to fame following his win on the second season of American Idol, was born on this day 1978. He's since released seven solo albums, including his platinum debut, Soulful. Oscar and Grammy-winning vocalist/actress Jennifer Hudson was born on Sept. 12, 1981. Hudson, who scored a No. 1 hit with her song "Spotlight" and is regarded one of the best voices of this generation, was handpicked by the late Aretha Franklin to play her in her yet-to-be-titled upcoming biopic.