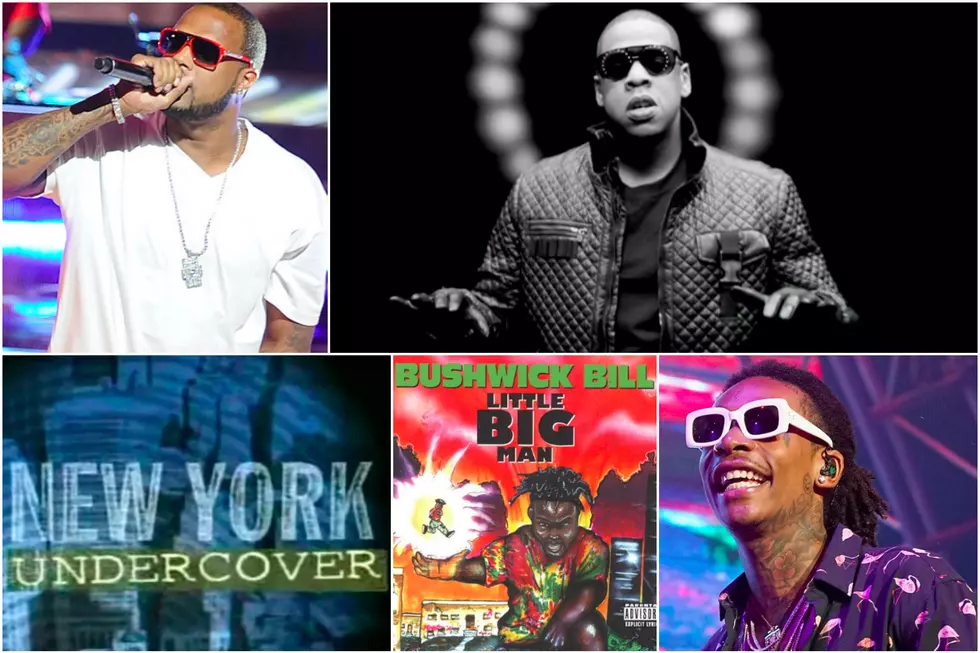 Jay-Z Tries to Kill Auto-Tune: Sept. 8 in Hip-Hop History
Stephen Lovekin/Bennett Raglin, Getty Images, YouTube, Rap-A-Lot Records
On this day, Wiz Khalifa and Slim Thug are born, New York Undercover makes television history, The Geto Boys' Bushwick Bill drops his solo debut and Jay-Z releases the lackluster The Blueprint 3.
1992: Bushwick Bill releases 'Little Big Man'
At the height of the Geto Boys' breakthrough success with We Can't Be Stopped, Bushwick Bill released his solo debut, Little Big Man on Rap-A-Lot/Noo Trybe. The album peaked at No. 35 on the Billboard 200 and at No. 15 on Top R&B/Hip-Hop Albums. Though it charted better than his Geto Boys counterpart Scarface's 1991 debut, Mr. Scarface Is Back, it didn't see the same overall success, and failed to go gold as Face's album did. While Bushwick's effort achieved moderate success, it was nevertheless a welcome introduction into the mind of one of hip-hop's most interesting figures.
On the album's standout single, "Ever So Clear," Bushwick details when he was shot in the eye by his girlfriend, and the infamous photo it spawned, which ended up being the cover art for We Can't Be Stopped. "The hospital had me drugged up so I was being prepared for surgery, I couldn't eat, I couldn't drink anything. They had me on a bunch of medicine and I didn't see the album cover until after it hit the shelves. Such is life," he told HipHopDX about the incident in 2014.
1994: 'New York Undercover' debuts on Fox 
A pioneering show for hip-hop and diversity on primetime TV, Dick Wolf's New York Undercover debuted on Fox in 1994. At the time, Fox was the go-to network if you wanted to see black and brown people on television, with a diverse roster that boasted several hit shows including Martin and Living Single. But when New York Undercover aired, it was immediately clear something special was happening. The show, executive produced by Uptown Records' Andre Harrell, focused on two NYPD cops — Detective J.C. Williams (Malik Yoba) and Detective Eddie Torres (Michael DeLorenzo) -- and didn't shy away from exposing and even relishing the cultural significance of having two leads of color. The series often featured performances in the fictional club, Natalie's, the characters frequented (clearly inspiring the live performance scenes at Harlem's Paradise in Luke Cage), and was must-see television in the '90s.
Wolf talked about the possibility of a reboot to the New York Times back in 2015. "I'd love to do it if he can get anybody to say they'll do it," he said. "I would have thought it would have been a natural on Fox now because it's the same world. The thing that people don't remember is that up until Empire, New York Undercover was the only minority-lead drama that was renewed in the history of television. It's been too far between shows."
2009: Jay-Z drops 'The Blueprint 3'
The release of Jay-Z's 11th studio album, The Blueprint 3, wasn't exactly a high point in his career. His first mistake was naming it after The Blueprint, which naturally invited comparisons the original Blueprint, probably Jay's best album. While it was easy to label his subsequent albums the same name, it wasn't necessary and didn't make a lot of sense, particularly since the records had little in common conceptually.
That said, the third and final entry to the Blueprint series featured the brightest producers in hip-hop—including Just Blaze, No I.D., Timbaland and Kanye West—and spawned a few memorable hits, including the Swizz Beatz-produced "On to the Next One."
It was also on this album when Jay-Z declared that Auto-Tune was officially over on "D.O.A. (Death of Auto-Tune)" which raised a lot of brows at the time. The song prompted the Game to release a diss track called "I'm So Wavy (Death of Hov)," alleging Jay was too old to rap at 39 and out of touch with the current, auto-tune-loving rap climate. Lil Wayne, who took it to mean Jay was throwing unnecessary shots at his good friend, T-Pain (Jay said he wasn't).
"Stop it, stop it," Wayne told Tim Westwood in a 2009 interview. "No, there's no such thing as 'Death of Auto-Tune'. T-Pain is my dude. He's on everybody's single. He's been on everybody's single, and he had auto-tune on every single one of them. So, every song I do with him, he better have auto-tune on it. I love it. Keep your auto-tune popping. Auto-tune ain't dead. You've got the whole game using that."
Slim Thug and Wiz Khalifa Are Born 
In 1980, Stayve Jerome Thomas, known to the world as Houston rhyme-slinger Slim Thug, was born. His ambitious debut album, Already Platinum, was finally released in 2005 following the success of his 2003 mixtape, Having Things, which made him one of the most buzzed-about acts in rap. Released on the Neptunes' Star Trak Entertainment, the album debuted at No. 2 on the Billboard 200. A major factor in Houston's mid-'00s hip-hop reign, Slim established himself as a top-tier emcee, gaining widespread support from everyone from T.I. and Bun B (who both appeared with him on the single "3 Kings") to fellow Houston native Beyoncé and Gwen Stefani, both of whom he collaborated with.
In addition to making music, Slim has been active on Houston's political scene, supporting a number of causes that impact his native North Houston and creating Boss Life Construction.
"A lot of guys might not want to go to college or might not be smart enough to go to college. Maybe we could put some type of trade school in the hood, and they could go straight to having a good job and be able to feed their family and not have to work at McDonald's but have other options," he told Noisey about his 2016 meeting with the mayor of Houston. "We also came up with an entrepreneur course, and if they were to pass it maybe the city could give them a grant to start their own business or something like that."
Cameron Jibril Thomaz, also known as Wiz Khalifa, was born in 1987 in Minot, N.D., before his family settled in Pittsburgh. His debut, Show and Prove, dropped in 2006. His mainstream breakout album came via 2011's Rolling Papers, featuring the No. 1 single, "Black and Yellow," which was certified six times platinum. Since then, Khalifa has had continued success, releasing three more studio albums (one platinum and one gold) and becoming of hip-hop's most reliable emcees, celebrated for his laid-back rhymes and vibe. Khalifa, who's ventured into the legalized marijuana business over the past couple of years, and even has his own weed strain, talked about the impact of music with High Times in 2016.
"I love music and I study music: The way that I'm into it, I want everybody else to be into it like that, too," he said. "So that's why I stay on top of my game. It's not about me so much personally—I'm not trying to be the richest or flashiest rapper, but I'm going to give you everything that comes with me so you can see how to work within the rap game correctly."