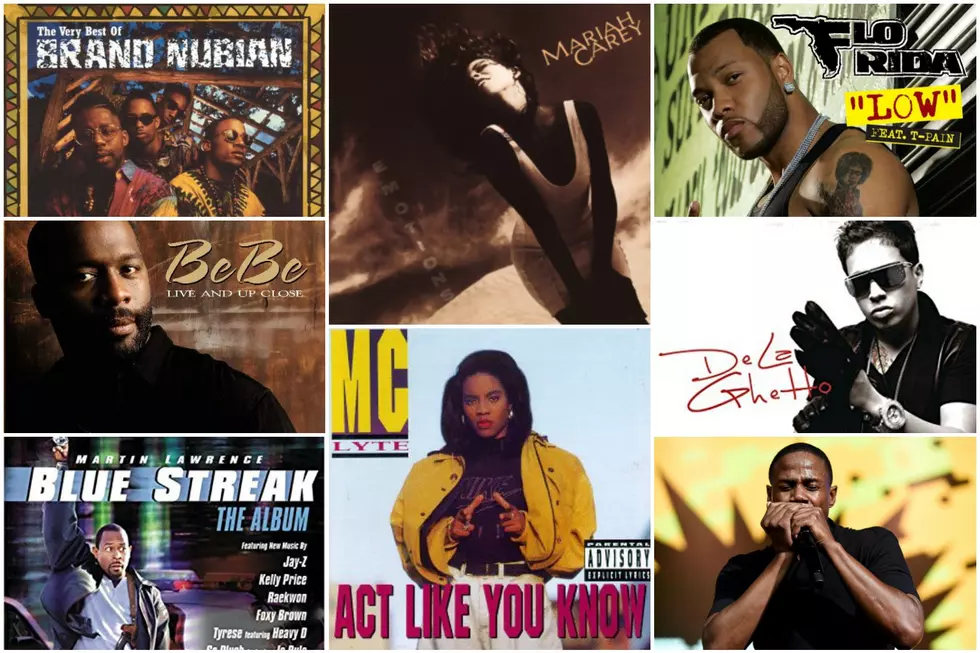 MC Lyte Goes R&B on 'Act Like You Know Me': Sept. 17 in Hip-Hop History
Nicholas Hunt, Getty Images / Sony Music / Atlantic / Tommy Boy Entertainment / Motown
On Sept. 17, Mariah Carey stunned once again with her vocal range, MC Lyte went in a new direction and Jay-Z led the soundtrack for a Martin Lawrence comedy.
1991: Mariah Carey continues her hot streak with Emotions
Mariah Carey's sophomore effort Emotions debuted at No. 4 on the Billboard 200. With its title track, she bested the Jackson 5 to become the first artist whose first five singles all topped the chart. It was an impressive feat for the young artist who co-wrote and produced all of the album's songs.
She declined to tour behind the album citing the vocal rigors of her music as preventing back-to-back performances. "I'm not a Broadway type of person," she said at the time. "I'm something of an introvert, who is happiest when I'm creating in my own little world in the studio. I'm not into performing. I have to make myself do it because it comes with the territory. If I toured, I wouldn't have had another album out for at least another year. It's so hard on my voice. I need a lot of sleep, and my songs are all strenuous. Because I'm not a dancer-slash-singer, when I go out there people don't want to hear me just breeze through them. They want to hear every note. I'm definitely not going to do a full-out tour for this album either."
1991: MC Lyte drops Act Like You Know
On the same day, MC Lyte dropped her third record Act Like You Know, which showcased a softer R&B sound in contrast to her previous work. Boasting big-name producers like Audio Two, the 45 King, Epic Mazur and Richard Wolf, the record spawned two hit singles "When In Love" and "Poor Georgie," but the album as a whole peaked at No. 14 on the Top R&B/Hip-Hop Albums chart.
Lyte revealed it was Bell Biv Devoe remixes that inspired her. "During that whole era, what was most constant in my mind was BBD's remixes," Lyte said. "What I think it was, they were capturing what Puffy was about to capture. As far as having hip-hop with dance. Or as far as having rap on top of a song that was R&B but still had very strong hip-hop influences to it. And when I heard that, I wondered how I could do this, how can I take it to where it needs to be. And at that point I sought for Wolf and Epic who had done the remixes for BBD. And I worked with them on four tracks for that album and I also worked with DJ Mark the 45 King, I worked with Milk and Giz, I had a couple of special appearances on that album. See I was happy for what it was worth at that time. A lot of people were like, 'Ooh, she went R&B' but I needed to do that to make me complete. It made me content to do that album."
1999: Blue Streak is released in theaters
On this day in 1999, Martin Lawrence's buddy cop comedy Blue Streak hit theaters. A new take on the 1965 film The Big Job, the film opened at No. 1 in North America. Its soundtrack, though it was ultimately certified platinum, didn't fare quite as well despite a lineup of heavy hitters. Its 14 R&B and hip-hop tracks included contributions from Raekwon, Ja Rule, Kelly Price and Foxy Brown. It was Jay-Z, however, whose "Girl's Best Friend," with vocals by Mashonda, served as the lead single, while also appearing as a hidden track on his own Vol 3. ...Life and Times of S. Carter. The soundtrack reached No. 31 on the Billboard 200, and made its way to No. 9 on the Top R&B/Hip-Hop Albums chart.
In 2010, Jay noted that as he's matured and married, the language he uses in music has changed. "My language has changed because my dealings with women have changed," he said. "What I'm saying is that these relationships are taking place at a young age, so there is no real relationship there. Guys need to take responsibility, but they aren't mature enough at 16 or 18. They are closed, shut off, emotionally crippled. They don't know how to express themselves."
1962: BeBe Winans is born
A member of the Grammy Award-winning gospel family the Winans, BeBe Winans was born on Sept. 17, 1962. He released several solo albums between 1997 and 2012, after releasing numerous records with his sister Cece Winans.
1966: Doug E. Fresh is born
Douglas Davis, better known as Doug E. Fresh, was born on this day in 1966. The rapper, producer and beatboxer rose to prominence in the mid-'80s with the Get Fresh Crew, which included Slick Rick before he struck out on his own. He broke through to the mainstream with 1988's The World's Greatest Entertainer and the hit "Keep Risin' to the Top," but by the time of his next record, 1992's Doin' What I Gotta Do, his commercial momentum stalled. He's only put out one record, 1995's Play, since.
1968: Lord Jamar is born
Lorenzo Dechalus, aka Lord Jamar, came into this world on Sept. 17, 1968. A rapper, producer and actor, Jamar is a member of the group Brand Nubian, with whom he's released six records including the 1990 hip-hop classic One for All.
1979: Flo Rida Is Born
One this day in 1979, Tramar Dillard was born in Miami Gardens, Florida, prompting his eventual stage name, Flo Rida, under which he's put out four albums. His single "Low," from his debut album Mail, broke records for digital sales and spent 10 weeks at No. 1.
1983: De La Ghetto is born
De La Ghetto, born Rafael Castillo, was born on Sept. 17, 1983. The reggaeton singer-songwriter began his career as one half of the duo Arcangel & De La Ghetto in 2004, but launched as a solo artist two years later. In 2008, he released his solo debut record Masacre Musical.