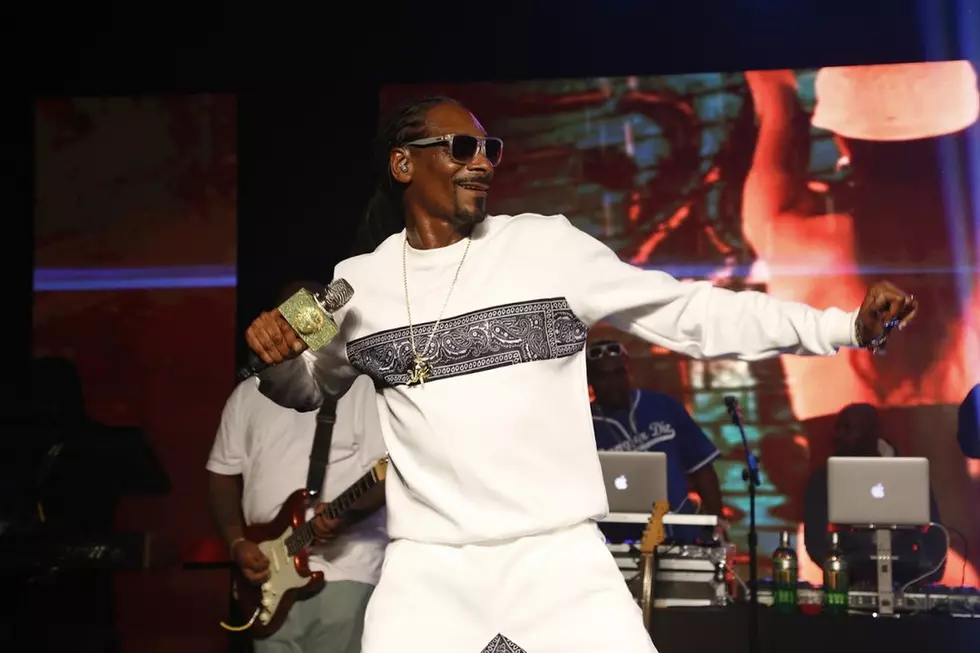 Snoop Dogg Kicks Off His Birthday With Private Concert in Hollywood
Echoing Soundz
Snoop Dogg started his birthday festivities a few days early this year--and he's sharing the celebration with his fans worldwide. The Doggfather hosted a private concert at SIR Studios in Hollywood, CA--which was also exclusively live-streamed on AMAZON's FireTV as the official launch of the new AMAZON-partnered network DECTV.TV.
Performing some of his hits from throughout his career--from Doggystyle to his current album Coolaid--the Long Beach legend was grateful for partnering with Amazon and DECTV for the launch streaming.
"Me and the tech world, we're kind of hand and hand for each other," Snoop explained. "I been underground with it for a minute, understanding, learning and developing different things. I've been an endorser, a sponsor. But then I wanted to get into the side of understanding what the technical side of it all was, as far as creating content and being able to deliver. And also be apart of big creations in the app world as well. Just always taking my game and expanding. It's something I wanted to do 'cause it was necessary."
"I been doing things in Hollywood a long time," Snoop added. "So to be able to come out here and celebrate my birthday and make it a global experience, it's special."
Others in attendance talked about about how Snoop has inspired them in their own careers and why it was important for them to support the Award-Winning rapper.
"I had to come out and support Uncle Snoop," said Gooding, who co-starred with Snoop in the 2001 drama Baby Boy. "He's a legend, a pioneer, a revolutionary, and I'm just happy for him and all that he continues to do."
"Snoop is an awesome guy," Eazy-E's former executive assistant Charis Henry stated. "He's very humble and consistent. Doesn't matter how high he's risen, through the triumphs and tribulations, and the things we've all seen him go through, he's always remained that Uncle Snoop we all adore and love. And you don't find that too often in this business, somebody who maintains the same and always gives you that same energy so I love that about him and I'm always going to be here to support."
SportsNation host Marcellus Wiley said, "I just have so much respect for Snoop. From seeing that guy on the Deep Cover video with the little flat top, skinny, representing Long Beach to who he is now, a global icon, a mogul, representing more than just the streets. Being able to embody so many things to so many people, I got nothing but love for him and how he's done so well in this industry."
Bishop Don Magic Juan made his entrance in true Bishop Don Magic Juan fashion, walking through the event with a gold cup embroidered with his name in diamonds and a model on each side of him. He expressed how proud he was of all Snoop's success.
"I'm Snoop's spiritual advisor, his personal friend and a fan so when Snoop called and said he had something going on, its only right that I come out, enjoy the festivities and support. I'm excited that he's elevated his game to the next level to where he's more involved with technology. Not only will this event be shown locally, but its going worldwide. So thats a plus for Snoop to be involved in such a high power movement like this."
At the end of the concert, Snoop was presented with a self portrait cake and everyone in the crowd sang happy birthday to him.
"[To my fans], ya'll know I love ya'll," Snoop said. "Keep continuing to support me, being down with whatever I'm down with. I love and appreciate ya'll and we gon' always keep it one hundred."
You can view some of the pictures from the event below!
Marvel Releases More Hip-Hop Variant Covers