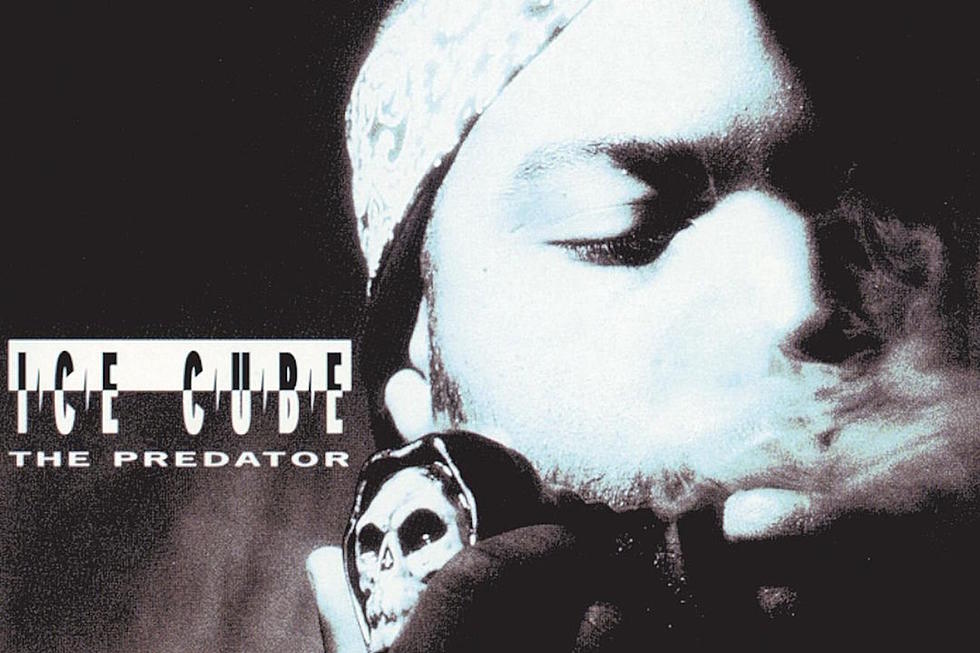 Ice Cube's 'The Predator' Channeled the Anger of the L.A. Riots
Priority
A lot of people discovered Ice Cube on his third album.
The fiery rapper from Compton had been a fixture in hip-hop since he'd emerged with N.W.A. in the late 1980s, but as notorious as The World's Most Dangerous Group had been, a lot of mainstream fans missed the Compton collective's original incarnation due to lack of radio play. And Cube's first two solo albums, (1990s AmeriKKKa's Most Wanted and 1991s Death Certificate), were widely-acclaimed but their singles didn't really enjoy much high profile success outside of the rap charts.
Of course, none of this was unusual. In the early 1990s, the kinds of hip-hop songs that typically dominated mainstream radio were lighter fare by artists like Salt-N-Pepa and Heavy D. Cube's fiery rhetoric and controversial image made him a hip-hop star (and in the wake of 1991s Boyz N the Hood, a movie star) but it hadn't really made him a hitmaker. But that all began to change with the release of The Predator.
This would be an album heavily informed by the tensions in Los Angeles, but it would also feature some of Cube's most radio-friendly production—particularly the singles. 1992 was a year of transition. The L.A. riots had taken place that April, bringing to a head the racial tensions in the city that Cube had helped to expose to a wider audience via his music. And gangsta rap was primed for a pop breakthrough: singles from N.W.A.'s second album Niggaz4Life had gotten more mainstream play, as had "Deep Cover," the first solo single by ex-member Dr. Dre. With Cube's new album, the combination of the timely songs like "Wicked" and the accessibility of songs like "It Was A Good Day" meant that Cube suddenly had more visibility than he'd enjoyed on his previous albums.
With Public Enemy's reign as hip-hop's most important act beginning to show signs of waning and 2Pac's emergence as the voice of an embattled generation still not yet apparent; Ice Cube was the most potent voice in mainstream hip-hop by the fall of 1992. Death Certificate had proven him to be an important political commentator—and a controversial one. In the wake of that album, he'd been accused of anti-semitism and inciting violence against Asian shop owners; and his misogynistic lyrics had drawn fire since his days in N.W.A. It all informed his firebomb of a third album, with Cube's anger finding even more specified targets than it had up to that point.
The interludes on The Predator continue in the vein of its predecessor, punctuating the topicality of Cube's lyrics with snippets that reflect his continuing immersion in Islam and his always-potent political perspective. "First Day of School" opens the album with audio from American Me, the 1992 prison film, ironically taking the place of schoolyard banter.
"I'm Scared" includes snippets of people denouncing Cube's lyrics and white people saying "I was never a prejudiced person before listening to you" and "Integration" features audio from Malcolm X blasting the hypocrisy of segregation; as well as Louis Farrakhan dismissing his detractors. But the songs are just as direct as the interludes.
"When Will They Shoot?" is militaristic, with samples of Bob James, Queen and Charles Wright & the Watts 103rd Street Rhythm Band. Cube goes off on his usual targets; the hypocrisy of the system, racist powers-that-be ("The KKK got three-piece suits") and his critics. "Fuck a devil, fuck a rebel and a Yankee" he declares, while also chastising those who speculate on his religious affiliations and who call him a misogynist: "A Black woman is my manager—not in the kitchen. So could you please stop bitchin'?"
The first single "Wicked" is one of the album's most well-known tracks; a fiery commentary on the Los Angeles riots. The Torcha Chamba-produced track is about as close to Public Enemy as one could get without the actual Bomb Squad on production. Cube doesn't mince words as he name-drops accident attorney Larry Parker and then-new LAPD police chief Willie Williams; rapping about breaking Mike Tyson out of prison and celebrating the rebellion that sparked the unrest. "April 29th was power to the people—and we just might see a sequel." The video famously featured Anthony Keidis and Flea of the Red Hot Chili Peppers.
After a burst of gunplay, on "Now I Gotta Wet Cha," Cube is once again in confrontational mode. Not necessarily as topical as most of the album, this is Cube reveling in "Nigga Ya Love To Hate" gangsta-ism. Over a flip of Solomon Burke's "Get Out of My Life, Woman," it's one of the more infectious album cuts here.
"Muthafuck Billboard and the editor—here comes The Predator," Cube declares on the title track, a slower-rolling banger carried by a sample of "Superman Lover" by Johnny "Guitar" Watson. Cube's rage is sprayed at a wide list of antagonists; from racist cops, to former N.W.A. manager Jerry Heller, to the most obvious; the mainstream media. Billboard had published a scathing indictment of Death Certificate in 1991; declaring that the album "crosses the line that divides art from the advocacy of crime."
Undoubtedly Ice Cube's most famous and popular song, "It Was A Good Day" is a hip-hop classic. The only laid-back moment on The Predator, the hit single would become Cube's first major mainstream success; peaking at No. 15 on Billboard Hot 200 and No. 1 on Billboard's Hot Rap Songs chart. Over a smooth sample of the Isley Brothers' classic "Footsteps In the Dark," Cube recalls a day that he "didn't even have to use my AK." It's one of the best hip-hop songs ever made and one of the tracks that announced the forthcoming Cali rap commercial dominance of the next few years.
Opening with a famous 1961 audio clip of Nashville Mayor Benjamin "Ben" West denouncing "riots, melees and disturbances of the peace" in response to segregation sit-ins, "We Had to Tear This Mothafucka Up" is another moment that specifically evokes the atmosphere surrounding the riots. Verbally slamming crooked cops and chastising the "not guilty" verdict in the Rodney King case, (while also sprinkling in some homophobia), Cube champions the riot as an approach to get "some respect."
"Dirty Mack" is Cube in full horndog mode. The first verse echoes the sleaziness of earlier Cube tracks, but the overall message is about not gettin' got—an unofficial sequel to Cube's 1990 single "Who's the Mack." The song is produced by Woody and along with the following track, represents the most anti-woman sect of the album. The Rashad-produced "Can't Trust 'Em" is another reminder that Cube's misogyny was still intact long after he'd left the notorious N.W.A. "You got to watch the ones in a skirt," Cube raps as the hook is straightforward and unapologetic in painting women as conniving, money-obsessed and shady.
AmeriKKKa's Most Wanted track "Gangsta's Fairytale" is one of the most inventive tracks in Cube's catalog, with his tongue-in-cheek reimagining of popular children's characters. The sequel appears here; and its hard to pull off this trick twice. That's not to say "...Fairytale 2" is a miss—it's still a fun premise. Cube once again drops fairytale characters into some hilariously hood scenarios, but like most sequels, it wasn't exactly necessary to revisit.
The remixed single of "Check Yo Self" would become another major hit for Ice Cube in 1993. Featuring some of his most noteworthy rhyming, it also includes some of Cube's most glaring homophobia, as he details prison rape and carelessly tosses in some gay-bashing in the second verse—with casual AIDS hysteria. And the final verse replaces the homophobia with all-too-standard woman-bashing. The track features a sample of "I'm Blue" by the Sweet Inspirations (famously flipped by Salt-N-Pepa for their 1993 hit "Shoop") as well as a guest appearance from Das EFX. The more famous remix flipped Grandmaster Flash and the Furious Five's 1982 classic "The Message," and was another Top 20 hit for Ice Cube.
Cube's storytelling has always been peerless, and the best tracks on The Predator are this story songs. That includes "Who Got the Camera," with Cube recounting a day that started out with the typical skirt-chasing; only for things to get confrontational with the police. "Fuck around and broke my pager, then they hit a nigga with the tazer," Cube raps, name-dropping Black directors Spike Lee, John Singleton and Matty Rich while frantically wondering "who got the camera?" as the police brutalize him.
"Say Hi to the Bad Guy" opens with a sample of Parliament's "P. Funk (Wants to Get Funked Up)." In an odd twist, Cube's former N.W.A. bandmate Dr. Dre would use the same sample on the final track on his own seminal 1992 album The Chronic, released just weeks later. 
Released on November 17, 1992, The Predator would boost Cube's commercial standing; finally giving him the kind of radio hits that could stand alongside the critical acclaim and street respect he'd enjoyed since going solo. But it didn't exactly break ground for Cube lyrically or in terms of approach. The album is focused, to be sure, but there isn't much here that Cube hadn't done better before. The power in The Predator is in the rage it depicts; a climate of tense frustration and volatile pain; the hotbed that was early 1990s Los Angeles. It lacks the topical sprawl of Death Certificate—an album that tackled everything from the right to bear arms to the military to childhood nostalgia—but its sharp and specific commentary on its time makes it more of the concept album that its predecessor is claimed to be.
The album would reach double platinum status, and along with The Chronic, 2Pac's Strictly 4 My N.I.G.G.A.Z and Snoop Doggy Dogg's Doggystyle (the latter two released in 1993), would push the West Coast to the forefront of hip-hop's mainstream. In terms of visibility, California rappers would eclipse their East Coast counterparts for the next few years, but Cube's influence on the culture would struggle under the weight of his newfound mainstream appeal. The dominance of Death Row Records and the metamorphosis of 2Pac into a hood folk hero would soon abbreviate the brilliance of Cube's peak years.
The Predator stands as one of the more important hip-hop albums of its time, even if it isn't the all-world classic that the two preceding albums are. Cube had the country's ear in the early 1990s, and he wasn't afraid to give his unfiltered take. That his take often came couched in homophobia and misogyny keeps The Predator from being easily revered as a piece of topical art; there is a lot of ugliness here. There is nonetheless power in the commentary—even if can't be wholly embraced as gospel when paired with the more indefensible lyrics throughout. That's just the reality of Ice Cube—especially in hindsight. But sometimes it's still necessary to revisit; as a reminder of what we should remember and what we should leave in 1992.
Watch Ice Cube's Video for "Wicked":
Watch Ice Cube's Video for "It Was A Good Day":
Watch Ice Cube's Video for "Check Yo' Self":
50 Greatest West Coast Hip-Hop Artists of All Time