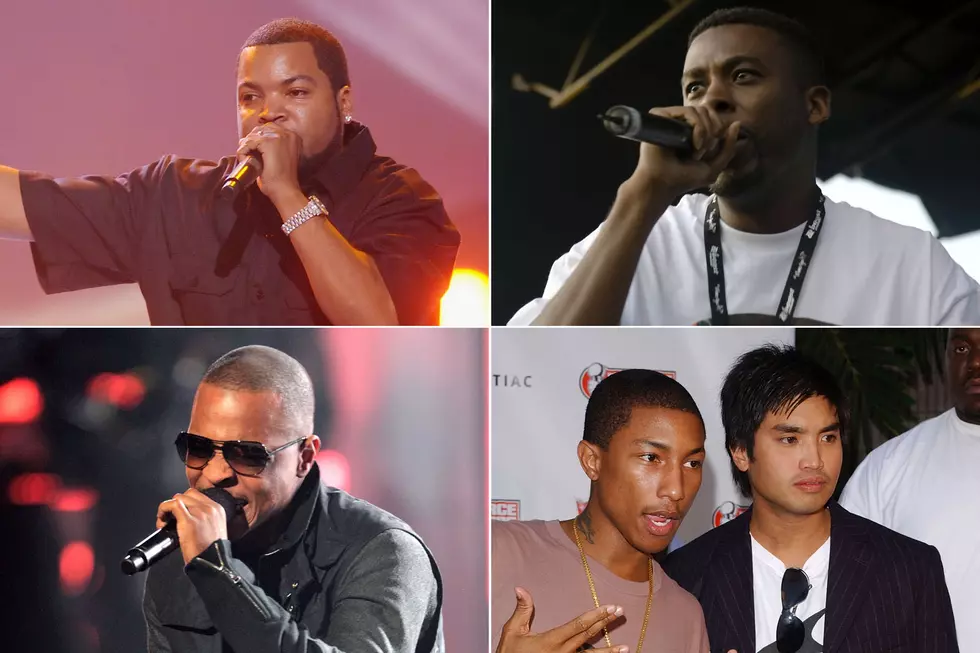 T.I Births 'Trap Muzik': August 19 in Hip-Hop History
Rick Diamond / Tom Burns / Frederick M. Brown / Frank Micelotta, Getty Images
On this day in hip-hop history, Ice Cube released his most political album in years, GZA took on all the new faces and T.I. became a star. Check it all out and more below.
2003: The Neptunes Present ... Clones is Released
After having spent much of the past decade establishing themselves as one of the most successful production teams around, Pharrell Williams and Chad Hugo, aka the Neptunes, put out a record under their own names. The Neptunes Present...Clones was a star-studded project, with songs by Jay-Z, Snoop Dogg, Busta Rhymes and Clipse. Pharrell's "Frontin'," with Jay-Z, became the breakout hit, topping the Billboard Hot R&B/Hip-Hop Songs chart and peaking at No. 5 on the Hot 100 singles chart.
2003: Juelz Santana arrives with From Me to U
Cam'ron may have become the biggest star to emerge from the Diplomats, but Juelz Santana got his solo career off to a big start. From Me to U peaked at No. 8 on the Billboard 200 albums chart and its single, "Dipset (Santana's Town)," which featured Cam'ron, earned a Grammy nomination for Best Rap Performance by a Duo or Group.
2003: T.I. Births Trap Muzik
I'm Serious didn't make T.I. a national star, but Trap Muzik did the trick. It helped that he had switched labels, signing with Atlantic and starting up Grand Hustle Records, a deal that lasted through 2012's Trouble Man: Heavy Is the Head. T.I. would later claim that he invented the sub-genre that gave the album its title.
"Okay, so you had crunk music and you had Organized Noise," he said. "There was no such thing as trap music, I created that, I created that. I coined the term, it was the second album, it dropped in 2003. After that, there was an entire new genre of music created. An open lane for each of you to do what you do, and live your lives, on T.V., and be accepted by the masses. The masses have accepted you 'cause I opened the door and you walked through it. Don't forget who opened that door, cuz."
2003: Bow Wow Grows Up on Unleashed
With Unleashed, Bow Wow, then 16 years old, dropped the "Lil" from his name. With the change came a shift in lyrical focus. "I'm still talking about girls, but I'm also talking about other things," he told Billboard. "I got to cover a lot of true-life situations. ... It's cool because [my fans] don't want me to be stuck on the same little stuff that I was talking about two or three years ago."
2008: GZA Releases Pro Tools
Six years after Legend of the Liquid Sword, GZA resurfaced with Pro Tools. Its title referred to the software he used to create the record. "The people at [my label] Babygrande were asking for a name," he said. "I was looking around the house, or the studio, and trying to come up with something, and I may even have been reading the actual Pro Tools manual and just went with that, and it works great with the album."
The Wu-Tang Clan star added that his longevity in the business made its way into his rhymes. "It's saying 50 Cent and G Unit could never write like me and I'm coming at it focusing on shelf life," he continued. "I'm not trying to clown all the younger rappers, but just saying that there is so many things to be inspired by, so I don't understand why people are still rhyming about the same thing. I'm trying to move forward a tradition, and you can see that when I'm going on a Liquid Swords tour ten years after it came out. Wu-Tang has two or three generations of fans so we must be relevant."
2008: Ice Cube Rages on Raw Footage
Arriving as America's economy was plummeting in the midst of a presidential election, Raw Footage was considered to be Ice Cube's angriest and most political work in a long time. "They wanna blame the world's problems on gangsta rap," he said on "Thank God." "It's our fault motherf**kers is dying in Iraq / It's our fault motherf**kers is starvin' in Africa.../ They blame it all on us / I'm blaming them motherf**kers for gangsta rap / 'Cause if they didn't create these kind of conditions I wouldn't have sh*t to rap about." The record featured verses by the Game, Musiq Soulchild and Young Jeezy.
2008: Shwayze drops his self-titled album
The debut by Aaron "Shwayze" Smith coincided with an MTV reality show, Buzzin', which was named after the album's first single. The eight-episode series followed Shwayze and collaborator Cisco Adler around in the run-up to the release of Shwayze. As a single, "Buzzin'" only reached No. 46 on the Hot 100, but its follow-up, "Corona and Lime," peaked at No. 23.