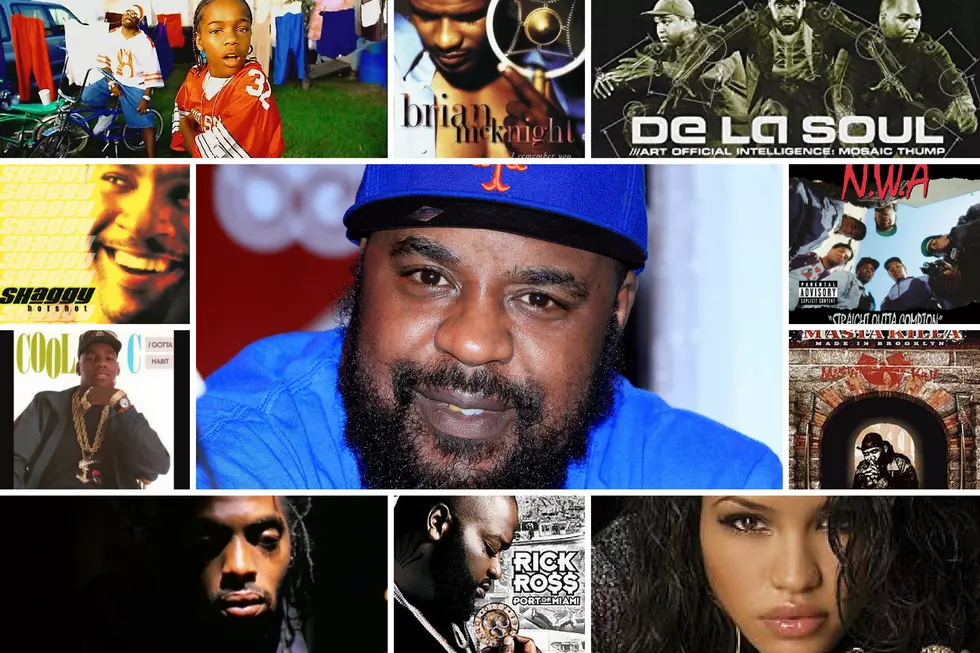 N.W.A. Births a New Era of Hip-Hop: August 8 in Hip-Hop History
Robin Marchant/FilmMagic, iTunes
One of the most defining albums in hip-hop history was released 30 years ago today. Also on this day in hip-hop history, we have a Lil' rapper's debut single, a defining album from Rick Ross and more.
1988 - N.W.A drops Straight Outta Compton
One of the most definitive albums in West Coast rap, N.W.A's Straight Outta Compton was released today. The Compton crew comprised of Dr. Dre, DJ Yella, MC Ren, Ice Cube, and Eazy-E wrapped the entire fabric of hip-hop with its explosive production and lyricism that was revolutionary, rebellious, and salacious. Their content — which revealed lives of inner-city black youth in South Central Los Angeles — was often looked at as offensive and lewd by critics, law enforcement, and even government officials. With songs like "F*ck Tha Police," "Gangsta Gangsta," and "Parental Discretion Iz Advised," N.W.A was as seen as confrontational as they fought against a government system designed to keep them low class.
"We had lyrics. That's what we used to combat all the forces that were pushing us from all angles: whether it was money, gang-banging, crack, LAPD," Cube said in an excerpt featured on the LA Times. "N.W.A. was the World's Most Dangerous Group. We changed pop culture on all levels. Not just music. We changed TV, in movies, on radio, everything. Everybody could be themselves."
The album went on sell triple platinum with over 3 million copies sold and to date is the group's highest-selling album.
1989 - Cool C Admits I Gotta Habit
Philadelphia rapper Cool C released his debut album I Gotta Habit on this day via Atlantic Records. The album had one single, "Glamorous Life" that focused on flirtatious flaunting to get the finest girl on the block. Things, however, aren't so glamorous for Cool C and Steady B nowadays, as a botched bank robbery in 1996 led to Cool C (born Christopher Roney) fatally shooting a police officer at the scene. Cool C would be sentenced to death row while Steady B is currently serving life.
1995 - Brian McKnight Says I Remember You
Slick R&B crooner Brian McKnight followed-up his 1992 debut album with I Remember You on this day in 1995. Release through Mercury Records; the album had scintillating singles such as "Crazy Love" and "On The Down Low," with the former appearing on the soundtrack to Jason's Lyric. One of the songs on the album, "Anyway," featured a writing credit from an 18-year-old Robin Thicke.
1995 - Coolio Makes History With "Gangsta's Paradise"
One of the most significant rap songs for many '90s babies and those proceeding them was Compton's Coolio pensive and most successful single in his career, "Gangsta's Paradise." Originally appearing on the Dangerous Minds soundtrack, the song became a crossover smash heavily in part of the Stevie Wonder' "Pastime Paradise" sample and a video featuring Michelle Pfeiffer in her role from the film as the hardnose teacher LouAnne Johnson.
The song and film had a correlating effect on one another's success, with the song reaching the Billboard Top 100's No. 1 spot, a first for any rap record and Dangerous Minds becoming a box office success.
In an interview with Rolling Stone about the video shoot, Coolio expressed how he would have never thought it would be as major as it was:
"Michelle was kind of nervous because I don't think that, up to that point, she'd ever been around that many black people in her life [laughs]. But we had a good time. She came out and did her thing, and she killed it; it took her two takes to do her parts, and she was outta there. When I got the first edit back, I was like, 'Wow, this could be big!' But let me tell you something — I had no idea that it was gonna take on the kind of life that it took. I was thinking to myself, 'Man, with what's going on in the video and what I'm saying, there's no way white people are gonna get into this song. No way.' But I was wrong."
2000 - Bow Wow Tells the World to "Bounce With Me" 
Nine years after Jermaine Dupri's first run with young duo Kriss Kross, he introduced a Columbus, OH. native by the name of Lil' Bow Wow with his debut single "Bounce With Me." The song from his debut studio album Beware of Dog and was featured on the Big Momma's House soundtrack, with production from Dupri and additional vocals from fellow So So Def comrades Xscape. It was a breakthrough for the hip-hop upstart. It spent nine weeks on the Billboard Rap Charts at No. 1 and peaked No. 20 on the Billboard Hot 100.
2000 - De La Soul Keeps Grinding with Art Official Intelligence: Mosaic Thump
Legendary hip-hop trio De La Soul released Art Official Intelligence: Mosaic Thump today in 2000 via Tommy Boy/Warner Bros. Records. Four years after Stakes Is High, AOI was seen as a return to the charts with the singles "Oooh." and "All Good?" featuring Chaka Khan helping the album debut No. 9 on the Billboard 200. The album was also originally going to be a triple album but was condensed to just one 17-track disc.
2000 - Shaggy Delivers a Hot Shot
Jamaican-American singer and reggae star Shaggy released his fifth studio album Hot Shot on this day in 2000. Already prolific with his "Bombastic" cover and "Nice and Lovely," his career soared to new heights following the infidelity-laced single "It Wasn't Me." Never has a song that made getting caught cheating so fun to dance to and the hook became a catchphrase that crossed over everywhere. The single, which hit No. 1 on the Billboard Hot 100 propelled the album to a No.1 debut on the Billboard 200 and six-times platinum in the United States.
Currently, he is on tour with UK pop singer Sting promoting their album 44/876.
2005 - Masta Killa Proves He's Made In Brooklyn
The stoic and cold voice of the Wu, Masta Killa released his second studio album, Made In Brooklyn on this day in 2005. The record is the follow up to his critically-acclaimed No Said Date and features production from MF DOOM ("E.N.Y. House") and Pete Rock ("Older Gods Part 2") as well as features from the remaining members of the Wu-Tang Clan. Though it didn't receive production from RZA, Masta Killa was adamant about ensuring that sound could be found back at home as well:
"I know what the Wu-Tang sound is supposed to be," he told MVRemix. "I can get the sound I'm looking for. Go back to the neighborhood and work with people I've wanted to for a long time. When you hear the music you would think one of those original brothers [Wu Elements] did the beats, but it's not. 75% of the album was recorded in Brooklyn."
2005 - Cassie Drops Self-Titled Debut Album
Long before R&B started to test the experimental indie waters, Cassie became the blueprint for its sound. Her self-titled debut album released on that day through Bad Boy Records and Atlantic became more of a vehicle for producer/songwriter and then-boyfriend Ryan Leslie, who discovered Cassie and helped with her demo tapes. Backed with the infectious single "Me & U" (peaking No. 3 on the Billboard Hot 100), Cassie laid a foundation to what R&B was going to be over a decade later, with artists such as Jhene Aiko, Tinashe, and SZA standing out with less-traditional aesthetics.
In an interview with Billboard, Cassie discussed the creative process of the album and how it was indeed Ryan's project, but it allowed for her to evolve as an individual artist:
"You know, that album was great. Ryan Leslie, that was all him. That was his passion project, but now I finally found mine. So that might be the difference and also, I just mean growing up. There's a whole different level that you get to once you get to connect with yourself, especially as an artist writing music."
2005 - Rick Ross have Big Boss dreams with Port of Miami
The legend of Rick Ross began here on this day with the release of his studio album, Port of Miami. Packaged through Def Jam Recordings, Slip-n-Slide Records, and Poe Boy Entertainment, Ross was far from the being the head-honcho we know today as the head of Maybach Music Group. The album did show potential of him becoming a regional star with the singles "Hustlin'" and "Push It" and developing his cocaine kingpin persona. Port of Miami would debut No. 1 on the Billboard 200 with over 180,000 copies sold. It would later be certified platinum in July 2016 by the RIAA.
A sequel to Port of Miami is scheduled to be released sometime this year.
2006 - C-Bo came through with Money To Burn
Sacramento, CA. legend C-Bo released his tenth studio album Money to Burn today in 2006. Debuting in the Top Hip-Hop/R&B Charts at No. 71 and No. 49 on Top Independent Hip-Hop Albums on Billboard, it features production from J. Mills and Mike Dean along with guest appearances from Baby Bash and The Outlawz.
2015- Sean Price Dies.
Hip-hop legend and member of the iconic Boot Camp Clik, Sean Price died on this day in 2015. Born in Brownsville, Brooklyn, the MC rose to fame as one half of Heltah Skeltah, where he performed under the name Ruckus alongside Rock. While his cause of death was never revealed, Price died in his sleep on this day in 2015."It is with beyond a heavy heart that Duck Down Music is sadly confirming that Sean Price passed away early this morning in his Brooklyn apartment, Saturday, August 8th, 2015," a statement from Price's rep read. "The cause of death is currently unknown, but it was reported that he died in his sleep. He's survived by his wife, and his three children."