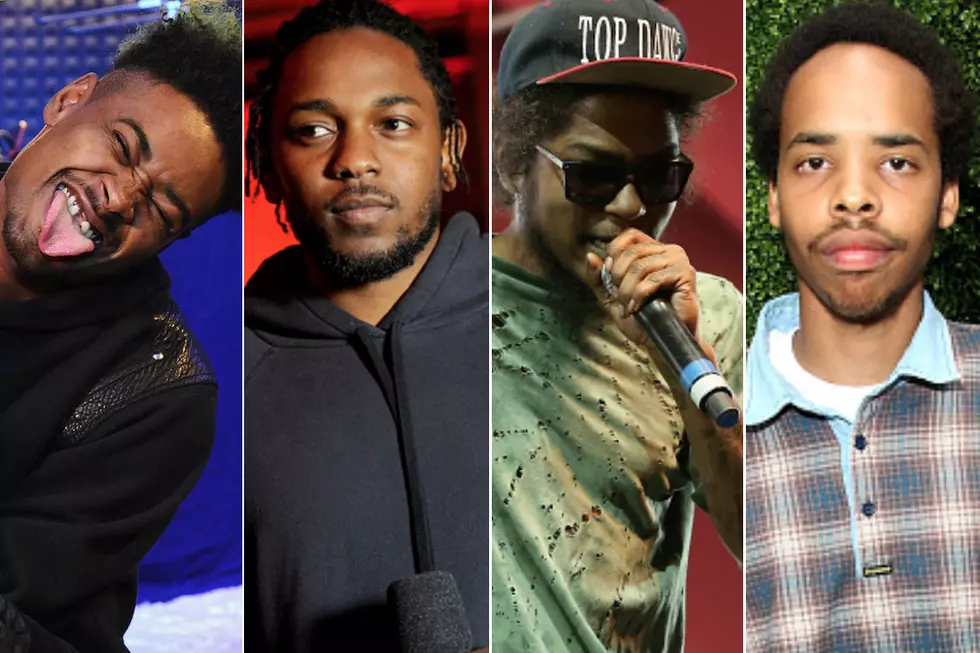 Danny Brown Enlists Kendrick Lamar, Ab-Soul and Earl Sweatshirt on 'Really Doe'
Ilya S. Savenok / Emma McIntyre / Karl Walter / Rachel Murray, Getty Images
Produced by fellow Detroit'er Black Milk, the rap trifecta spits braggadocios rhymes over a concrete-breaking beat, subtle bass lines and twinkling bells.
Brown kicks it off rapping, "You n----s don't even know / All that talk then no show / Cannot tell me nothin', show me somethin' I ain't seen before / Die high with my piccolo /
Smoking on that mistletoe / / Make her kiss all on it while we cha-cha, but on them 24's."
Ab-Soul follows dropping rhymes about getting money and women while pursuing his ambitions. "Still wicked as Aleister Crowley, n----s know me well / For heaven's sake, I'm the GOAT, you haters can go to hell," he raps, adding, "When you're getting money, n----, every day is sunny."
K.Dot is on hook duties but he also spits a complex verse about trying to keep his life as normal as possible despite his notoriety.
"Aye, look what I ain't doing' / Aye, ridin' in foreigns / Aye, K-Dot, four years, I got the same watch / But it's the real watch and that bitch fire," he raps.
Finally, Earl Sweatshirt drops a demolishing verse warning any haters not step to him.
"And I'm the type of n--- that ain't never been an honor to judge / You a mouse that the falcon picked up / So disrespect and gettin' checked like the top of the month / I was a liar as a kid so now I'm honest as f---," he spits.
Overall, "Really Doe" is a brazen posse track featuring three of today's top spitters in the game. This song is the perfect set up for Danny Brown's upcoming album Atrocity Exhibition, which hits stores on Sept. 30.
Listen to Danny Brown's 'Really Doe' Feat. Kendrick Lamar, Ab-Soul and Earl Sweatshirt