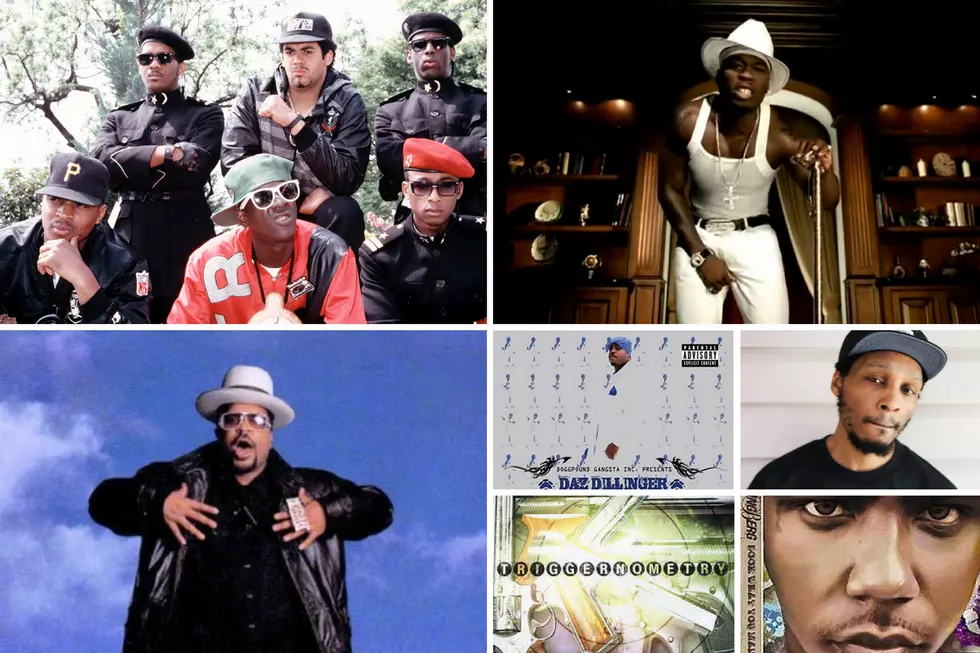 Public Enemy Takes Over Rikers Island: August 12 Hip-Hop History
Suzie Gibbons/Redferns/ YouTube/ iTunes
On this day in hip-hop: The best political rap group takes over one of the country's biggest jails, one girl group's third studio album marks the beginning of the end and more.
1963 - Sir Mix-A-Lot is Born
Anthony Ray aka Sir Mix-a-Lot, best known for his hit song, Baby Got Back," was born on this day in 1963. Many call him a one-hit-wonder, however, Mix-a-Lot achieved platinum sales as an independent rapper before "Baby Got Back." In the early 1980s, before the big hit, Mix-a-Lot began DJing parties at local community centers, where he met friend and business partner, Nasty Nes. In 1983, the pair founded the Nastymix record label and in 1987, released Mix-a-Lot's first single, "Posse on Broadway," which made the Top 100 but quickly disappeared. One year later, his debut album Swass was released, with two more singles, "Square-Dance Rap" and Iron Man." In 1990, the album went platinum. His second album Seminar, which dropped three singles, want gold.
Following the success of his previous albums in 1991, Mix-a-Lot was signed to Rick Rubin's record label, Def America and released his third album Mack Daddy. The hit single from the album, "Baby Got Back" was number one and went double platinum. In 1993, the song earned Mix-a-Lot a Grammy for Best Rap Solo Performance. In an interview with Vulture magazine, Mix-a-Lot recalls getting the idea from a Budweiser commercial he saw during the Super Bowl. He recalls the women being shaped like "a stop sign, with big hair and straight up-and-down bird legs." By the end of the year, the song came in second as best selling record off 1992, following Whitney Houston's "I Will Always Love You."
Although the song was a big success, it still gained some negative attention from critics, some calling it racist, since the record focused on black women. It was even briefly banned by MTV, which only added to the song's popularity, as Mix-a-Lot played on that controversy.
"I'm on the side of the average woman who doesn't look like one of the bean-pole women in those magazines, "Mix-A-Lot told Los Angeles Times. "I'm saying it's fine to have a big round rear end. That doesn't make you any less of a woman because you don't fit that stupid standard. A flat behind makes women look like a man anyway."
The rapper released three more albums; unfortunately, he didn't have much music success after "Baby Got Back," until he co-wrote the Pussycat Dolls' 2005 hit "Don't Chat with Cee-Lo Green. In 2014, Young Money rapper Nicki Minaj released the single "Anaconda," which featured samples from "Baby Got Back." Mix-a-Lot praised the artist and song, calling it the new and improved version.
Sir Mix-a-Lot continues to perform concerts across America and currently hosts a radio morning show on HOT 103.7, weekdays from 5AM-9AM.
1972 - Del the Funky Homosapien is Born
Born eleven years later is Oakland rapper, Del the Funky Homosapien was also born on this day. The rapper born Teren Delvon Jones began his career writing for his cousin Ice Cube's group Da Lench Mob. In 1991, at the age of 18, with the help of Cube, Del released his first solo album I Wish My Brother Was Here. The record was a success due to the popularity of the hit single, "Mistadobalina." However, Del was not pleased with the limited musical range of the album and severed ties with Ice Cube for his next record, released in 1993 called No Need for Alarm. Del wouldn't release another album until 1998 under his group Hieroglyphics website. The album was re-released in 2002 under the Hieroglyphics Imperium label.
Del has continued to remain in the studio releasing eight more solo albums and collaborating with other artists. One of his most significant collaborations is with British band Gorillaz in 2001 single "Clint Eastwood." Del's tracks are linked to many video games, soundtracks, skateboarding, and snowboarding video games. His songs have been in commercial video games like Mat Hoffman's Pro BMX, Tony Hawk Pro Skater 3, NBA 2K5, and Street Fighter V.
Del is currently a member of the group Deltron 3030 with producer Dan the Automator and DJ Kid Koala and goes by the name Deltron Zero; his alter ego. The group's self-titled debut LP is a concept album set in the year 3030 that tells of Deltron Zero's fight against huge corporations that rule the universe. Earlier this year in July, he appeared with Gorillaz for the final act at the 2018 Roskilde Festival, falling off stage during the song "Clint Eastwood" unable to finish the show. Four days following the show, Del was hospitalized suffering from fractured ribs and a punctured lung, according to XXL.
1988 - Public Enemy Take Over Rikers Island
On this day in 1988, the political rap group, Public Enemy followed in the steps of James Brown (1973) and held a concert at Rikers Island Correctional Facility making them the first rap group to ever do so. The concert was part of the marketing for PE's It Takes a Nation of Millions to Hold Us Back. "Chuck had a lot to say to these young men that were incarcerated. I thought that he could uplift them and PE had a little buzz," former Def Jam exec Lindsey Williams told Red Bull Music Academy.
250 prisoners waited while Public Enemy entered the prison's gymnasium, followed by their onstage bodyguards, Security of the First World (S1W), separated from the 150 journalists that rode on buses from Midtown Manhattan to Rikers, by police barriers and an army of TV cameras. More than thirty corrections officers were also present.
The show almost didn't happen after a journalist reached out to the jail's warden and asked how he felt about having a group that has a song about prison riots in the facility. "The writer asked if [Rikers] knew that PE had a song called "Black Steel in the Hour of Chaos,'" P.E.'s publicist Leyla Turkkan said to Red Bull. "And [the officials] said, "We don't even know what you're talking about. We just know that there's a band called Public Enemy and people seem excited." The writer told them that the song is about a prison riot. He said, 'You have a band coming to perform that advocates prison riots, how do you feel about that?' Rikers freaked out and said, 'We're calling this thing off, are you out of your mind? We're not having a band doing a song about prison riots!' Lindsey and I had to do backflips and promise that PE wouldn't play 'Black Steel.' Of course, Chuck and Griff loved it. 'They don't want us to play 'Black Steel'? That's the point, isn't it? To go to Rikers and play 'Black Steel.'' I promised that we wouldn't play the song. Rikers said, 'Fine, but they can't play any radical songs.'"
Rolling Stone, reporter Michael Azerrad recalled the day of the concert in a 1998 article. The S1W team, dressed in black paramilitary outfits and sunglasses, took the stage and stood stock-still, arms folded, staring stonily ahead except they were without the toy Uzi machine guns they usually tote onstage. Griff, S1W's leader, announced, "Public Enemy feels like America is one big jail. So we want you to know that we feel what you feel." After getting the inmates to stand, he said, "Everybody put your fist in the air – whether you're white, black, Chinese, whatever – don't be afraid!"
1988 - Jean-Michel Basquiat Dies
The same year of Public Enemy's prison concert, American painter Jean-Michel Basquiat died of a heroin overdose in his art studio. The graffiti artist got his start as a part of SAMO, an informal graffiti duo tagging on the walls in downtown Manhattan in an attempt to get noticed.
"In the '80s, black culture was becoming much more noticed by the white mainstream, thanks to things like hip-hop music and breakdancing, and I think Jean-Michel was part of putting a spotlight on black culture in a way that the art world usually didn't pay attention to because they can be racist," columnist Michael Musto told Inside Edition. "But his genius broke through those barriers, and they had to take notice of him."
30 years after his death, his legacy has become more popularized in hip-hop and pop culture. Basquiat's name has continually been mentioned in rap lyrics from artists such as Jay-Z, J.Cole, Kanye West, Even Rick Ross and producer Swizz Beatz have Basquiat tattoos.
1994 - Woodstock '94 Begins
Six years later, Woodstock '94 would celebrate the 25th anniversary of the original Woodstock festival. The festival,  promoted as "2 More Days of Peace and Music," scheduled for August 13 and 14, they later added August 12. The weather was rainy,  and by Saturday the field turned to mud. Over 70 artist performed that weekend, with an estimated crowd of 550,000. Hip-hop was represented in a major way with acts like Cypress Hill, Salt 'N Pepa and Arrested Development all hitting the stage. Woodstock followed up with two more anniversary festivals, one in 1999 and the other in 2009.
1997 - SWV Try to Release Some Tension
Just a few years after Woodstock, R&B trio SWV dropped their third album Release Some Tension. After much success with their debut album, their sophomore album became a minor hit, but Tension didn't have the same success as the first two with only 500,000 copies sold. Although executive produced by Diddy, with hits like "Someone," "Can We," and "Rain," tensions within the group were far from release. "SWV's ideas for the record weren't respected," group member Leele Lyons said to VIBE magazine. And the group's lead singer Coko went on to call the single "Someone" "half-assed." In 1998, the group disbanded and Coko went solo. In recent years the group has reunited for a reality TV show, a new album and touring.
2001 - Mr. Cheeks Takesover the Spotlight With "Lights, Camera, Action!"
Three years after SWV disbanded, Mr. Cheeks' of the Lost Boyz dropped "Lights, Camera, Action!" from debut solo album John P. Kelly. The was Cheeks' first and only major hit as a solo artist, reaching No. 14 on the Billboard Hot 100 and topping the both Hot Rap Songs and Hot R&B/Hip-Hop Songs charts for one week. The remix featured Missy Elliott, Diddy, and Petey Pablo, and appeared on the XXX soundtrack.
2003 - 50 Cent Proves He's a "P.I.M.P." With Snoop Dogg
From one Queens artist to another, 50 Cent dropped "P.I.M.P." featuring Snoop Dogg from his debut album Get Rich or Die Tryin'. The song was a commercial success, peaking at No. 3 on the Billboard Hot 100 and reaching the top ten of many national charts worldwide. The song was later certified Gold with sales of 500,000+ copies.
In June 2016, producer Brandon Parrot reportedly issued a lawsuit against 50 Cent, Dr. Dre and his company Aftermath Entertainment for excluding him out of the song's profits, according to TMZ. The judge dismissed the lawsuit in September 2016.
2003 - Onyx Release Triggernometry
On the same day of the "P.I.M.P." release, hardcore rap group Onyx releases their fifth album Triggernometry. The album seemed almost to be forgotten as it peaked at No. 66 on the Billboard Top R&B/Hip-Hip charts.
2005 - Four Brothers is released in theaters
Today marks the 18th anniversary for the release of the crime thriller film, Four Brothers. The film stars Mark Wahlberg, Tyrese Gibson, Andre Benjamin, and Garrett Hedlund as adopted brother seeking to avenge their foster mother's death. The film's opening weekend grossed $21.1M ranking it at number one.  Rotten Tomatoes gave the film a 52% of 134 critics with positive reviews. Roger Ebert also gave the film a good review with three out of four stars, calling it an urban Western, referring to the connection with underlying moral currents in the way Westerns used to.
2008 - Daddy Yankee is Just the Talento de Barrio
Three years after the big movie release, Daddy Yankee drops the soundtrack album Talento de Barrio to the film of the same name. The soundtrack debuted at No. 13 on the Billboard 200 but continued to decline, finally charting at No. 191. It did, however, peaked at No. 3 on the Billboard Top Soundtracks and remained No. 1 for four weeks on the Billboard Top Latin Albums chart and became Latin double platinum.
2008 - Daz Dillinger Reps His Set With Only on the Left Side
Not having as much success as Talento de Barrio, Daz Dillinger releases his tenth studio album Only on the Left Side. The album debuted at No. 38 on the Billboard R&B/Hip-Hop charts, selling only 2,132 copies its first week.
2008 - Yung Berg Says Look What You Made Me
Yung Berg aka Hitmaka received more success than Dillinger when he dropped his debut studio album Look What You Made Me The album featured artist Eve, Trey Songz, Lloyd, Amerie and Twista among others. The first single, "Sexy Lady," was released sixteen months before the album and made No. 18 on the Billboard Hot 100. His second single and biggest hit to date, "Sexy Can I," featuring Ray J, peaked at No. 3 on the Hot 100 becoming 2x platinum. The album received mixed reviews by critics. However, Slant magazine reviewed the album as a collection of ideas and mid-level beats designed to bump in car stereos and nightclubs for no longer than two months.
Berg may have been another one-hit-wonder, but he has managed to produce and write for some top artists including Lil Wayne, Nicki Minaj, Tamar Braxton and many more.