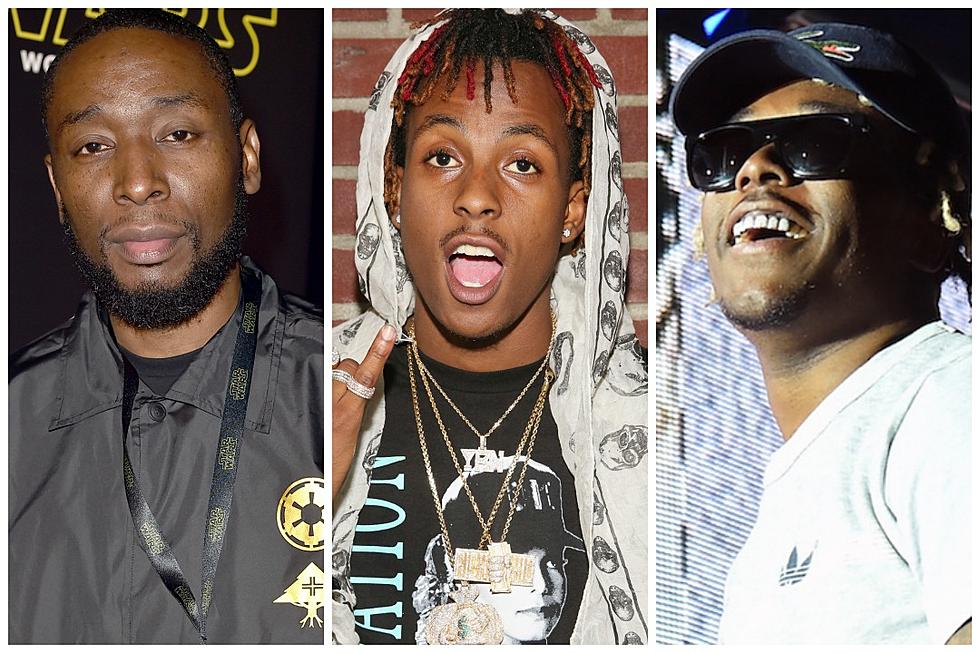 9th Wonder Defends Lil Uzi Vert and Lil Yachty: 'Give Kids Time for Their Musical Palette to Expand'
Kevin Winter/ Mireya Acierto/Ethan Miller, Getty Images
9th Wonder has weighed in on the old school versus new school rap culture divide that's been brewing over the past couple of months.
Basically, the veteran producer thinks older heads should calm down, listen to what the kids are saying about the music and have patience because an 18 or 19 year-old's musical palette is still developing.
The issue of respecting hip-hop's foundation, while still moving the culture forward has been a subject of debate between newer rappers like Lil Uzi Vert, Young Dolph and Lil Yachty and older hip-hop influencers like Pete Rock and Hot 97's Ebro. Pete and Ebro have criticized the young rappers for having what they perceive to be a lack of respect, or interest period, for hip-hop's major influencers and pioneers, like Nas, Tupac and Biggie. Pete was especially critical of Memphis rapper, Young Dolph's "cocaine lyrics" and Yachty's lack of lyrical prowess. Both rappers have responded angrily, and a short-lived back-and-forth ensued.
But really, the issue is much bigger than the aforementioned artists. The culture divide between generations seems to be an issue that keeps popping up, as hip-hop grapples with preserving its legacy, while embracing change and innovation.
What is the new direction of hip-hop—and are younger artists "ruining" it because they don't seem to care about its foundation, or are they simply pushing the culture in a new direction, embracing the inevitability of change?
Now, 9th Wonder, who has taught at Duke University and lectured at other colleges, and regularly interacts with 18 and 19 year-old hip-hop listeners, has weighed in on the discussion. In a series of tweets over the course of a few days, he acknowledged the divide, and even touched on the validity of the criticism young rappers have encountered, while still offering support to younger artists who are still developing their sound and musical knowledge.
"I ain't trippin that some kid can't name Biggie and Pac songs... u gotta check the kids background and upbringing before you judge," he tweeted, probably referring to Lil Yachty's father, who is a well-respected, acclaimed photographer and culture curator in Atlanta.
He continued by saying that you can't fault a young kids for not knowing music that they haven't been introduced to yet.
"And u can't condemn a kid for what they haven't heard," 9th tweeted. "Hell I thought New Edition was THE GREATEST...until I heard a Sylvers record..."
He said it's hypocritical to condemn kids for not knowing music that was released when they either weren't even born, or were just toddlers.
"Getting mad at kids who don't know stuff from 20 years ago, but in '93 when they were 18 couldn't name everything from 1981," he said. "There was NO one in 1993 my age That could name 3 songs from The Treacherous 3, Funky Four Plus 1, Or Sequence, unless they were from NY. It's STILL heads in their 40s RIGHT NOW that still don't know who Sequence is...and only ONE song by Grandmaster Flash and the Furious Five."
The kids being criticized were literally babies when The Blueprint dropped, like three or four years-old, so it's silly to expect them to name Jay Z or Nas as their major influences. As 9th points out, these kids grew up on Gucci Mane.
"Remember folks...we are entering a generation of kids where mom and dad's classics are Gucci Mane," he says. "That's how young they are."
Part of the divide, 9th says, is simply the culture of music in 2016. Music is produced at a much faster rate. It's easier to make and release, and therefore, that changes the way that music is actually consumed.
"I do wish that this generation would know what it feels like to have at least 15 to 20 rappers they can be connected to for more than a year," he wrote. "The bigger question is...u gotta find out if a kid even wants to be invested in somebody for that long anyway..."
And although he says that he doesn't necessarily like the new music some of the younger artists are listening to, he had to listen to them to understand why they do enjoy it. He also had to understand that many younger listeners are judging hip-hop by different parameters than older heads— meaning it's not about lyrics for them.
In the end, 9th said folks should let the younger rappers be, or, communicate with them to help them understand why they should listen to and learn from, hip-hop's legendary acts.
"So leave Lil' Uzi Vert, Lil' Yachty, Kodak Black, etc....alone Fam," he wrote. "We got our greats. Ain't nobody said you gotta like them. I got Tribe, Nas, Jay, Big, Fugees, Outkast, Pete and CL, De La, D'Angelo....I'm good."
Read 9th's series of tweets below.
25 Historic Moments in Run-DMC's Career