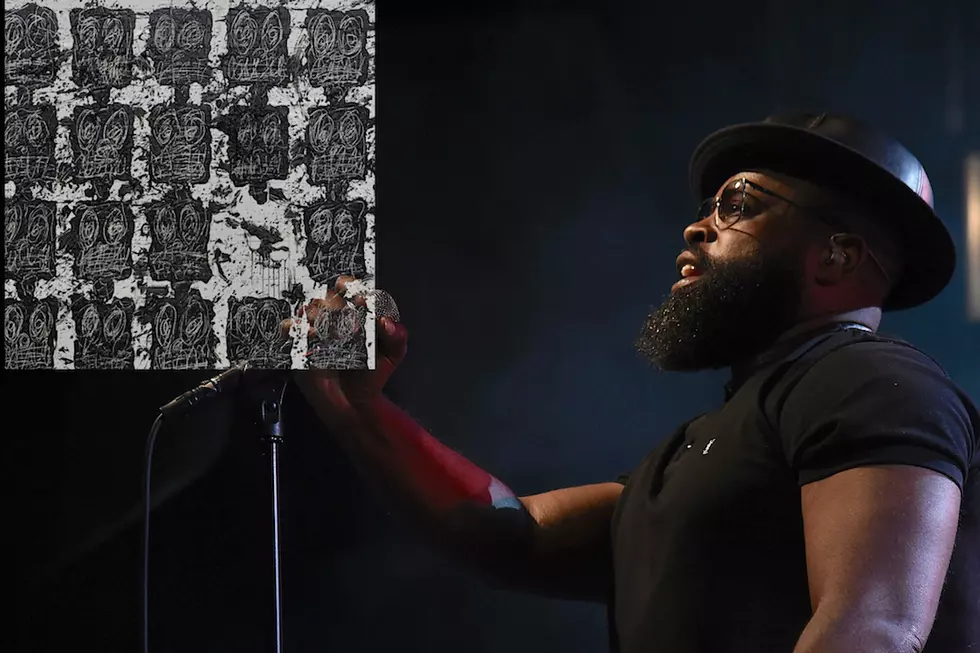 10 Best Lyrics from Black Thought and 9th Wonder's 'Streams of Thought Vol. 1′
Michael Loccisano, Getty Images / Human Re Sources
For over 20 years, Black Thought has amazed fans with his lyrical abilities as a member of the legendary Philadelphia hip-hop band The Roots. Finally, after fans have been begging it for it for years, he finally drops his first solo project.
Thought's EP, Streams of Thought, Vol. 1, is a collaborative project with Grammy-winning producer 9th Wonder and the Soul Council. At only five tracks, it's just enough to give people want they need to hear in Black Thought.
As a whole, Streams will no doubt remind listeners that Thought is one of the most lyrical, loquacious, lexiconic rappers in hip-hop. The Illadelph MC's verbiage is limitless and quite amazing.
The two standout tracks on the EP features guest rappers. On "Dostoyevsky," both Thought and Rapsody commit lyrical homicide rapping some of the grimiest bars at their detractors. On "Making A Murderer," the Philly rhymer and Styles P drop quotable punchlines that will make you dizzy.
Overall, Black Thought's Streams of Thought, Vol. 1 EP is a must-have if you appreciate beats and rhymes. If there's a Vol. 2, let us pray that it drops before the year is over.
After several spins, we picked the ten best lyrics from the album. There are plenty of great lyrical moments on the project, but these caught our ears.
1

"I'm that arachnophobia / Black petroleum / Ceremoniously holy when at the podium..."

An ode to his Philadelphia stomping grounds, "Twofifteen" represents the city's area code (215). On the song, Black Thought delivers a deluge of metaphors, onomatopoeias, and alliterations without a chorus in sight. The rap vet's words are clear and precise - no mumble rap here. In this verse, Thought brilliantly flips every word to mean he's fly, dope and spiritual when he rocks the mic.

2

"Who said it's cynical? / I was a king in general / Rich in every resource, precious metal and mineral..."

Elsewhere on "Twofifteen," Black Thought proclaims that Black people's lineage comes from kings and that everything that we possessed inside is as valuable as gold and minerals.

3

"My soul winnin' / I've been goal tendin' / Cold sentence, chrome pennin' / A n---- gone 'til it's no limit..."

On "9th vs. Thought," Black Thought once again shows just how ferocious he is with his lyrics. Every line is a sharp lyrical spear aimed at his detractors who even try to test him. Over a crackling beat, eerie guitars and blaring horns, the Philly lyricist proclaims that he's the best to ever do it. Hard to argue with that.

4

"Rollin' out of the dealership in the McLaren / These rappers is Peter Pan, I'm Pan-African..."

Continuing with his braggadocio, the Illadelph MC slams wack rappers who spit fantasies ("Peter Pan") while he delivers intellectual bars to strengthen his people of African descent ("Pan-African").

5

"Written without a ghostwriter to author it for me / This is crime and punishment, I'm the judge and the jury..."

"Dostoyevsky" is a fantastic head-nodding banger as Thought teams up with North Carolina lyricist Rapsody. On the song, they trade cutthroats bars together and murder wack MCs. The title is named after the Russian novelist who wrote Crime and Punishment, which Thought mentions on the song. Call the police; a double homicide was committed.

6

"Y'all still owe us for what all y'all did to the Cold Crush / To my donuts, I'm shooting J Dillas and what…"

We can't leave out Rapsody who also delivers some great bars and almost outshines Thought on the track. In her verse, the Jamla artist references JAY-Z's classic line on his 2001 hit "Izzo (H.O.V.A.)" to explain how treacherous the music industry still is and salutes the late Detroit producer.

7

"A rapper winds up as a John Doe / I told n----s, sixty seconds to shine before I fold n----s / I must be out of my mind with it, gold diggers…"

Another major standout on the album, "Making A Murderer" is audio proof that Black Thought is one of the most lyrical, loquacious and lexiconic rappers in hip-hop, period. The song features a brilliant display of punchlines delivered by Thought and his guest LOX rapper Styles P.

8

"I'm the other Black Thought, the last ear bender / Avatar ghost, the one who could bend time / The one who could bend rhymes…"

Not to be outdone, Styles P delivers tough rhymes and several catchy punchlines as well. On this verse, Ghost compares himself to Black Thought and brags about his lyrical abilities.

9

"Thanks to my moms for never gettin' rid of me / And to my lady, baby, thank you for forgivin' me..."

As the title suggests, Black Thought gives thanks to everyone and everything that has supported or inspired him through his journey in the rap game and his life.

10

"Kids playin' on the stoops wearing dungarees / Unbeknownst to them they livin' in the city under siege..."

On the same song, "Thank You," Thought reflects on his innocence growing up in Philly and relating it to today's youth who are facing even more obstacles living in his beloved city.