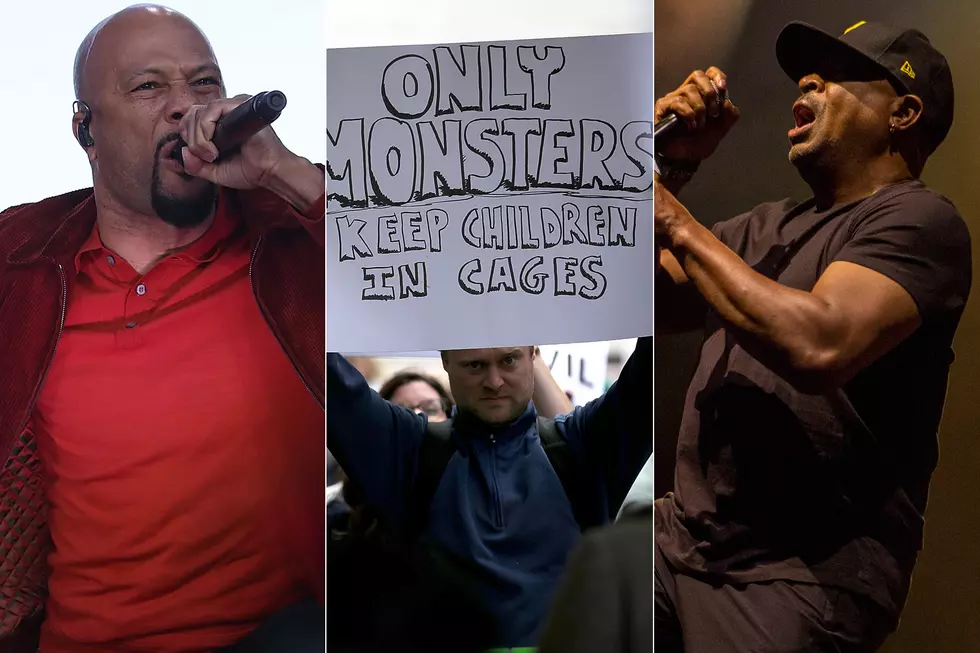 'Fluck Trump': Hip-Hop Stars Blast Family-Separating Border Policies
Mark Wilson / Justin Sullivan / Barry Brecheisen, Getty Images
As the national debate over the separation of immigrant children from their asylum-seeking parents reaches a fever pitch, some of hip-hop and R&B's biggest names are urging President Trump and his administration to stop their zero-tolerance border policy immediately.
United Nations High Commissioner for Human Rights Zeid Ra'ad Al Hussein estimates that "in the past six weeks, nearly two thousand children have been forcibly separated from their parents" as part of a US government initiative to break up and detain families who seek asylum in our country by crossing the border illegally.
John Legend, who was a frequent Trump critic even before the real estate and reality TV mogul was elected president, Chuck D, Flavor Flav, Common and Big Boi are among the famous musicians who have taken the president to task over what they consider a cruel and inhumane policy.
Fueling the idea that the President and his allies are detached and callous about the way this policy has impacted families, last night (June 19), ex-Trump campaign manager Corey Lewandowski offered a joking "womp womp" response to a report on a 10-year-old girl with down syndrome who'd been separated from her parents at the border.
"Seriously, fuck you," Legend wrote on Twitter to House Speaker Paul Ryan when the politician waxed poetic about his family on Father's Day. "Reunite the families at the border and we can talk about father's day."
Pete Rock called Trump a "vile creature" and Flavor Flav urged the president to reunite families, calling the immigration policy "child abuse." Other artists showed their support by retweeting posts from politicians and scholars such as Bill Clinton and Seth Abramson.
13 Comeback Rap Albums That Saved Careers