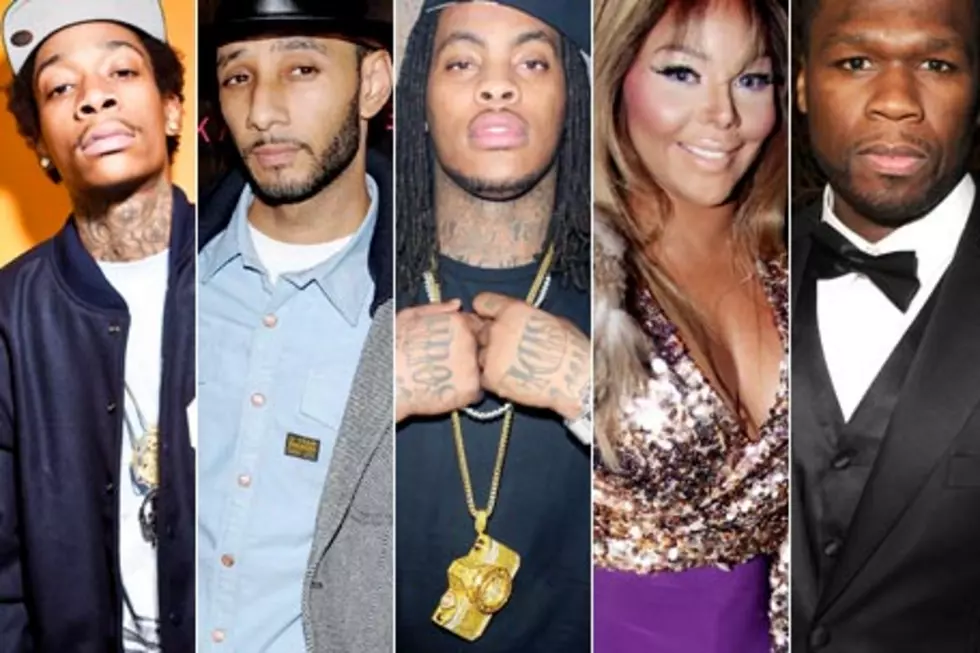 Wiz Khalifa + More — Top 5 Tweets of the Week
Joseph Llanes for AOL, Getty Images, FilmMagic, Getty Images, Getty Images
In this week's round-up of the Top Five Tweets of the Week, Wiz Khalifa releases his new mixtape 'Cabin Fever,' Swizz Beats talks about his new single with Lil Wayne and Lenny Kravitz, and Waka Flocka tells his fans he's fine after his tour bus was shot at four times in North Carolina. Lil' Kim thanks her fans for purchasing her new mixtape via PayPal and 50 Cent wilds out after realizing that he was an answer on an episode of jeopardy.
2. @therealswizzz (Swizz Beatz): I was upset at 1st when my single snippet leaked with Wayne and Lenny but now its motivation & were now shooting the video this weekend :)
3. @WakaFlockaBSM (Waka Flocka Flame): To my fans N world im good nothing is wrong with my health see yall in Cali for all-star #im1realassperson ... Damn stress gone kill me im only 24 #needabackrub
4. @LilKimDaGoddess (Lil Kim): Thank ya'll so much 4 your <3 & support. Realness recognize realness. Always be original. <3, Kimmy #itsblackfridayhoe http://bit.ly/gLIYa6
5. @50Cent (50 Cent): I know I know RT @Ramsfan509: @50cent Yo fifty you know you were a answer on jeopardy today?