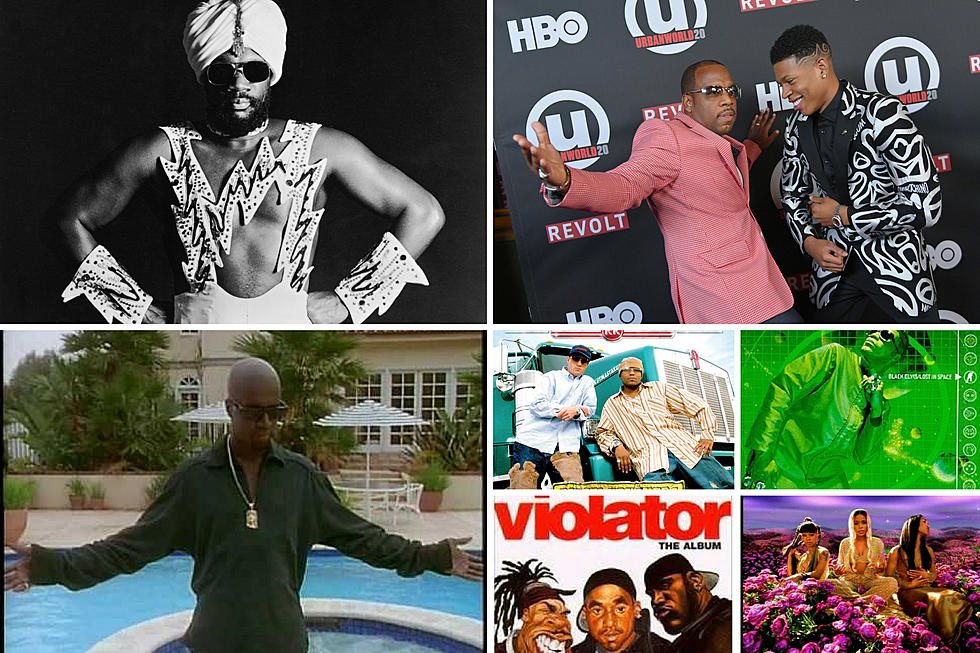 50 Cent Robs Your Favorite Rapper: August 10 in Hip-Hop History
Hulton Archive/Mike Coppola/Getty Images. iTunes
Today's hip-hop history includes 50 Cent's debut single, the passing of a soul icon and the anniversary of two Kool Keith albums.
1964 - Aaron Hall is Born
Today in hip-hop history we celebrate the birthday of R&B singer Aaron Hall. Best known as the frontman for the R&B group Guy, Hall along with Teddy Riley and his brother Damion Hall helped put the New Jack Swing era on the map. By 1992 the Bronx-born singer went solo and released a string of hits including "Don't Be Afraid," Gonna Give It to Ya," and "I Miss You."
Inspired by the death of his infant son, "I Miss You" became his biggest solo hit to date in 1993 peaking No. 2  on Billboard's R&B Chart and No. 14 on the Hot 100 chart. Throughout the years Guy has reunited a number of times, due to friction between Riley and the Hall brothers it never seems to last long. "I'm not going to say nothing about anybody, because square n***as got a f*cking infection on them already," Hall told Vlad TV in a 2014 interview. "Real street n***as see it already. He had that square infection."  That interview is a thing of the past as the band reunited at this year's Essence Festival. 
1968 - Michael Bivins is Born
Four years after Guy's lead singer was born, one of the founding members of New Edition, Michael Bivins was born in Boston, MA. Beyond his work with New Edition and Bell Biv DeVoe, Bivins has been instrumental in discovering hip-hop and R&B acts like MC Brains, Another Bad Creation, 702 and Boyz II Men, who were all signed to his Biv 10 Records label under Motown.
Currently, Bivins is on tour with the "new" group RBRM aka Ronnie DeVoe, Bobby Brown, Ricky Belland Bivins. After the New Edition biopic was a success, NE announced that they would be going on a national tour along with the cast. Unfortunately for fans, Bivins confirmed back in April that the tour would not be happening. Rumor has it that RBRM is feuding with Ralph Tresvant and Johnny Gill over the New Edition trademark. "I know yall need answers on why ish is not going down," Bivins said in an Instagram post back in May. "I will do my part and talk and open up communication to get this ish back on track. With love and honor and respect at the table."
1999 - Kool Keith is Black Elvis/ Lost in Space
On this day in 1999, Kool Keith released his fourth studio album, Black Elvis/Lost in Space. The first album under his "Black Elvis" moniker saw lots of controversies due to the stalled release of the album. It peaked at No. 180 on the Billboard 200, No. 74 on the Top R&B/Hip-Hop Albums, No. 10 on the Heatseekers Albums.
Upset with the lack of promotion for his album, Keith leaked several of emails between him and his label staff to urge his fans to demand better promo for the record.
1999 - Keith Murray Proves He Has The Most Beautifullest Hits
Also on this day in 1999, Keith Murray released his greatest hits album called The Most Beautifullest Hits. Mostly comprised of songs produced by Erick Sermon, this greatest hits album includes LL Cool J's "I Shot Ya (Remix)," "Def Squad Delight" and of course, "The Most Beautifullest Thing in This World."
1999 - 50 Cent Lays the Blueprint on "How to Rob"
Continuing the trend of classic releases on this day in 1999, 50 Cent's debut single "How to Rob" was released from the In Too Deep Soundtrack.  On the track, he names several artists, and the different techniques he would use to rob them.
Here's a full list of everyone he named:
Lil' Kim
P Diddy
Bobby Brown and Whitney Houston
Brian McKnight
Keith Sweat
Cardan
Harlem World
Mase
Ol' Dirty Bastard
Foxy Brown and Kurupt
Jay-Z
Case (the line was initially meant for Mariah Carey, but she threatened to leave Columbia if they kept her name in it.)
Trackmasters (the producers of the track.)
Slick Rick
Stevie J
Big Pun
Master P
Silkk The Shocker
Will Smith and Jada Pinkett Smith
Timbaland and Missy Elliott
Joe
Jermaine Dupri and Da Brat
DMX
Treach
DJ Clue
TQ
Raekwon, Ghostface Killah and RZA
Sticky Fingaz
Fredro Starr
Canibus
Heavy D
Juvenile
Blackstreet
R. Kelly
Boyz II Men and Michael Bivins
Mike Tyson and Robin Givens
Mister Cee
Busta Rhymes and the Flipmode Squad
Kirk Franklin.
In a 2000 interview with XXL, Fif said that he had no regrets about the track. "I ain't never going to say something and say, 'Yo, I didn't mean that.'" he told the magazine. "I thought that shit out. At first Madd Rapper asked Riche Nice and Tone & Poke, 'Does he know what he's doin'?' He hadn't met me yet. He was like, 'Is he a real street cat or is he just somebody who knows how to rap?' Me, I'm still a newborn, I'm still a baby to hip-hop so it [the attention] affects me, but when I break past this record, I'ma be bigger than the rest of this shit—a bigger, better artist. I hold myself down to the fullest. You never want it to go there, but if it does, by any means, I'm gonna handle my business."
1999 - TLC Reflect on Feeling "Unpretty" 
The second single from their third studio album, FanMail became TLC's fourth No. 1 record on Billboard. Written by Dallas Austin and T-Boz, the song about insecurities and beauty standards was personal for both the fans and the group. "I was feeling down because I had just gotten out of the hospital [for sickle-cell anemia treatment]," T-Boz, told Entertainment Weekly. "I was really bruised and frail because I had lost a lot of weight. My boyfriend went out, and I felt like I shouldn't have to ask him to stay. It prompted me to write a poem. Dallas took the poem and converted it to a song. I didn't realize at the time that so many people felt the way I felt, but it came to help inspire people."
1999 - Stars Shine on Violator: The Album
The compilation album from Mona Scott-Young and the late Chris Lighty's Violator Records was released on this day under Def Jam Recordings. Lead by Q-Tip's "Vivrant Thing," the album had appearances from then-Violator Management artists like Busta Rhymes, LL Cool J, Noreaga, Cormega and more. In August of 2012, Lighty died of an apparent suicide in the Bronx.
"I'm so proud of what Chris has done for our culture," Scott-Young told The Source in 2015. "I'm proud that the young guy that I sat next to on a stoop in the Bronx was able to conceptualize a dream and really make it happen.  Everything we sat out to do we did.  We stayed focused and accomplished it all.  So much of who I am today has everything to do with the fact that Chris had a dream. My relationships, my ability to leverage the success of hip-hop into mainstream culture and our ability to provide opportunities to others came from Chris. We locked arms, came together and his dream became my dream."
2004 - Kool Keith and KutMasta Kurt are Diesel Truckers
Exactly five years after becoming "Black Elvis," Kool Keith teamed up with producer KutMasta Kurt for their supergroup and album called Diesel Truckers. The album failed commercially, but the cult classic singles  "Break U Off," "I Love You Nancy" and "Mental Side Effects."
2008 - Isaac Hayes Dies 
Just one day after his Soul Men castmate Bernie Mac died and one day before his 66th birthday, Soul singer Isaac Hayes died from an apparent stroke in Tennessee. With 20 albums under his belt, Hayes became most known for providing the voice of Chef on the hit cartoon show South Park, but music and film lovers know him as Black Jesus, the man who provided the soundtrack for the ass-kickingBlacksploitationn film Shaft. His classics have been sampled throughout hip-hop and R&B, Wu-Tang sampled "As Long as I Got You" for "C.R.E.A.M.," Snoop's "Ain't No Fun (If The Homies Can't Have None)" samples "A Few More Kiss to Go," and Beyoncé sampled "Walk on By" for "6 Inch."
Soul Men was released in November 2008, three months after Hayes and Mac's death.
New Edition 101: The Ultimate Guide to 35 Years of New Edition Lineups