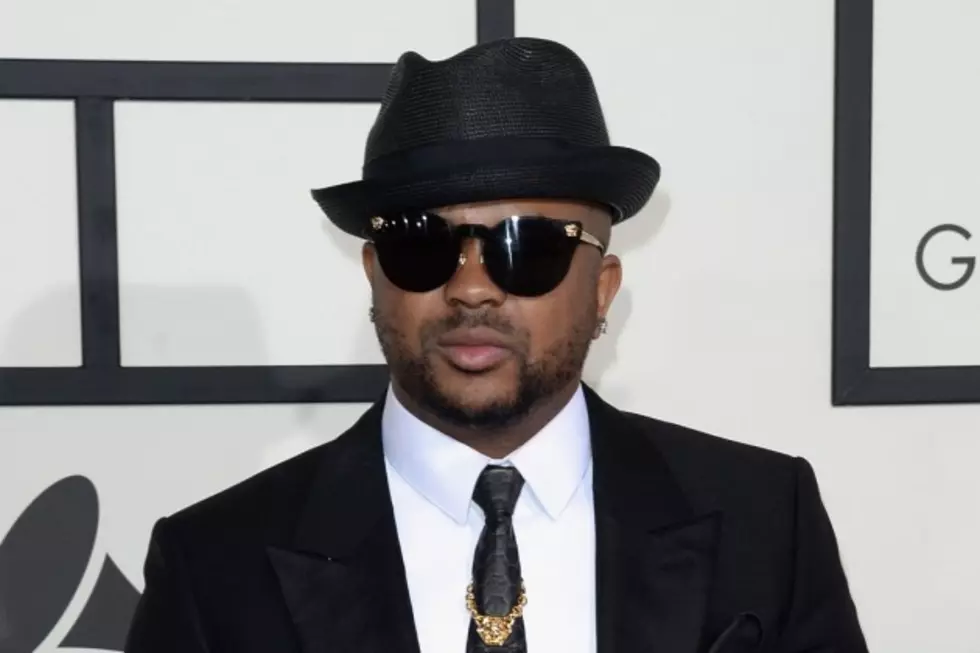 The-Dream Talks 'Crown' and 'Jewel' EPs, Praises Jhene Aiko and Gives Marriage Advice [EXCLUSIVE INTERVIEW]
Jason Merritt, Getty Images
With more than a decade in the industry, Grammy Award-winning singer, songwriter and producer The-Dream is hard at work on two new EPs, Crown and Jewel. Crown, which debuted April 14, features the T.I. assisted-single "That's My S---," and focuses on the purity of love. Jewel, out July 10, continues his honest approach to penning lyrics and witticism.
Dream began making a name for himself with the help of Tricky Stewart, first earning production credits on B2K's 2002 platinum album, Pandemonium! He soon graduated to a level where every big artist wanted to work with him. He wrote songs for Britney Spears like her collabo with Madonna, "Me Against the Music;" Rihanna's breakout hit "Umbrella," a slew of Beyonce chart-toppers including the Grammy Award-winning "Single Ladies" and Jay Z and Justin Timberlake's Magna Carta Holy Grail intro "Holy Grail."
But his uncanny ability to pen a hit is not only reserved for his famous clients. Any Terius Nash fan will tell you he has been creating his own personal vault of staple R&B classics since his 2007 debut album, Love/Hate. He's credited for having done his part to revive the ailing genre of R&B, with songs like "I Luv Your Girl" and "Makeup Bag." On his new records, Dream continues to offer catchy hooks cemented in sweet and occasionally raunchy lyricism. Nevertheless, he's a musical trendsetter -- think "Falsetto" -- by creating melodies, harmonies and use of sampling in a way that others can't compare.
After chopping it up with the Dream in New York City and listening to some of the unreleased tracks, it's evident the Crown and Jewel projects highlight the "Love King" in his purist form. He hasn't switched up his tried-and-true formula but rather expanded on it. Read on to find out more about The-Dream's two new EPs, why he's paying attention to Jhene Aiko's artistry, gives marriage advice and explains how his love life is reflected in his music.
The Boombox: Which other song off the new album besides "That's My S---" are you excited for your fans to hear?
The-Dream: "All I Need." "All I Need" is a record that basically says the facts of what it should say. I usually have an analogy of a word or a phrase that describes what I am talking about. But you get to a certain point in life and you actually figure out that simple phrase, what "All I Need" is in life. Sometimes we become gluttonous and think about cars and clothes stuff that doesn't really matter. But this is about when you get to a point and you figure out what you really need in life. That song, especially from an emotional standpoint, it feels like I've founded all that I needed in a certain person at a certain point in life. So I was trying to musically get people to understand what that feels like from a sonic standpoint.
You have been in the game for well over a decade and with each album you single-handedly -- whether people give you credit for it or not -- blessed the music world with a new trend lyrically or sonically. How hard is it to continue to reinvent yourself with each album?
Aww man, wow. Yeah, I don't necessarily see it as reinventing because I haven't stopped long enough to reinvent. But I think it's more of raising the bar. I would love to stop for like three or four years and reinvent and think of something dope and awesome, if I get time to do that.
Watch The-Dream's "That's My S---" Video Feat. T.I.

Really? But can you stay away from music that long?
It would be more than a tough time to step away. I was thinking like, can I even do that? I couldn't even imagine. I would have to come with a different name and do work under that name and then reinvent The-Dream, period. That's the only way that'll work. But it's not really that hard to keep going because I think I am reaching most of the time to impress people who actually have an ear for the stuff that I do. Not only the fans inside of my culture but outside of that there is a whole hipster culture who love my stuff and I love it. Most of the time people do not understand how much influence I have in the records they are hearing.
When a song comes on, you can almost immediately tell it's a Dream track. What would you say to up and coming singers and songwriters who are attempting to achieve that status of musical branding?
I think it's hard for people who didn't live with my records or listened to it from the beginning. They got some of the newer guys stuff that came after me so it's hard for them to understand exactly how much of my music had to do with the evolution of R&B, especially at that time in '07. I remember some of the bigger guys, like Timbaland saw how stagnant things were before Love/Hate dropped. With that being said, so for me it's an honor to hear that but on top of it I knew what I was trying to do. It was about pushing the envelope. You know there is a sweet way to say things and still be a man about it, so I tried to keep both of those things in mind. 
As a Grammy Award-winning songwriter, you have penned lyrics for Beyonce, Rihanna, Mariah Carey and more. As a solo artist, how do you then write exclusively for you? For example, your song "Ghetto" with Big Sean was transformed into Beyonce's "Dance for Me."
With "Ghetto," I did that on purpose. I tried to show people how close they were. It's me still doing Dream stuff, but it's still close in the combination of what popular music is. I was trying to show people how close or related everything is in one song. I maintain myself by just speaking my point of few. When I am with Bey, I become her. When I am Jay, I become him. Or when I am with Rihanna, or Kanye or Celine Dion or Mariah Carey, I become them.
I become the artist that I am working for, but outside of that I am an artist in my own right. When people try questioning my artistry or what it is that I do, it's because it doesn't look like everybody else's art. I have a lot of canvases I could work on and I am fortunate for that, but I am more of a director of what art and fine art is versus just people like one particular painting and have it duplicated over and over again.
Did you ever write a song for someone else and end of keeping it or vice versa?  
Nope. That never happened.
What is a typical studio session like for The-Dream?  Can you tell us about a great studio moment while you were creating Crown?  
Flowers. A lot of roses everywhere. I love flowers. I love the smell of the fresh flowers. It just softens up the room. There's enough ratchetness inside of me so flowers softens it up. The flowers are always a constant reminder of being sensitive -- a women -- and I think that is important when you are making records where most of the people want to talk to women or I am talking to women.
It goes without saying that all of your albums are thematic, with love being the focal point. However, your creativity as an artist shines with each delivery. On the last album, IV Play, with songs line "P----" and "Turnt," it was more about sex, lust and passion. What aspect of love are you catering to on Crown and Jewel?
The purity of love. Like with this album it's like the record I just played for you, "All I Need" [is] pure, honest and straight to the point. It's so straight to the point that it will probably sound too witty coming from me because I am always being witty. There is a record at the end called "Fruition." "Fruition" is something that you really don't hear about in song -- I mean we say it in conversation, but it's one of those things like how "Falsetto" was. With "Fruition," I wanted to make sure I catered to my fans that like to hear analogies in records and how they wrap back around in creating a story. So it's almost like you creating the title of a movie and then you write the script based on that.
Crown and Jewel are two separate EPs. Can you break down the division and what experience you are hoping to give listeners with each album?
With Crown, I just want to give people what they want from me. With Jewel, I just want to deliver more of a progressive sound. Not that it hasn't been done before but because my fans haven't seen it from me. It's different when the "Umbrella" tracks are for Rihanna because I did demo it in the first place but even past that, I never went further with trying to do songs like that. To be honest, I didn't see myself doing music like that. It's kind of like now I am starting to come into my own. It was always about being a musician and a songwriter first, it doesn't take away from the fact that I am an artist. But I mean coming into my own as far as showmanship. I wanted to step all the way into it with Jewel. 
We know you are a triple threat and produce as well, but who are you teaming up with for this joint?
Tip is the only person that is on the album.
In a recent interview, you described current mainstream music as ignorant, but which new rising R&B singers are on your radar?
Jhene Aiko. But I don't want to marginalize her by just calling her an R&B artist. It seems like everybody is trying to get out of that label. You know, we didn't come up with the boxes. We just try to do music and then we're put in categories, which is part of the reason why people do not like being labeled. If you are an R&B artist, your budget is different, if you are alternative, your budget is way different and if you are pop, then your budget is all the way different [laughs]. Artists know what comes with the labels. But Jhene is one of the only artists that I feel is doing their own s--- in her own world. Everyone else is not pushing hard enough.
Watch The-Dream's "I Luv Your Girl" Video Feat. Jeezy

You sing about love and relationships, but in the public eye your, love life has taken quite a lashing. How does that translate into your music?  
It translates all the time because I only write about honesty in my music. If there is something projected publicly that is not true, then I won't put it into my music because it doesn't make sense to do it. I kind of like just let the waves roll over, eventually they'll be silent. But the good and bad things that I take out my relationships, if there is a lesson, I make sure I project through certain records. 
Yes, 1977 was an entire album about projecting a certain type of emotion based off of something. It was loosely based of the idea -- and I think we all know this -- you don't really know what is going on between a man and a woman but we choose to speak about it. But in the same sentence, as an artist by speaking on it, it makes you feel like you have to reply or say no, hey this is how it is.
You can say you don't care about what people think about you, but if you didn't ,you wouldn't be who you were doing the things you were doing. So we all care about perception and how we feel. I think I am more of a realist when it comes to relationships. Either they work or they don't. Younger people may comment because they don't understand because they haven't been through it and older people don't even say anything because they already know.
You are still a newlywed. It will make one year in July that you've been married to Lalonne Martinez. What advice can you give to newlyweds to make the honeymoon phase last?
Listen to my album [laughs]! You just have to stay fun and remember how you got somebody. Never stop the courting process. Take trips. I think more so it's about just being fun and not taking yourself so seriously. Adding husband or wife to your title doesn't make you more serious then you were nine months ago. You have to have fun with yourself and understand there are things you don't know and there are things that you do know.
While people should accept you for you, they should also accept you for who you aspire to be. You are not going to wake and be this ultimate person and think like, cool I won, because you have a ring. Nobody has won anything; you are still trying to win everyday. So you should still try to win your woman and you should still try to win your man.
Crown dropped [April 14]. The next single behind "That's My S---" will most likely be "Fruition" and then there will probably be another single that leaks out before the EP. But the album in it's entirety Crown/Jewel with the two EPs put together there is a record called "Love Me Back" that will be the first single on the album. The tour in support of the album will definitely be this summer.
See 20 Nightmares for People Who Love R&B