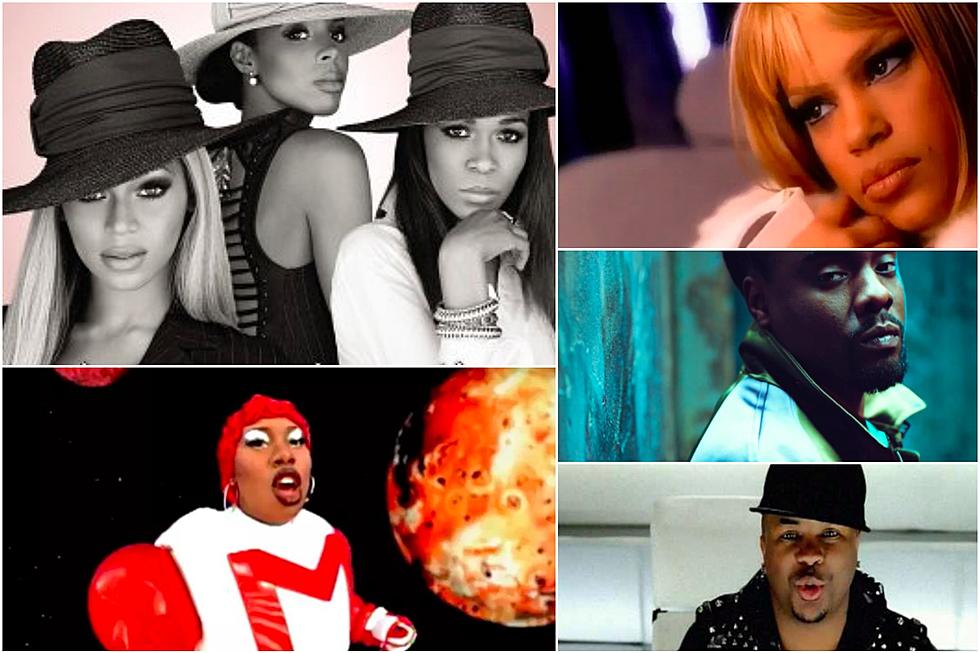 Missy Elliott 'Defies Physics': Sept. 21 in Hip-Hop History
YouTube
On this day, Faith Evans releases a signature ballad, Destiny's Child returns from hiatus, Missy Elliott delivers the goods with her second single, and Wale and The-Dream are born.
1995: Faith Evans releases "Soon as I Get Home" 
The second single from Faith Evans' classic 1996 self-titled debut, "Soon as I Get Home" remains one of her signature songs. Released after the mid-tempo "Used to Love You," the ballad further showcased Faith's vocal dexterity. Already known for her songwriting skills from her work with Mary J. Blige, on the ballad, she offered a soothing apology to her lover.
Produced by Chucky Thompson and Sean "Diddy" Combs, and co-written by Faith and Diddy, the track went gold, and peaked at No. 3 on the Hot R&B and Hip-Hop Songs chart. In a 2017 interview with the New York Post, she remembered what it was like being the first female artist to release an album on Bad Boy, and her experience working with Diddy early in her career.
"Puffy's always had high standards," she said. "Very early in my career, Puff used to walk me to the tanning salon every other day because I was pale and he wanted to tan me up! And he told me he wanted me to walk out of the house and look glamorous all the time."
1997: Missy Elliott drops "Sock It 2 Me" featuring Da Brat 
In 1997, Missy Elliott followed up her hit single, "The Rain (Supa Dupa Fly)" from her debut album, Supa Dupa Fly with "Sock It 2 Me" featuring Da Brat. Like its predecessor, the song sounded like nothing else on radio, and ushered in a new era in R&B, courtesy of Timbaland's signature production and Missy's innovative sound. The Hype Williams-directed video was just as wild as you'd expect a Missy effort to be, establishing her eccentric vision early with a play on the MegaMan video game. The song peaked at No. 12 on the Billboard Hot 100, but more importantly, established that Missy was a force to be reckoned with, a unique talent that would impact music for years to come.
"We came up in a time where we were always told no. Where we were always placed in a box. And she defied it. Over and over again," Pharrell said of Missy in a 2017 interview with Elle. "She defied the physics that were dictated to us. She ignored the gravity of standards and prejudices and stereotypes. She ignored that gravity."
2004: Destiny's Child's "Lose My Breath" is released
Produced by Rodney Jerkins, Beyoncé, Kelly Rowland, and Sean Garrett, "Lose My Breath" is the lead single from Destiny's Child's final album in 2004, Destiny Fulfilled. The record was released after the group went on hiatus so that the members could release solo projects.
"Lose My Breath" announced the group's comeback. The hook was written by Jay-Z, with a military-style drum pattern that Jerkins created prior to presenting the song to the group. The song hit No. 3 on the Billboard Hot 100.
"There was a lot of confidence and a lot of growth [with this record]," Rowland said in a 2004 interview. "All of us have had a lot of personal growth and when you put that back in the studio, that's a lot of wisdom. It's beautiful to hear it in the studio."
At the time, the group claimed it wasn't the end of Destiny's Child, but rather the end of a chapter in their lives.
"It's not our last record because one of us wants to go solo, or because we don't get along or because we don't like each other anymore, or because of cattiness," Beyoncé told MTV News in 2005. "It's because it's the end of this chapter in our lives. We've been doing this for 14 years now, and our destinies have been fulfilled."
The-Dream and Wale are born
Terius Youngdell Nash aka producer/songwriter/singer The-Dream was born on this day in 1977. In the years that he's been in the business, he's worked with superstars crafting hit after hit, including Rihanna's breakout song, "Umbrella" and Beyoncé's smash "Single Ladies (Put a Ring on It)." He's worked with everyone from Justin Bieber to Jay-Z and Gary Clark Jr., releasing eight solo projects along the way. Wale (Olubowale Victor Akintimehin ) was born on Sept. 21, 1984 in Northwest Washington, D.C. After gaining critical acclaim on the mixtape circuit for years, Wale's major label debut, Attention Deficit, dropped in 2009. He's since released four studio albums, the latest being Shine in 2017.