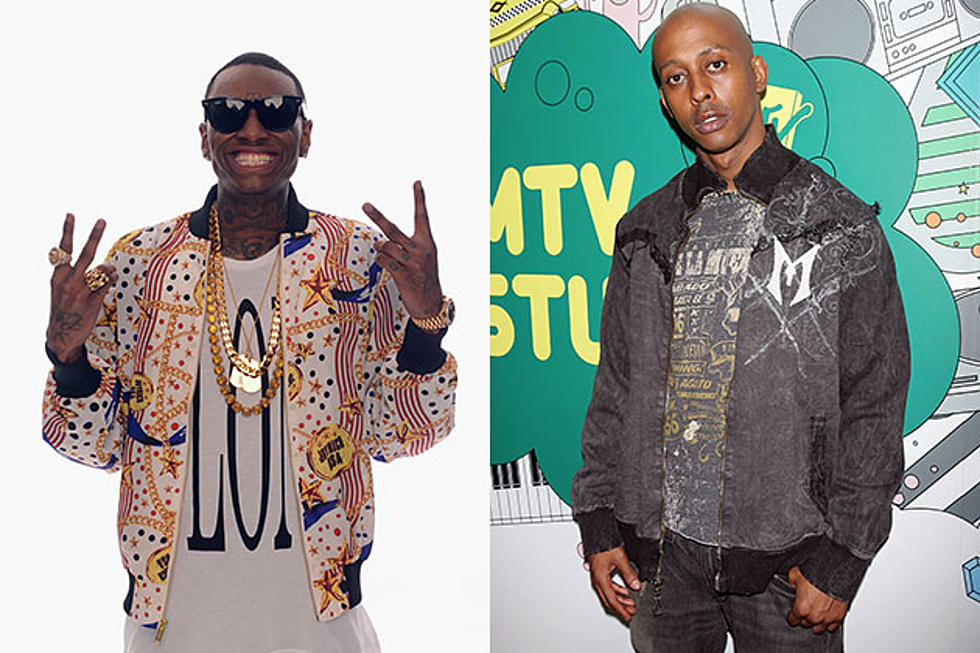 Soulja Boy Threatens Gillie Da Kid's Life on Twitter
Mark Davis / Scott Gries, Getty Images
A week-long beef between the two got even more heated today (Aug. 11) when Soulja Boy started threatening the Philly rapper's life. Soulja Boy lost his temper soon after Sohh.com published a story where Gillie Da Kid explained his side of the beef. Souja Boy had threatened to slap him.
"You don't go on the Internet because they try to talk gangsta on the Internet for your three or four million followers but then he tries to call someone up behind closed doors to try and get it squashed," Gillie Da Kid said. "No. If you want it squashed, apologize on the Internet."
Soujla Boy saw this and took a more belligerent approach and tweeted, "You a bitch. But I'll see you soon tho." He included the 100 emoji and multiple gun emojis. His timeline also features a few more threats, a claim that he "popped" foes before, a picture of a text implying an upcoming hit on Gillie Da Kid's life and numerous retweets of his reported net worth.
Gillie Da Kid wasn't phased, however. He called Soulja Boy a "p----" and implied the 'Crank That' rhymer had been on cocaine.
Soulja suddenly tried to draw attention away from the beef by referencing the Michael Brown case in St. Louis, Mo.: "Smh we should be focused on #RIPMikeBrown but now this old ass n---- wanna beef with rappers half his age  these OGs need guidance."
The two rappers started getting at each other's throats when Gillie Da Kid posted the below photo on Instagram with the caption, "N I Got 1 N I'm Lookin 4 U N-----z!!!! #HideNseek #Ctfuuu #ImaCatchUn----z #souljaboyassn----z." Soulja Boy had been lambasted previously for flaunting fake money on Vine.