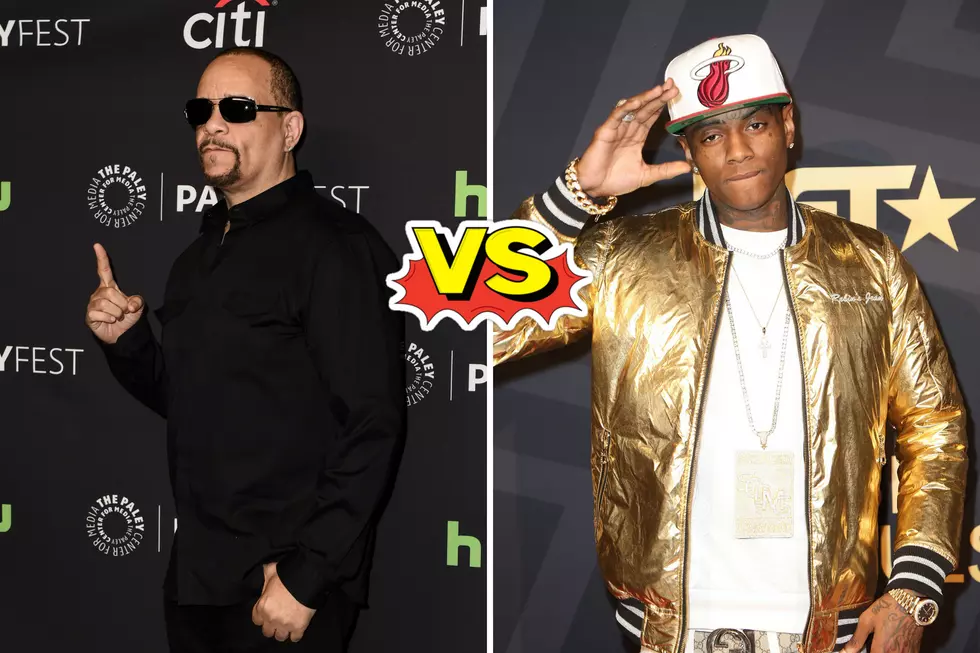 The Real Reason Why Ice-T Took That Jab at Soulja Boy in 2008
Emma McIntyre, Maury Phillips/Getty Images
Ice-T, a hip-hop legend, was having a bad day and decided to take it out on an unassuming target.
"F**k Soulja Boy. Eat a D**k," he said on DJ Cisco's 2008 mixtape, Urban Legend. "This n***a single-handedly killed hip-hop." That infamous line would lead to one of the most senseless and short-lived "rap beefs" in hip-hop history.
Soulja Boy, born DeAndre Cortez Way, was a 17-year-old Atlanta-based internet sensation, having released his debut studio album Souljaboytellem.com a year earlier. The album's lead single, "Crank That" — a double-entendre that either meant masturbating on a woman or, his signature dance move—went viral thanks to MySpace (remember MySpace?!). Soulja was thrust into the limelight during a time when southern hip-hop was at its peak, and the young rapper's trajectory elevated the commercialization of hip-hop culture to a new level. Becoming one of the first artists to go viral, Soulja Boy, along with Sean Kingston and a few other artists, changed the way we consumed music.
Soulja may have come from the hood, but his music was about having a good time. Plus, he was marketable, and with Interscope Records backing him, he became a hit-making machine. The likeability of "Crank That" landed Soulja the No.1 spot on the Billboard Hot 100 and made him a global household name. But Ice-T — whose rap legacy is rooted in anger and pain (as heard on his angst-ridden album, O.G. Original Gangster) — felt Soulja was diluting hip-hop. When reflecting on the lead-up to the dispute, Ice-T said his anger was not geared towards one person at the time. "[I was] making a record, and somebody was trying to get me to spit," Ice-T explained to VladTV. "They were verbally pushing me, and I just went off. They taped that, and they used that to try and sell their mixtape. My little rant was never meant to be heard. It wasn't as personal as it seemed."
Soulja Boy, being internet savvy, came across the diss, and posted a video giving to give his take on the statements. "I know he's a legend in the game, but once you tell me to eat a d**k, and I hear that on the radio in my city... The game done changed, new n***as out, young n***as in," Soulja Boy said in his video. "Sh*t is different. Think about it in my shoes. This time last year, I was in the hood. If what you are living is true, you would understand where I'm coming from. There's a lot of sh*t you could be doing, other than telling a 17-year-old to eat a d**k. You could be doing a lot of sh*t right now. Go to the hood. Start a hip-hop school. Do something. You one them n**as that talk but do nothing. You lame as hell."
"We came all the way from Rakim. We came all the way from Das EFX," Ice-T said in the original rant played by Soulja in the background of his video.  "We Came all the way from Big Daddy Kane and Ice Cube, and you come with that Superman sh*t. C'mon man up, you n***as. Stop bullsh*tting you n***as is making me feel really f**king mad about this shit. We took it all the way from khakis and straps and you looking happy man, that sh*t's wack."
In retrospect, Ice-T realized it might not have been the wisest move to take a stab at a young, novice rapper who sees hip-hop from a completely different lens. "When I made those statements, back in the day, that was an old-school rapper saying, I want hip-hop to stay difficult. I think that Hip-hop requires a sense of difficulty. If you're a rapper, if you're a DJ, if you're a graffiti artist, there has to be a sense of difficulty, that's what makes you dope versus wack. I just felt they were taking the bar so low on hip-hop – not just that kid, but other kids, too – we worked so hard to get this to this point, let's keep it fly. At the same time, when I spoke on that, you had kids like Lupe Fiasco who's spitting his ass off. That was my comment; it was a direct thing on this kid. I probably only heard one record, I don't even know. But what's relevant to you, may not be relevant to me. He might be worried about the new Jordans; I might be worried about jet fuel. I kind of regret it. It turned me into a person who seemed like I wanted beef, and that's really not my style."
The back and forth was sensationalized; with many rappers taking sides on the issue, including Nelly.
The beef wouldn't go far, because there wasn't enough momentum. The generation gap in hip-hop was apparent. KRS-One, a hip-hop philosopher, said it best during a segment on BET's Rap City.
"Every generation brings its own presentation of what hip-hop is to them," KRS-One said. "Every ten years we get a new old school. In 1987 we thought 1977 was the best era in hip-hop. Here we are in 2007 and we're discussing '97/'98 when 50 Cent just started. You were 11 when hip-hop just started. This just shows us how times flies and how new blood comes in. We can't be dissing new blood and expect us to exist for 100 years."
When asked about how he views hip-hop, Soulja Boy kept it simple: "Today hip-hop to me is just having fun and not thinking about the consequences."
The Best Pen & Pixel Rap Covers