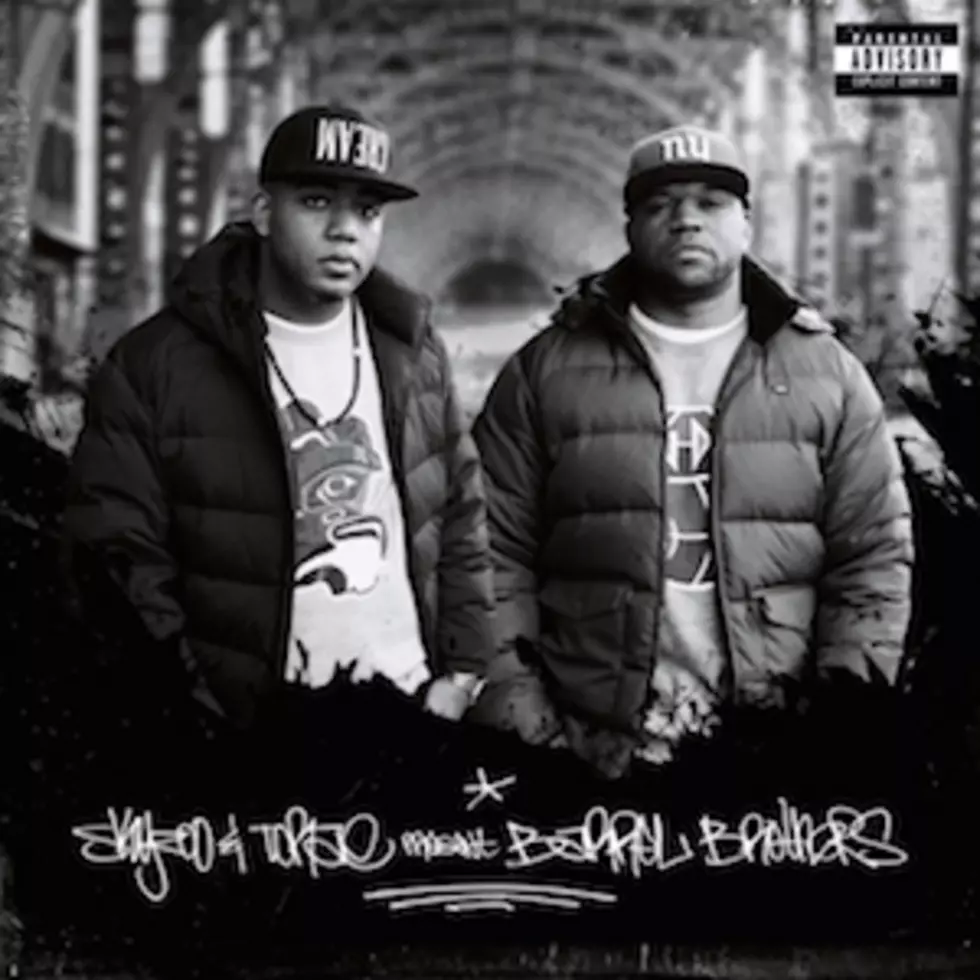 Skyzoo & Torae Unveil 'Barrel Brothers' Tracklist, Album Cover
Empire Distribution
Two of the best rhyme-spitters from Brooklyn have teamed up on a project that will surely attract listeners looking for some real bars over head-banging beats. Rappers Skyzoo and Torae (aka the Barrel Brothers) will release their collaborative album next month.
The 15-song effort features an impressive list of top-notch rhymers as well as production from hip-hop's elite producers.
Sean Price, Sha Stimuli, Guilty Simpson, Livin Proof and Blu lend an assist with their respective rhymes. On the production end, studio mavericks DJ Premier, Oh No, Illmind, Black Milk, Jahlil Beats, Apollo Brown and others provide the boom-bap beats.
"This album was a long time coming, but when the people wanted it six years ago neither [Skyzoo] nor I had fully established ourselves as solo artists" said Torae in a press release (via XXLMag). "Now that we've made our marks as individuals, it's time to combine forces and really give the fans what they've been asking for."
"This LP is gonna be heat top to bottom, there's no denying the chemistry Sky & I have in the studio, we always bring out the best in each other," he continued. "Get ready, it's almost Barrel Brothers season."
Released jointly on Skyzoo's First Generation Rich, Inc. and Torae's Internal Affairs Ent., 'Barrel Brothers' arrives May 27.
'Barrel Brothers' Tracklist
1. 'Intro'
2. 'Talk Of The Town' (Produced by Oh-No)
3. 'Make You A Believer' (Produced by Jahlil Beats)
4. 'Tunnel Vision' (Produced by !llmind)
5. 'Blue Yankee Fitted' (Produced by !llmind)
6. 'All In Together' (Featuring Sean Price & Guilty Simpson) [Produced by Black Milk]
7. 'Triangle Offense' (Featuring Sha Stimuli) [Produced by !llmind]
8. 'Movie Album' (skit) (Produced by Auréli1 a.k.a TIGA)
9. 'Albee Square Mall' (Featuring Livin Proof) [Produced by Praise]
10. 'The Hand Off' (Produced by Khrysis & Cyrus Tha Great)
11. '4 Bar Friday' (Produced by The Stuyvesants)
12. 'Memorabilia' (Produced by AntMan Wonder)
13. 'Rediscover' (Featuring Blu) [Produced by MarcNfinit]
14. 'The Aura (Produced by DJ Premier, co-produced by AntMan Wonder)
15. 'Got It From Here' (Produced by Apollo Brown) [Bonus-iTunes & Vinyl Only]