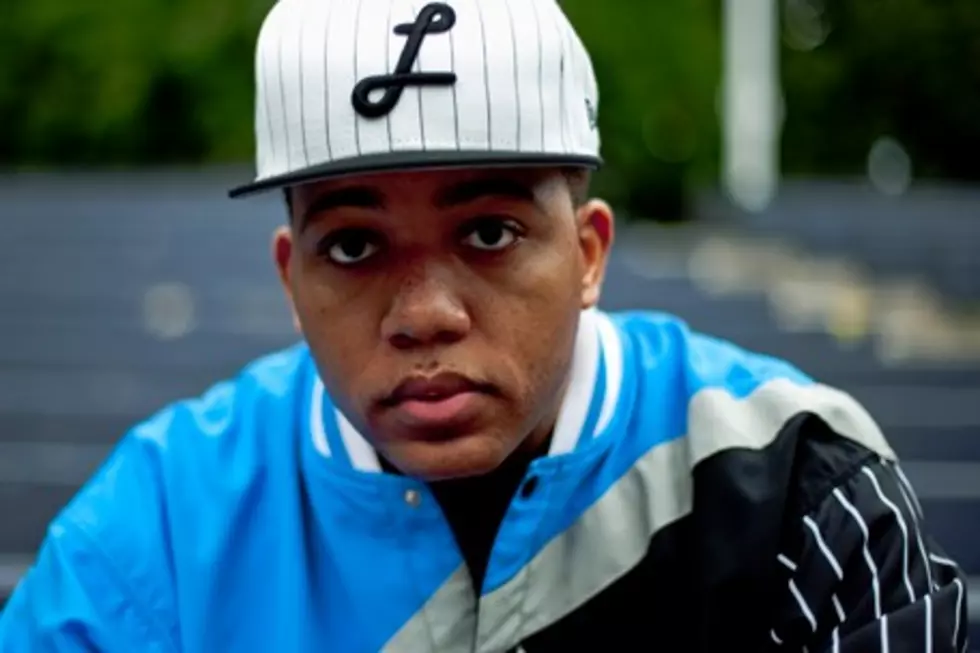 Skyzoo Reveals Why John Legend Is Missing From 'A Dream Deferred', Talks Jill Scott's Fandom
Joey Amandola
Skyzoo titled his second studio album, A Dream Deferred, based on a concept built on his 2009 debut, The Salvation.
"If you're a Skyzoo fan and you have The Salvation, you know that album is about temptation," he tells The BoomBox. "Which way to go when you're tempted to go left or right and the pros and cons of those decisions...
"This album, A Dream Deferred, picks up where that left off in the sense of what happens now. It's about what happens once you've made those decisions, once you gave into temptation or not."
While A Dream Deferred questions what happens next, Skyzoo is living in the present, basking in the results of years of hard work. He's consistently in awe of what's happening now.
While working on the album, Sky found that his fan base included artists he'd long admired. Fittingly, it was his earliest family connection that led him to Jill Scott who is featured on the LP.
"I was in L.A., with my manager to do some work on the album," the 29-year-old rapper recalls. "We found out that 9th Wonder and Phonte were having a show that night we landed. 9th is family so we went to show love and support. We're doing the 'fan thing' by VIP, then we look over and see Jill Scott doing the 'fan thing' also."
Mutual friends introduced the two and Skyzoo was shocked to find out that the singer is an avid listener of his music.
"When I met Jill and went to introduce myself, she's like, 'Nah, I know exactly who you are. I have all of your music on my computer. I think you're one of the dopest writers of our generation.' I'm like, 'Wow, that's amazing.' I was kinda floored."
That same evening, the chanteuse told the Brooklyn-based MC that she would be more than willing to contribute to a track whenever he was ready. Within a month, she laid vocals for the "Dreams in a Basement" cut.
Much of the recording process for A Dream Deferred went just as smoothly as Sky's first interaction with Jill Scott and everyone involved. From producer !llmind to Philly firestarter Freeway, he was dedicated to creating a lasting impression on the album. However, there was one hiccup, which caused Skyzoo to come up with an alternative in a hurry.
The song "Drew & Derwin" was originally meant to be performed by John Legend. Sky's close friend Jessy Wilson is a songwriter for Legend and helped contribute to A Dream Deferred. She suggested that Sky reach out to the R&B crooner in hopes that he would make an appearance on the album.
"A week later we're in the studio," Sky says. "Cameras are rolling, and me, John and Jessy are writing together, recording, and throwing ideas back and forth. It was just getting [his] management to OK it.
"We were having issues with paperwork and money and all those types of things," he shares. "At the last minute I called Raheem DeVaughn, who I've known for a while. I asked him to jump on the record and just re-sing it as-is and he knocked it out within two days."
Though Legend wasn't on the final track, the rhymer, born Gregory Skyler Taylor, praises him nonetheless. "John was awesome," Skyzoo explains. "He's a legend -- no pun intended -- and he was totally with the record. Shouts to Raheem DeVaughn though for coming through in the 25th hour and holding it down."
Skyzoo's vision for the album may have been altered a bit, but the end result was all a part of the process. "It kinda goes back to the title of A Dream Deferred when you go hard for whatever it is," Skyzoo states. "I got that on my own, organically."
See 15 of the Best Hip-Hop & R&B Albums of 2012 (So Far)
%VIRTUAL-MultiGallery-163137|167170|166675%