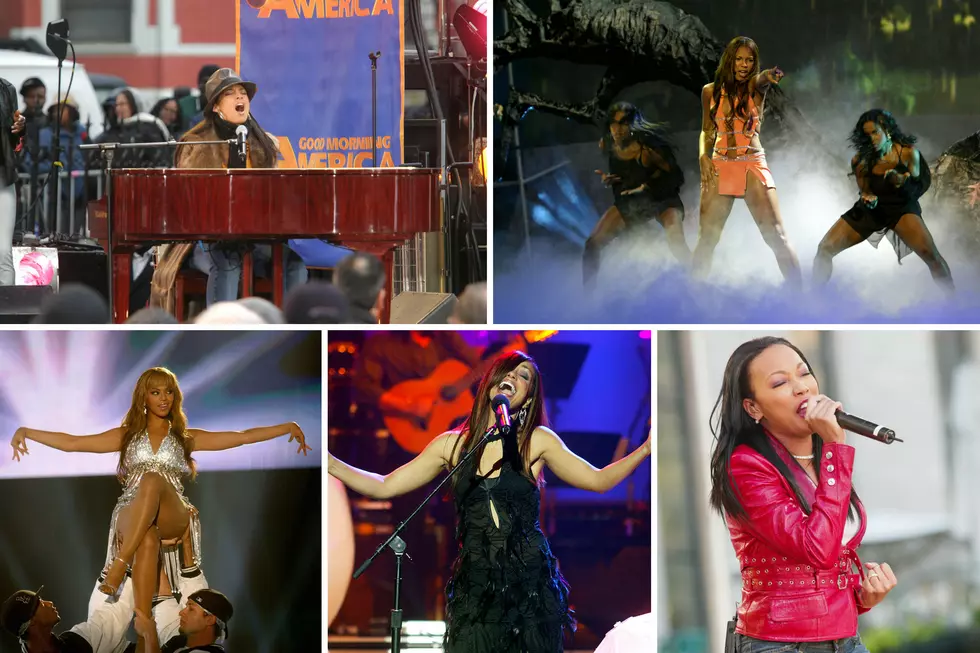 Stilettos, Sales, and Tipping Scales: A Retrospect of Female R&B in the Year 2003
Peter Kramer, Frank Micelotta, Kevin Winter, Evan Agostini, Getty Images
Fifteen years have passed since we were graced with what is arguably the last great competitive stretch in female R&B. During the summer of 2003 alone, black women simultaneously reigned in the Top 10 of the Billboard Hot 100. A feat that sounds daunting today.
 See the week of June 12, 2003, when Beyoncé, Ashanti, and Monica were all in the Top 10 at the same time, with Lil' Kim also having a spot.
Ashanti wanted to prove that she was more than a fluke, 
Beyoncé
 faced the risky task of being solo, while Monica and Mya sought to establish themselves as the young OGs of their peer group. Alicia Keys closed out the year by reaffirming herself as the old soul amongst a sea of 25-and-under songstresses. 
 Looking back at 2003, it
 was clear that the decisions each woman made that year have continued to have a resounding effect on their respective careers today. In the instances of Alicia Keys and 
Beyonce
, they each etched a sound and aesthetic that has allowed them career flexibility in the changing times. Ashanti and Monica came out strong but struggled to find continuity and failed to maximize their momentum. Mya redesigned herself in such a sensual earthiness that even her core fans struggled to latch on.
Plus, the emergence of digital platforms such as iTunes and the 
ever-growing
 sector that we now call social media would forever change how we digest musical content.
The early 2000s was a fun yet peculiar time for the music industry. CDs were still a thing, but technology was nipping away at its profitability. Hip-hop had transformed from a tolerated subculture to a dominating genre. Women in R&B had maintained a fairly consistent formula for success--be supported by a label who could afford heavy promo, have a stimulating visual for BET and MTV, a fairly distinct sound and look, and a hot producer. This 
twenty-year
 model gave us a slew of classics.
The year 2003 marked a transition from this model. The FCC restructured the rules governing radio stations. Viacom finalized its purchase of BET, and Apple unveiled its iTunes Store. The world of black music changed so quickly with these moves that many of us did not catch what all was happening. Looking back, we should not be surprised that 2003 provided us arguably the last great competitive stretch of female R&B to date. 
Several great projects were released by male and female artists R&B artists in 2003, and this article is not intended to dismiss any other artists' work. By the spring of that year, R&B consumers were ready for a score to be settled. Out of the twenty-something established female acts—Monica, 
Beyonce
, Mya, Ashanti, and Alicia Keys—releasing an album that year, who would shine the brightest?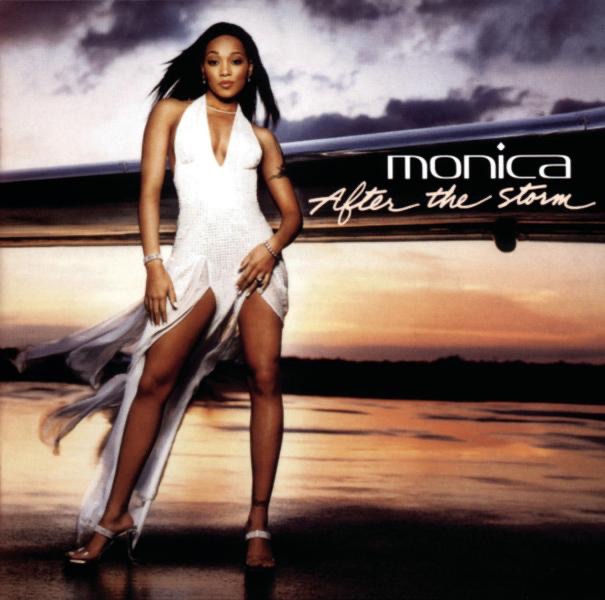 Monica was the first to release an album on June 17, 2003. The album was aptly titled After the Storm. Just a year before, she had the embarrassment of her career when what was supposed to be her third album, All 
Eyez
 on Me, was canceled after the singles failed to generate buzz and the album eventually was leaked online. After the Storm used five tracks from its ill-fated predecessor and called on Missy Elliott to refresh the rest of the project.
She reemerged strongly with "So Gone," a young classic in the R&B canon.  The single was an excellent choice. The song's throwback sample gelled with the maturity of Monica's voice. The theme was the Monica we had grown to love showed growth, and she even threw us for a loop with a rap verse. The track reached number 10 on the Hot 100 charts.
The album debuted at number one the Billboard charts with 186,000 copies being sold the first week. Despite the strong start, the album started to lose presence in the market. The next single, "Knock 
Knock
" failed to crack the Top 40 on the Hot 100 charts. It was an anti-
climatic
 continuation of the lead single and far too mellow for its summertime promo.
The next single, "U Should've Known Better," reached the Top 20 but was not released until the spring of 2004. The album by this point had lost momentum and quietly faded into the background. In review, Monica gave us more of the same musically but not enough artistic progression. Her personal growth was amazing when considering what she had endured in her early 
adult
 years, but that grit was not shown
 on After the Storm. It would have been interesting to see how different the album would have been had Missy Elliott helmed the entire project rather than the label trying to save what was left from All 
Eyez
 on Me.
On June 23, 2003, 
Beyoncé
 released her long-awaited debut solo album titled Dangerously in Love. Of her peers, her album was 
arguably
 the riskiest to sell. She has experienced major success in Destiny's Child,
but she still dealt with the residue of girl group drama. Her first solo single, "Work It Out," is possibly one of her most underrated tracks failing to even crack the Hot 100 in the fall of 2002. Of course, the ever-pressing 
curiosity
 of if she and Jay-Z were 
really 
a couple lingered in the minds of fans. It sounds crazy today, but such was life in 2003.
Beyoncé
 managed to strike a balance between who we knew her as in a girl group while introducing herself to the world as a fully legal woman. For these reasons, much does not have to be expanded on for this project. 
Beyoncé
 understood her audience so well the first that she has used it as a blueprint that has sustained her career today.
In terms of production, one could argue that it was more adult R&B than what we hear from her today. The lyrics in "Me, Myself and I" and "Yes" were those of a woman who had known hurt but had learned to appreciate the growth from it just the same. "A Gift from Virgo" is such a tease of how naturally her voice meshes with jazz, and it is a shame we have not heard more of this from her. 
Her label was wise not to rest on its laurels, no matter what a monster hit "Crazy in Love" was. They proverbially kept their foot on the gas and did not let up. If you wanted to dance, ("Baby Boy"), if you were lovesick ("Me, Myself and I"), or just wanted a night out with the girls, ("Naughty Girl"). Beyoncé had something for you on this album. These themes have remained the tenets of her solo career. 
Mya released her third album 
Moodring
 on June 26, 2003. By this time, she was already praised as one of the best dancers of the singers in her generation and had proven she could have crossover success. Her quest now was to be viewed as an artist. The lead single 
from
 the album, "My Love is Like...Wo," forced us to have that conversation. The boldness of her delivery was polarizing for listeners and sparked the age-old debate about the 
fine line
 between creative expression and vulgarity.
Looking back at how controversial the tune was at the time, it is remarkable how 
much
 people's tolerance for what a female artist can say has grown in 15 years. Looking back, did Mya make a mistake releasing the song as a single? No. But did she pay a price for being so adventurous? More than likely yes. 
Moodring
 sold 113,000 copies its first week, coming in at 
nu
mber
 three on the Billboard Top 200 album charts.
The next single, "Fallen," was a summer turned fall lullaby that has aged 
well. Its delivery was in stark contrast to its predecessor—subtle and bashful. While "Fallen" has become a familiar song in Mya's 
discography
, it was a commercial disappointment, failing to crack the Top 40. And then suddenly...the album disappeared.
It is a misfortune that the promo for the album stopped two singles in. 
Moodring
 had several layers to it that was never properly explored. The track "Whatever Bitch" was ahead of its time. The song fused house and vogue subcultures but the execution predated the Real Housewives of Atlanta catchphrases that it now 
apart
 of our everyday vernacular. "Anatomy 1ON1
" had
 a kittenish vibe that sounded like a song Prince would have been proud to give one of his proteges
. Dancehall was having a major moment in the urban market in 2003, and Mya's label missed a 
major opportunity 
to
 rekindle the success she had with reggae
on the Sean Paul-assisted
"Things Come and Go."
Mya's third album has intended to show her 
versatility but the project was handled in a way that made her appear more disjointed. If the label had been more consistent in supporting the album, consumers could have seen Mya as more well-rounded than confused.
Chapter II, Ashanti's sophomore effort, hit shelves on July 1, 2003. Ashanti is a prime example of what a double-edged sword success can be. She had experienced meteoric success just the year before. With such great accolades, people expected a certain presentation. Despite having such a successful debut album, her lack of stage presence had people questioning just what was the star appeal?
The album's lead single, "Rock with U (Awww Baby)," was a silky foray into a more rhythmic Ashanti. The song had the signature production that made her so successful, which is the contrast of the sweetness of her voice over a thumping drum pattern and repetitious hook. It reached number two on the Hot 100, blocked from the number one spot largely by Beyoncé's "Crazy in Love." 
She easily scored another hit with "Rain on Me," a booming sound that told a story of heartache soothingly.
The first two single choices were excellent. Ashanti had two other problems that did not allow her to optimize the potential of Chapter II--her lack of growth as a performer and a weak choice of a third single. Of the crop of young R&B starlets that year, Ashanti had what was largely regarded as the weakest stage presence. Her performances of "Rock with U (Awww Baby)" at the 2003 BET Awards and "Rain on Me" at the 2003 American Music Awards did little to push the respective singles over the edge.
Possibly the worst mistake Ashanti made during this era was that she released the remix version of "Makeup 2 Breakup." The album version of the song was just sweet enough to be pop but kept enough "thump" to still be R&B. The simplicity of the groove would have also taken pressure off Ashanti when performing. It sounded like a plush choice to push on radio in the spring. Instead, a remix featuring Black Child was released. The production was jumbled and lost the allure that made the original so charming. Ashanti, still needing to anchor her own star, was being used as bait to promote struggling Murder Inc. artists. Considering the additional controversies her record label would find itself in, it would have been wiser to continue to nurture her career than try to force her to bring someone else along.
Nevertheless, Ashanti's album won the first-week sales battle that summer, coming in a number one and moving 326,000 copies.
Of the R&B darlings that year, Alicia Keys' first week sales would be the one to stun. The Diary of Alicia Keys, unveiled December 2, 2003, shot to the top of the album charts and moved 618,000 units in its first week. "You Don't Know My Name," the lead single, was a mirror to the sound that started her career. It featured cascading piano runs and expressed feelings of longing, except this time with a bit more optimism. Earlier that year, Keys saw many of her peers perform intense choreography, but she remained true to her identity. Consumers actually found joy in her being able to deliver right behind the piano.  
Now that is not to say she did not have fun. On "Karma," she showed an equal ability to make people think and move, harkening to Stevie Wonder's gift to do the same. But more than anything, this album is likely the one out of this crop that you can imagine an artist still singing when she reaches her golden years. "If I Ain't Got You" will be just as convincing when Alicia is 70 as it was when she was 22. 
We do not know what the ultimate future holds for these any of these ladies. After all, none of them are even 40 yet. Still, it is undeniable how the year 2003 shaped their careers.
Monica's music almost sounds as if it is stuck on repeat since "U Should've Known Better." Despite constantly using the same production and lyrical content that can come across as a bit preachy, she has remained far too engaged with the masses to now struggle to have Top 40 success. In this period of 90s nostalgia, now would be a great time for her to tap into her Miss Thang roots. Just have fun releasing singles and see what sticks.
Beyonce has had a remarkable career, but she toyed with some sounds in 2003 that still have listeners curious. "Hip Hop Star" was a wonderful, unexpected experiment and has an element that deserves to be revisited. Her natural affection for Shuggie Otis on her debut is also worthy of further exploration.
Mya has publicly stated that she is a peace with going the independent route. It would be great to see her go deeper in the house music scene as her dancing skills are still in peak condition.
Ashanti seems to be struggling with the same thing for 15 years now--finding the right song to re-establish herself. Perhaps she should go back to be how it began for her. Do some features for established rap artists and write for others rather than chasing the latest pop hit. She should let the hit come to her naturally, as it did the first time. 
Alicia Keys is not having as much commercial success as she once had, but she did manage to establish a rather timeless catalog that still allows her to appeal to an exclusive sector and receive great exposure like being a judge on The Voice. She could easily find mainstream music success again if she returned to her relaxed vocal delivery and made her music more piano-centric again.
Out of all the growing pains these ladies have had, perhaps the greatest injustice is that this stretch did not last longer or that female R&B is not as competitive today. The best way to measure greatness is to put it beside greatness. One of the things that made the 90s so special is that Janet, Whitney, Mariah, and Toni all reigned together, along with other female acts who had strong runs as well. This anniversary is not just to say some of these ladies missed out. The fact is we have missed out too.