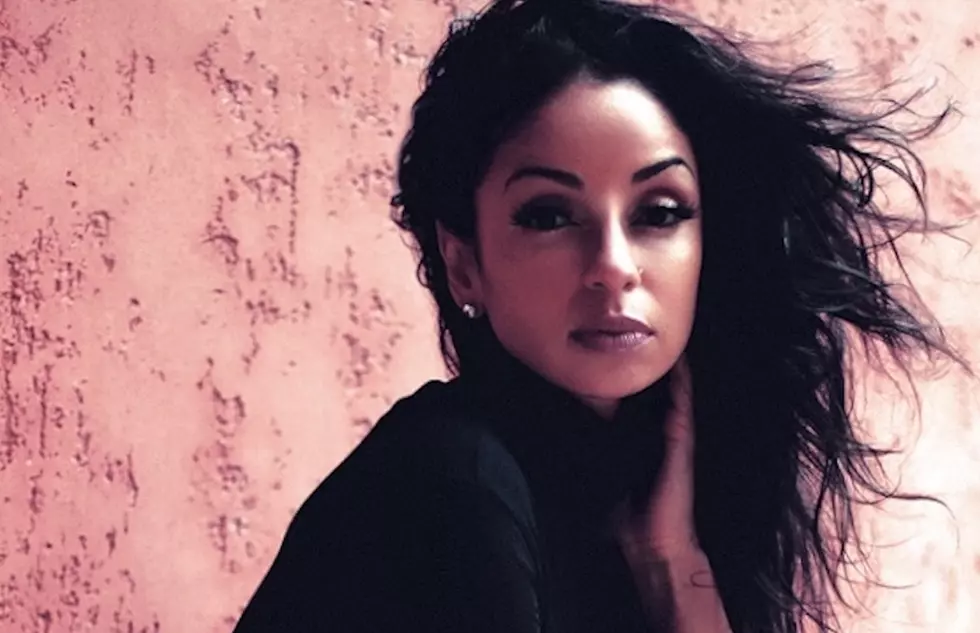 [Exclusive] Mýa Talks New 'TKO' Album & 20 Years of Making Music: 'I Am Relentless'
Jackie O. Asare
In 2000, Mýa acknowledged her Fear of Flying with the release of her sophomore studio project.
"Fear of Flying is a metaphor for the ups and downs of life," she explained to Billboard magazine. "It's about handling things like an adult, knowing you must have faith to make anything happen."
Fast forward to the year 2018 and Mýa is now in complete control of her career and her image. Following the accidental release of her fourth studio LP, Liberation in 2007, the Washington DC native took the independent route and has been at it non-stop ever since.
"I consider myself driven, passionate, determined and relentless to do what feels good or right to me," Mýa tells The Boombox.
We recently caught up with Mýa to discuss her ninth independent project, TKO (The Knock Out), trusting your gut and being a #GirlBoss.
Why do you think so many artists who've had success are taking the independent route nowadays?
Mýa: Artists who are passionate about their music and in love with their art go independent because they want to continue making music and serving it to the world. Often, when you're signed to a major label, you have to wait in line for budgets to open up and get cleared. A life without music feels like it's not a life at all, so when you're in love with something, you want to constantly be able to do it without restraints. That's part of the empowerment and freedom that being independent brings and allows.
Was there anything about going independent in the very beginning that made you rethink your decision?
Mýa: It was always a learning process and it still is for me ten years later. I learned different components of the business, from publishing to copyright to radio and how each area works. It has truly been a blessing for me to absorb the knowledge that I would not have absorbed had I stayed in a system, which is a beautiful system. It made me who I am, but there are fans that are still here and are hungry for music and now they can receive it because you have the luxury to put out a new project any time that you'd like as an independent artist. In the process of new territory, you learn new things, but there's never been a moment where I regretted my decision. I have considered going into the major label system differently, which may just be distribution because I now have more to bring to the table as a label versus just an artist looking for a budget.
In April, you dropped your ninth studio project, TKO. What songs are the fans resonating with the most off the album?
Mýa: "Simple Things" has been a fan favorite. Men and women love that song because of the real and the raw nature of it since superficiality and materialism seem to drive the rest of the world. It's a very refreshing track that I think men can appreciate for one, but also women because it's often assumed that materialism is [what] drives them. "If Tomorrow Never Comes" is a big ballad and a tear jerker. One of my fans told me that's going to be their wedding song. The favorite bedroom song is probably "Ready (Part III - 90's Bedroom Mix)," which is probably my favorite slow jam. Every song has a different vibe, but I would say those are the fans' top three favorite tracks.
Why did you make choreography front and center in the music videos for "You Got Me" and "Damage"?
Mýa: My fans have spoken. They missed the videos that featured me dancing, and I know I've been releasing a lot of R&B, slow jams and more mature music over the last five years with the last three EPs, as well as the Smoove Jones project. This is the first time in a while that they're getting visuals, so I wanted to make sure that I gave them what they asked for.
R&B is very traditional in a sense. How do you keep it interesting in terms of the work you put out?
Mýa: I don't go into the process of making an album with the consideration of trying to fit in or keeping it fresh and new. I honestly go off feeling, whether it's crying, laughing, feeling sexually driven or tapping into a vulnerable space. If I can play it over and over again, then I know that I tapped into something powerful, so I let that be the gauge. Delivering those special elements and staying in the studio overnight to get it right is crucial because I have that luxury now to go the extra mile and be satisfied with every inflection, every pronunciation, every lyric.
In a male-dominated industry, how do you find and maintain the confidence needed to be assertive when you need to be assertive and say no to things without worrying about whatever labels come along with that? 
Mýa: Being a woman is power. Just because we live in a male-dominated world doesn't mean that you're incapable or less than a man. I encourage women to reprogram themselves in terms of what they've been taught because the world has been shaped incorrectly. You have to become an independent thinker in order to navigate and succeed in this world, so it starts with the mental. You are just as capable, if not more capable because you are a woman. Don't discredit yourself because you're a woman. It took time for me to step away and become an independent thinker so that wherever I am in the world, I understand who I am and that nothing's impossible. And I check myself whenever I start to have doubts and fears [due to] whatever the world might think.
You said recently in a separate interview that you haven't reached your full potential yet as an artist. Could you elaborate on that?
Mýa: People have not received all of me and the best of me because I'm giving it increments, but I'm giving it in increments where it makes sense per project. So you're getting a slow jams project right now because that's what it is and it's cohesive, but the musicianship of me picking up an instrument on a live stage is an element that people haven't seen from me yet because it has to make sense. Right now, they're just getting the sexy side of Mýa, the entertainer — they haven't received all of me because there's a time and place for it, but I'm getting ready for it.
You seem very grounded, very centered and that's admirable. Are you finding that more opportunities come your way when you have that peace within yourself? 
Mýa: I believe that the energy you give yourself and the investments you put into yourself is returned. When people notice that you care about yourself, they begin to care and they notice the difference when you invest whatever it is into yourself. There's cause and then there's effect and then there's the law of attraction. We're all human, but I'm on the journey to becoming my best self without being boring. I love having fun and I'm a very imperfect human being, and there's no book that I abide by to live my life, but I try my best to be the best and make the effort and to give my blood, sweat and tears literally to do what I do because that's what I need to feel alive. I'm in it to feel great and make other people feel great. Accolades are nice, but that's not the end-all-be-all.
You talk a lot about spirituality. Have you been able to start connecting the dots in your own life?
Mýa: Yes, I started that process in 2007 when I went independent. In addition to reading spiritual books, I often take myself outside of the earthly man-made world plane and transport myself to my own planet... Planet 9. This is where I am able to peacefully pray, meditate, think and craft and follow my own rules, comprehend universal laws, live and create on my own time with no pressure other than that which is natural similar to nature I've witnessed on earth.
On April 20, you celebrated the 20th anniversary of your debut, eponymous album. Was your journey the way you imagined it would be?
Mýa: Honestly, I had no expectations. I've always been the girl with a go-getter attitude. Prior to becoming a recording artist, I was a professional hoofer, so going toe to toe with some of the tap masters like Gregory Hines instilled a lot of confidence and discipline in me. Whatever arena I stepped into, I knew that I had what it took to learn, to be humble, to always be a student, to absorb, to win and get knocked down and then bounce back.
Being an entertainer before I signed up for the music business was a very powerful element of my life because numbers, charts and different factors [suddenly] define success outside the art itself when you become a recording artist. That drive is still in me today. Until I get it right, I will not stop, and that's why I'm on my ninth independent project because I am relentless. It's that important to me and I can't quite articulate why, but it ignites the fire within me. It's in my blood.
Writer's note: This interview has been condensed and edited for clarity and brevity.
Watch the videos for Mýa's "Damage" and "You Got Me" below: