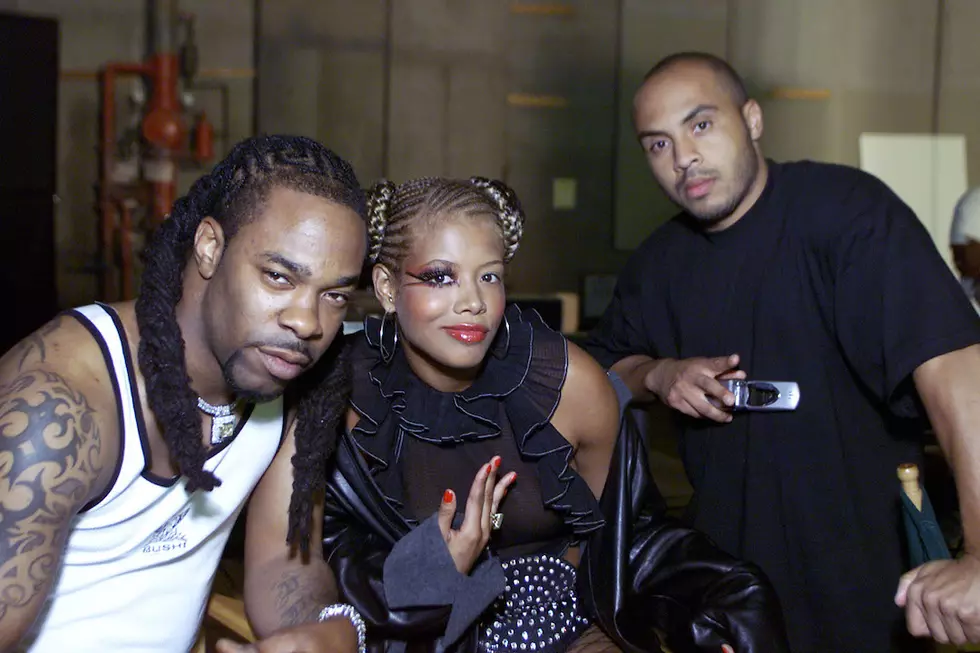 From 'Supa Dupa Fly' to 'Video Phone': Hype Williams' 20 Greatest Videos
Kevin Winter, Getty Images
From his work with Missy Elliott and Busta Rhymes, to his visuals for rock acts like No Doubt and Coldplay, Hype Williams became the gold standard. You can't think of the 1990s on MTV and not think about something Hype Williams directed.
To salute the legendary director, we ranked his best videos. So here they are, Hype Williams' 20 Greatest Videos.
20

"Shimmy Shimmy Ya" (1995)

Ol' Dirty Bastard

ODB's second video was part grimy, bizarro ish and part old school Soul Train tribute. The result didn't make much sense but it was kind of perfect for Wu-Tang Clan's late eccentric genius.

19

"Viva La Vida" (2008)

Coldplay

One of the popular British band's biggest singles and one of Hype Williams' most abstract videos, the stunning visuals were inspired by Eugène Delacroix's painting La Liberté guidant le peuple, which serves as the backdrop the band performs against in the video.

18

"Vivrant Thing" (1999)

Q-Tip

Breaking out from A Tribe Called Quest in the late 90s, Q-Tip needed to re-brand himself as a solo artist. He did so with this memorably jiggy video, featuring the emcee decked out in his flossiest gear--and a plethora of head-nodding beauties.

17

"Rock the Boat" (2001)

Aaliyah

Memories of this beautifully-done video will always be tinged with sadness. Aaliyah's final video before her untimely death in 2001, this Bermuda-shot visual is perfectly gorgeous. After Aaliyah died in a plane crash after the shoot, the vid took on a positively heavenly vibe.

16

"Superstar" (2009)

Lupe Fiasco feat. Matthew Santos

The visual features Lupe's most heavy-handed metaphors, but it works well. Hype showcases Lupe's characters The Game, The Cool and The Streets, driving home the general conceit of Lupe's The Cool album; that being a superstar requires a moral compromise.

15

"Ex-Girlfriend" (2000)

No Doubt

No Doubt had become superstars in the mid-1990s on the back of several Gwen Stefani-penned odes to heartbreak. The band opened the new millennium with this bitter smackdown--and an intensely angry video to match.

14

"Blame It" (2008)

Jamie Foxx feat. T-Pain

Jamie Foxx garnered a monster hit with this ode to alcohol and irresponsibility. The video is gawdy and gorgeous--and it sports some of the weirdest cameos in the history of videos. Ron Howard and Forest Whitaker? Epic.

13

"Caught Out There" (1999)

Kelis

Like No Doubt's "Ex-Girlfriend," this visual was an ode to a woman getting even with a crappy ex. But the level of righteous rage reaches a fever pitch in Kelis' first video--which culminates in an army of pissed-off ladies wreaking havoc. Hell hath no fury...

12

"All of the Lights" (2010)

Kanye West feat. Rihanna, Kid Cudi

The video is so hyperkinetic that there's a warning at the beginning that the visual could affect those with epilepsy. The vid is overstimulation, overload; one of Hype's most ambitious visuals and one of Kanye's most memorable clips.

11

"Check On It" (2005)

Beyonce feat. Slim Thug, Paul Wall

All of the pink! All of it! Bey's visual for the 2006 Pink Panther remake (in which she also starred) took its visual cues from the film, obviously, and never has a single color looked sexier. Bey was already one of the hottest women on the planet. This video is a volcano.

10

"Big Pimpin'" (1999)

JAY-Z feat. UGK

Jay opened the 2000s with a video that seemed to embody all of the excesses of the Jiggy Era in herculean fashion. Pimp C famously didn't want to be in the video (or on the song) but shot in Trinidad with a yacht and hordes of gorgeous ladies--it's not hard to guess what changed his mind.

9

"Quiet Storm" [Remix] (1998)

Mobb Deep feat. Lil Kim

Such a classic visual for a classic remix. Mobb and the Queen Bee paired up for a video draped in red and rain--and it's just as dark as it is flossy. Proof positive that Hype's flair for the dramatic worked as well with the dark as it did with the shiny.

8

"Sock It 2 Me" (1996)

Missy Elliott feat. Da Brat

Missy's second solo video was one of her most memorable. Casting the superstar rapper and Lil Kim as characters in an interstellar video a la Capcom's popular Mega Man series, it's one of the greatest vids ever made.

7

"Video Phone" (2009)

Beyonce w/Lady Gaga

Beyonce and Gaga have a ton of iconic videos and when they teamed up for this collab in 2009, both singers unleashed an otherworldly amount of star power and sex appeal. Part video game, part pin-up calendar, it's one of the most eye-popping visuals of the era.

6

"Put Your Hands Where My Eyes Can See" (1997)

Busta Rhymes

Bussa Buss's first single from his second album set the tone for the late 90s  and set a standard for hip-hop videos. Spoofing Coming to America and serving as a perfect showcase for Busta's charisma, "Put Your Hands..." proved that Hype Williams was at the head of the class as a video director.

5

"Mo Money Mo Problems" (1997)

Notorious B.I.G. feat. Puff Daddy and Ma$e

Truly iconic. Biggie's tragic murder in March 1997, meant that he wasn't featured in most of the videos from his classic second album Life After Death. But that doesn't mean the vids weren't great--especially this one, which unofficially kick-started the much-maligned "shiny suit" era with a colorful and fun visual.

4

TLC had already delivered several of the 1990s most famous video when they dropped this futuristic clip from Hype. Casting T-Boz, Left Eye and Chili as cybernetic hotties on an interstellar craft steeped in virtual reality, it became the group's most acclaimed video and one of their final unified moments.

3

"California Love" (1996)

2Pac feat. Dr. Dre

Out on bail, fresh out of jail, 2Pac wanted to announce himself as the latest signee on the notorious Death Row Records. He did so with this Mad Max-inspired visual that featured Pac and Dr. Dre in a post-apocalyptic Oakland block party from hell. Did it fit the song? Not really. Did it matter? Not at all.

2

"The Rain (Supa Dupa Fly)" (1997)

Missy Elliott

The bubble suit. The fish-eye lens. All of those cameos. Missy Elliott's first video set the bar for what everybody else was doing in music videos. Her quirky persona and Hype's gift for visualization proved to be a perfect marriage. When you think of Hype Williams' vids--this is probably the first one that comes to mind.

1

"What's It Gonna Be?" (1999)

Busta Rhymes w/Janet Jackson

But the best Hype Williams video? The best one was this spectacularly CGI-driven visual for Busta Rhymes and Janet that was both surreal and sexy. The most expensive video in Williams' lengthy oeuvre, it epitomized everything 90s Hype Williams did well: great special effects and brilliant use of angles. Classic video.