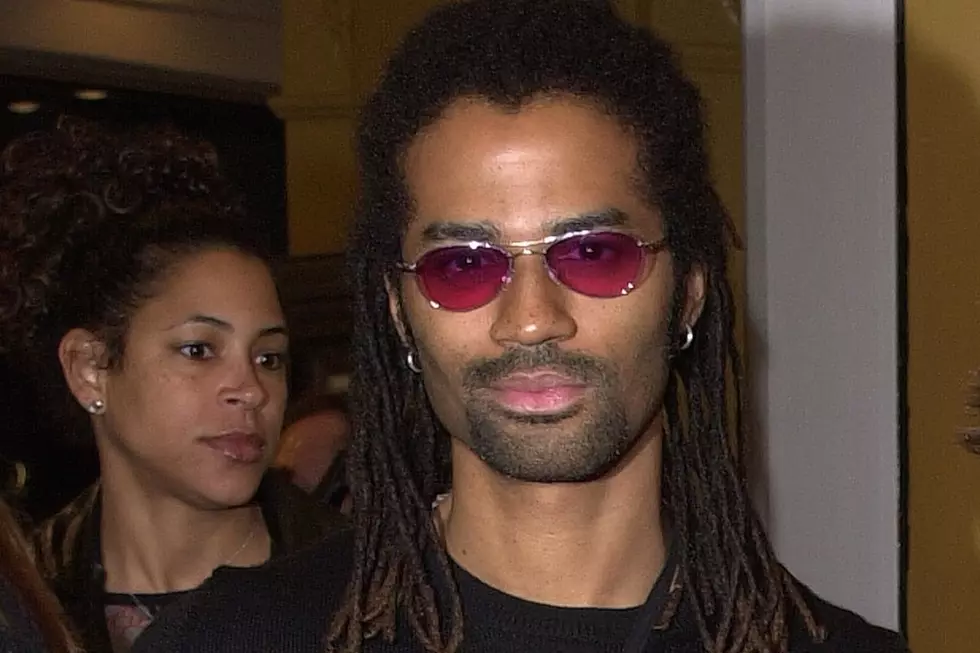 Eric Benet's 8 Most Eric Benet Moments
Getty Images
JAY-Z's "4:44" is already the most talked-about song of the year, as the hip-hop superstar addresses cheating rumors and marital problems with his superstar wife, Beyonce. But it's also drawing a lot of attention to a certain veteran R&B singer.
"You almost went Eric Benet," Jay raps. "Let the baddest girl in the world get away. I don't know what else to say. N----, never go Eric Benet."
Benet is as famous for his failed marriage to superstar actress Halle Berry as he is his songs. Things went sour between Berry and Benet back in 2003, when their marital issues went public. He checked himself into a rehabilitation center for sex addiction, Tiger Woods-style, in 2005 when they tried to work things out. He would later say after their divorce that he never had a sex addiction.
"Hey yo #Jayz! Just so ya know, I got the baddest girl in the world as my wife," Benet tweeted. "Like right now! ✌🏾"
But Benet still has a lot of baggage. So in recognition of Eric Benet's newfound infamy--here are the 8 most Eric Benet-ass moments in a career of being Eric Benet.
That time he was a lame Twitterbro with David Justice

Frazer Harrison, Getty Images

Frazer Harrison, Getty Images

After Halle Berry split from Olivier Martinez in 2015, the Oscar winner's first ex-husband, former MLB star David Justice, went on a Twitter rant blasting the actress.

"Yup..Me,Eric,Gabriel and Olivier were all her 'Knight in Shining Armor',until it ends," Justice tweeted. "Then we all become the worst guys in history."

And of course, Benet had to get Benet and add his two cents.

"My man at @23davidjustice is tweeting some truth dis' mornin'!" he tweeted.

That time he cheated on Halle Berry

Kevin Winter, Getty Images

Kevin Winter, Getty Images

"We all know I cheated. It was out there," Benet would tell PEOPLE magazine in 2005 after things finally were done between him and Halle.

Dude...cheating on this perfection is what got you in the ashy bro Hall of Fame. Dude...

That time he formed a cornball LSG with Brian McKnight and Wayne Brady

Carlo Allegri, Getty Images

Carlo Allegri, Getty Images

Back in 2004, this unfortunate musical trio sang for Muhammad Ali at 'Celebrity Fight Night X', a charity event to raise money for the Muhammad Ali Parkinson Research Center at Barrow Neurological Institute Phoenix, AZ. Add Darius Rucker and the dude who played Martin on The Cosby Show, and you'd have the most boring black supergroup in music history.

That time him, Robin Thicke and Joe got soulful(?) at the Soul Train Awards

Rick Diamond, Getty Images

Rick Diamond, Getty Images

These three paid tribute to Earth, Wind & Fire during the 2011 BET Awards with a rendition of "Reasons." Appropriate since no one could think of good reasons why these were the three guys they picked to cover Earth, Wind & Fire.

He likes scarves. Like, a lot.

That time he sang "Heart of America" with Wynonna Judd and Michael McDonald

Stephen Dunn, Getty Images

Stephen Dunn, Getty Images

In yet another why-did-this-happen collaboration, E-Benny recorded "Heart of America" with country mainstay Wynonna Judd and white-haired white boy soul singer Michael McDonald back in 2005. And they released it as a single.  And performed it at the 2005 World Series. So there's that.

That time he paid tribute to Prince

Benet did a tribute to Prince at the House of Blues this past spring. Fitting for such an influential artist--awkward singing about your wife's ex-hubby, though, right?

That time he rocked his trusty man-satchel...

Was this a look? He clearly wanted to make this a look. He rocked this lil ensemble to the 2000 premiere of Castaway.