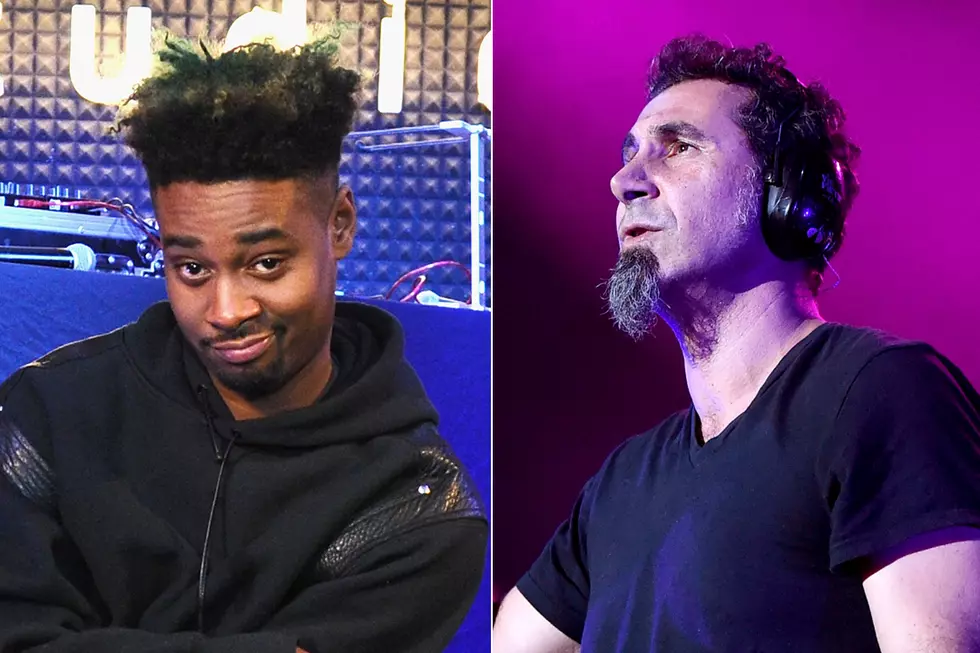 Danny Brown's New Album Influenced by System of a Down's 'Toxicity'
Ilya S. Savenok / Kevin Winter, Getty Images
After releasing an album, artists usually want to play around with different styles for their next record and Danny Brown is no different. However, while he's been working on his follow-up to his 2013 LP, Old, he isn't looking to other hip-hop artists for inspiration. Instead, it's something more of the rock and metal variety.
During a Red Bull Music Academy lecture in Glasgow, Scotland, the Detroit rapper revealed that not only is he looking to change the rap game with this new album, but he is also listening to Trent Reznor and, more importantly, California progressive rockers System of a Down's 2001 chart-topping album, Toxicity.
"Toxicity is the number one album right now that's influencing my new album," he tells Dazed Digital. "The way that the concept and the attitude, the way it was sequenced is one of the biggest things for me. You knew there was a social awareness to it. When you listen to the album Toxicity, it's actually talking about drugs. The f---ing drug situation in America. And if you look at Danny Brown, my music, the sidekick to all this s---'s been drugs."
The rapper goes on to compare that project to the FBI's COINTELPRO, a program used to "expose, disrupt, misdirect, discredit, or otherwise neutralize" groups who challenged the status quo from 1956 through 1971. "So in a sense, I look at Toxicity as the COINTELPRO, as far as music. There hasn't been a COINTELPRO rap album, so I'm trying to make the COINTELPRO rap album," Brown continued. "You see all the goodness of doing drugs -- we're always giving you the fun-ness of doing drugs but no one's giving you the side B to it. But now it's bigger than just me in the hood. It's a bigger situation."
It's ideas like these that are fueling Brown's forthcoming album. And while he admitted to doing what he wanted musically despite what the critics say, he is on a mission to take hip-hop to the next level in the same way that he felt the Beatles and Beach Boys did with their iconic records.
"I always looked at, like, when the Beatles made Sgt. Pepper's, or when Beach Boys made Pet Sounds," he said. "And I always feel like, besides maybe a De La Soul album or Madvillain, it hasn't ventured too far into that world. And I've always been chasing that world in that sense. But now is my first time where I'm gonna just dive fully headfirst into it. I'm not chasing anything you'd hear on the radio or see on TV or the internet. With Old, I made songs for me to perform at festivals. With this album, instead of me making songs that would fit at a festival, I'm trying to create my own songs to perform at a festival."
And although there are many hip-hop artists coming out of the woodwork with their own strong points of view, Brown feels that it's his experience that will set him apart from the other rappers. "I just think it comes with musical knowledge and my age," he said. "A lot of people that's popular in rap are young. It's a young game. it doesn't really pertain to older people that could study music that long. I'm probably the oldest cool guy around right now."
Music aside, Brown also talked a little about the children's book series he wants to write. In an effort to "right my wrongs," he hopes to do Dr. Seuss-style books, which he grew up reading as child, in hopes of helping the youth including his own daughter.
"That's the only thing I think I could help," the rapper explained. "Me writing a biography about my life, or telling a story -- I'm not a person that's into writing novels or fiction stories. So at the end of the day, Dr. Seuss played a big part in my life as a kid, and I don't know nobody else that he's passed that baton to. And with me being a rapper, and all the props I get from that, the spotlight from that, I think it'd be easy to transition into the books and for people to get into it. We had Dr. Seuss, but right now, do people even buy books for their kids? I got one every time in my Christmas stocking, but they're getting video games now. I have good intentions of helping the kids with it."
Watch Danny Brown's 2015 RBMA Lecture in Glasgow
20 Words That Mean Something Completely Different in Hip-Hop