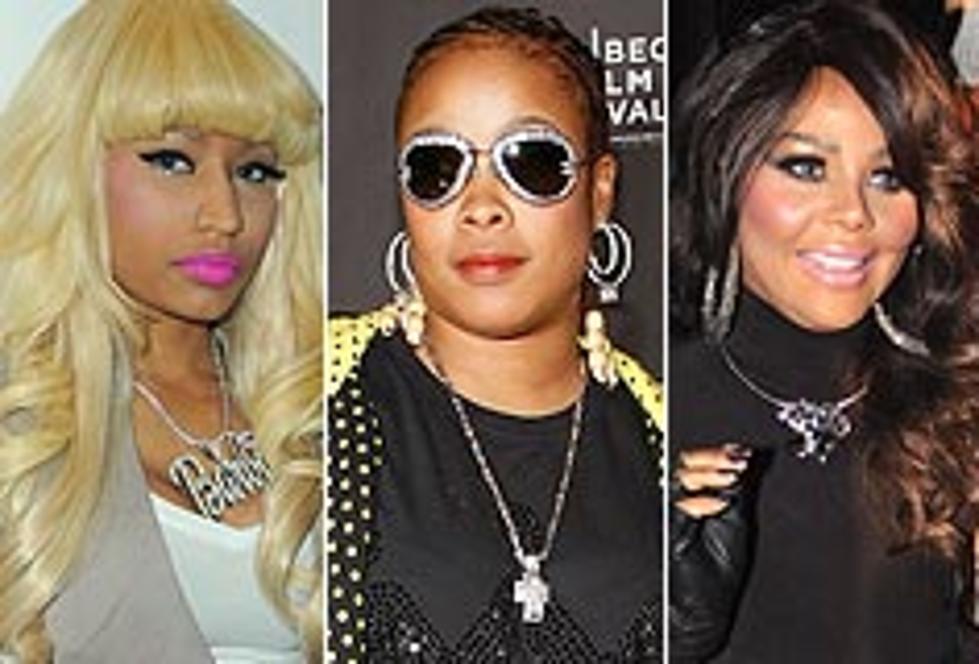 Da Brat Wants Lil' Kim to Chill Out on the Nicki Minaj Beef
Getty Images I WireImage (2)
Even though Lil' Kim claims that fans have been embracing her tirade against Nicki Minaj, propelling her 'Black Friday' mixtape to platinum status in just 24 hours, her female hip-hop peers seem to be less supportive. Da Brat -- the first female hip-hop artist to score a platinum album -- isn't too fond of Kimmy Blanco's antics, suggesting that she call a truce and leave Minaj alone.
"There's not enough of us [female emcees] to beef, and that has always been my opinion on beef," Da Brat told The BoomBox. "Before Nicki Minaj even came out, Kim and Foxy [Brown] was beefing. I guess if somebody diss you, you can't let them get away with it. I'm not down with that; that's not me. I've never had to diss anybody. I just think its unnecessary."
Kim and Brat previously collaborated on the track 'Ladies Night,' which garnered them a Grammy nomination for Best Rap Performance by a Duo or Group in 1997. In recent years, both have run into problems with the law, which landed them behind bars. In 2006, Kim was released from the Philadelphia Federal Detention Center after spending close to a year in the clinker for lying under oath, while Brat was recently released from Georgia's Lee Arrendale State Prison, stemming from an assault in 2007.


Watch Lil Kim, Da Brat & Angie Martinez's 'Ladies' Night'

These days, Brat sees no point in attacking other emcees and doesn't see Minaj as her competition. "As far as Nicki goes, she's just like all of us; we were rhyming back in the day and we finally got our break. She finally got her break, let her shine. We all done had our shine, and we may have our time again, we may not."
Since her release from prison Brat has announced plans to start recording new music for a forthcoming mixtape and album to be released sometime this year.