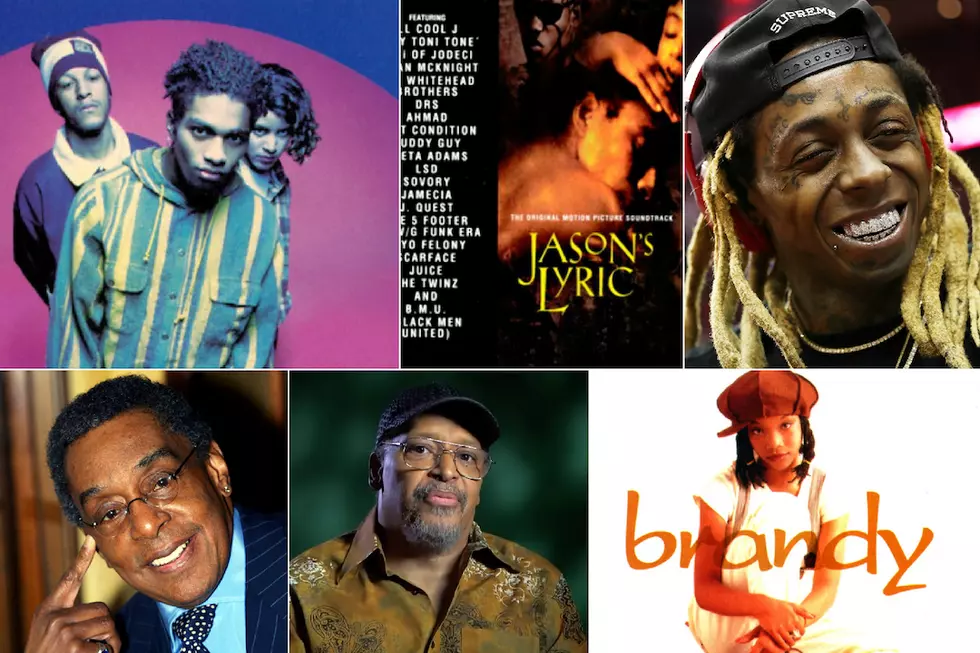 Digable Planets Drop Classic Debut 'Reachin": Sept. 27 In Hip-Hop History
Frederick M. Brown / Ronald Martinez, Getty Images / YouTube / Pendulum / Mercury Records
On this day, Digable Planets released their classic debut album Reachin' (A New Refutation of Time and Space). In addition, we celebrate the birthdays of Lil Wayne, Trick Daddy, James Mtume and the late Don Cornelius. Check it out below.
1993: Digable Planets are "Cool Like Dat" with Reachin' (A New Refutation of Time and Space)
Formed in 1991, Digable Planets brought a jazz-enthused Afrocentric spirit to hip-hop with their landmark debut album in 1993. At that time, gangsta rap was a predominant force in the marketplace and Digable were the antithesis of the hardcore storytellers like Ice Cube, Snoop Dogg and many others. Rappers Ishmael "Butterfly" Butler, Mariana "Ladybug Mecca" Vieira and Craig "Doodlebug" Irving incorporated inspiration from the Last Poets, the Black Panther Party Movement, and jazz music into their lyrics and sound. As a result, the trio proved they could be hardcore but enlightening as well.
"I was basically thinking the music we made was something people could dig, so Digable," explained Butler about the group's bohemian-like name. "I was listening to a lot of George Clinton and Sun Ra, so I was on some space shit, cosmic. I was thinking of each person as a planet, we are all in a solar system, a galaxy and trying to orbit around each other. That was my imagination for those words."
The album's lead single, "Rebirth of Slick (Cool Like Dat)," became a mainstream hit and earned Digable Planets their first-ever Grammy for Best Rap Performance by a Duo or Group in 1994.
1994: Jason's Lyric soundtrack introduces the world to D'Angelo
All-star movie soundtracks are commonplace today, but back in the '90s, they were an event. Case in point: the original soundtrack to Jason's Lyric, released on this day in 1994. The 20-song collection featured the uplifting "U Will Know" by Black Men United, which consisted of a who's who in R&B music including Usher, R. Kelly, Gerald Levert, Boyz II Men, Keith Sweat, Raphael Saadiq, Tevin Campbell and many others.
Written and produced by a then-unknown 20-year-old singer named D'Angelo, it was a monumental achievement in music history to have all that star power on one song. "It was surreal," D'Angelo told Red Bull Academy in 2014. "Here I am in a room with all my heroes." The singer also took note of 16-year-old Usher and said, "This little kid's gonna do something."
1994: Brandy drops her self-titled album
At the age of 15, Brandy released her eponymous debut album, and a star was born. With production assists from Keith Crouch and R&B group Somethin' for the People (best known for their 1997 hit "My Love Is the Shhh"), Brandy was a fresh face in R&B scene with an angelic voice to match. Songs like "Brokenhearted," "Always on My Mind" and "Baby" dealt with adolescent love and connected with her female fans.
The album's first single was the chart-topping ballad "I Wanna Be Down," which featured the R&B songbird flirting with a boy who catches her eye. Initially, Brandy didn't want it to be her first offering to the public.
"I didn't really get it at first, but I was young and I didn't really know what worked at radio or what it was. I liked the song, but I just didn't get it being the first thing that people heard from me. But it worked out well and I did a video for it," she told Complex in 2012.
In addition, Brandy recorded an all-star remix for "I Wanna Be Down" featuring MC Lyte, Yo-Yo and Queen Latifah. "I was one of the first R&B artists to welcome hip-hop onto an R&B beat," she told Vibe in 2011. "It had never been done before quite like that. Sylvia Rhone came up with that idea, and I just thought it was brilliant. I knew it was a special record."
1994: PMD goes solo with Shadē Business
Following EPMD's self-imposed hiatus, rapper PMD (Parrish Smith) dropped his debut album Shadē Business in 1994. The 14-song LP feels like an EPMD album without his partner-in-rhyme Erick Sermon.
In a 2003 interview with MVRemix, PMD said that he's still excited about making music for his fans - both young and old. "I'm coming straight from the heart. I'm doing the same thing I did with Strictly Business and I'm trying to make a difference in the world and give back the knowledge," he said. "I'm just happy that I'm still reading things about EPMD because I really went and lived life. I understand what life is about. Life ain't all roses but it is what you make it and it is what you believe in your heart."
1995: Time Warner gets out of the gangsta rap business
In 1995, Time Warner was heavily criticized by C. Delores Tucker, Maxine Waters and former Secretary of Education William J. Bennett for distributing gangsta rap, which they felt were poisoning the youth with its violent imagery and misogynistic lyrics.
At the heart of the matter was Time Warner's distribution deal with Interscope Records, which had been releasing albums by Snoop Dogg and 2Pac via Death Row Records, the hottest rap label at that time. Under the terms of the contract, Time Warner was to put out all Interscope projects, including those on Death Row, and had no control over the content.
Feeling the pressure, Time Warner agreed to sell its 50 percent stake in Interscope back to founders Jimmy Iovine and Ted Field, and rid themselves of the controversy. "We're heading for an amicable divorce," a Time Warner source told The Washington Post.
Tucker praised Time Warner for their decision to divest from Interscope. "It's a great victory for our children and for America's future," she told the New York Times. "And it shows that Time Warner has a corporate soul."
2005: Lil' Kim drops The Naked Truth and goes to prison
Lil' Kim released her fourth album The Naked Truth, a defiant album with the rap veteran showing her lyrical versatility on songs like the Brooklyn anthem "Lighters Up" and the braggadocios track "Whoa."
On the same day the album was released, Lil' Kim was placed in handcuffs and escorted to a federal detention center in Philadelphia to serve her one-year sentence for lying to a grand jury investigating a 2001 shootout involving members of her entourage and with rival rap group Capone-N-Noreaga outside of New York's Hot 97 radio station.
Although she was at the radio station when the shooting happened she was not involved in the gun battle.
"Unfortunately, me as a woman, I had to take one for the team, and when I say for the team I say hip-hop, because I was the poster child for the federal government, for their investigations," she told Today in 2005. "I'm going to jail for a year. Does that makes sense to you? You've got people who get convicted for gun charges that don't do a day."
At that time, Kim said prison would make her a stronger woman. "The bottom line is, whoever's tried to ruin me, my career and my life, they've done (messed) up now, because it's only going to make me stronger."
Sept. 27 birthdays
Born Donald Cortez Cornelius in Chicago in 1936, the television icon was the host of the influential dance program Soul Train, the "hippest trip in America." Cornelius hosted the series, which became a pop cultural phenomenon, from 1971 to 1993. Soul Train officially ended its syndication run in 2006, and Cornelius took his own life in 2011.
Grammy Award-winning musician and songwriter James Mtume was born on this day in Philadelphia in 1946. Mtume, whose real name is James Forman, is mostly known for his 1983 hit "Juicy Fruit" (with his group Mtume), which was sampled on the late Notorious B.I.G.'s 1994 classic song, "Juicy."
Also born on this day is Trick Daddy (real name Maurice Young) in 1973. A native of Miami's Liberty City neighborhood, Trick Daddy is a rap veteran who burst onto the scene in 1998 with his classic hit "Nann Nigga" featuring Trina. Fellow rhymer Lil Wayne (real name Dwayne Michael Carter Jr.) was also born on this day in New Orleans in 1982. Weezy started rapping at the age of 16 and never looked back. A major superstar on the historic Cash Money Records label, Wayne has released 12 solo albums in his career, including his latest, the long-awaited Tha Carter V.