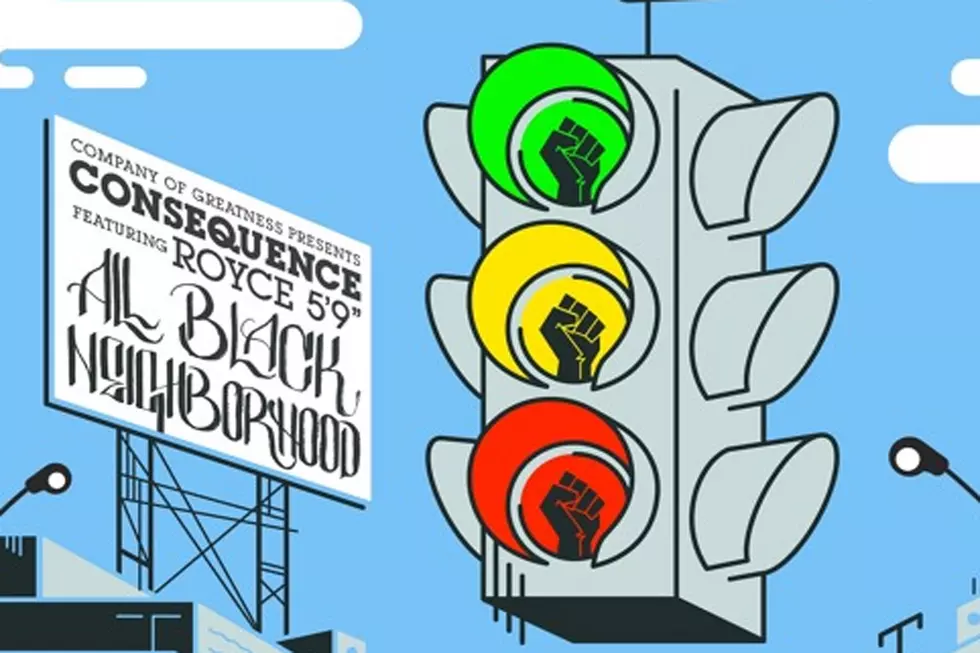 Consequence and Royce 5'9″ Flip the Meaning of 'All Black Neighborhood' [LISTEN]
SoundCloud
Consequence and Royce 5'9" just dropped an interesting cut called "All Black Neighborhood," where the word "black" is used to mean profitable. Cons spits first.
"I want my kids to grow up in an all-black neighborhood / Meaning that nobody's in the red and the paper's good / Next to doctors, lawyers, the coach for the Hoyas / Maybe stock holders from Goya," he rhymes, over a jazzy horn loop.
Later in the cut, Royce jumps in, and while Consequence uses the word "black neighborhood" in a financial way, the Detroit spitter uses the term literally.
"Old people told me that this is not the place that you should raise your kids / I said when I was a kid, sh--, I was raised here / Black neighborhood, carrying this ladies groceries, I'm walking but watching closely I wish a hater would / Stories get told, looking in the cold empty courts, and torn hanging nets / Where hoop dreams get deflated / Ain't no place like home, the only place you can go to stay in check," he raps.
No telling if this song will end up on one of the rapper's future projects or if it's just a one-off single, but either way it's probably one of the better songs you'll hear all day.
Listen to it below and let us know if you agree.
The 25 Greatest Rap Albums of 1991