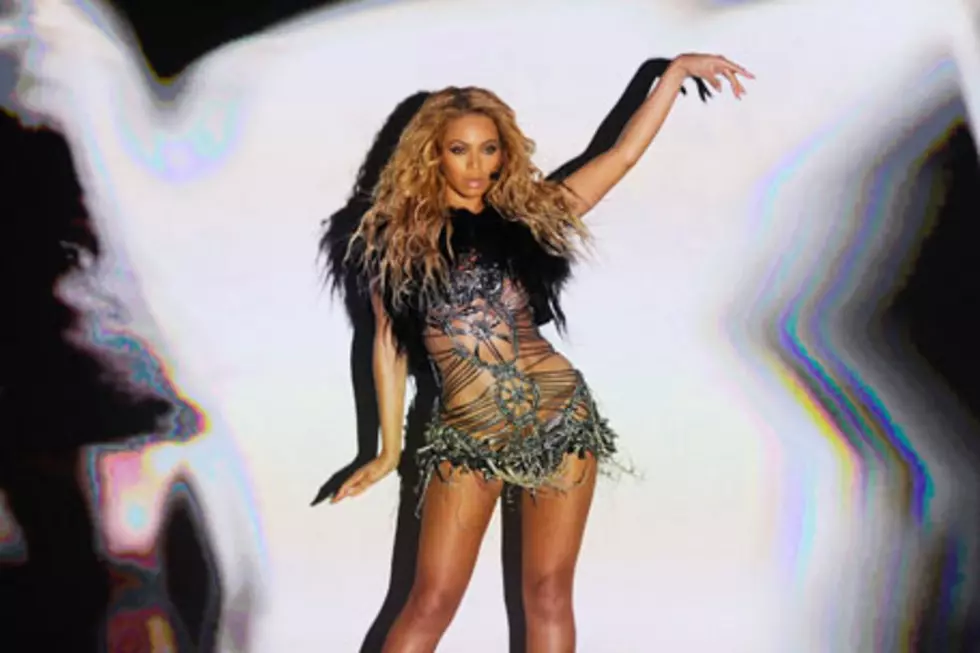 Beyonce Takes Home Millennium Award at Billboard Awards
Ethan Miller, Getty Images for ABC
Stevie Wonder said it right: "Beyonce's made history and she's not even 30 yet." But others -- her father, mother, sister Solange, nephew, First Lady Michelle Obama, Lady Gaga, Babyface, Bono, Barbra Streisand and her 'Single Ladies' producer The-Dream -- also weighed in on the classy rise to success of Beyonce Knowles over the past decade during the intro video to the singer's 2011 Billboard Music Awards performance on Sunday night (May 22.)
"I'm very proud of the women she is, the role model she provides to so many women and I truly congratulate her tonight on all her success," Michelle Obama gushed, before Beyonce received the evening's highest honor, the Billboard Millennium Award.
Proving that she's worthy of the accolades, Beyonce followed up with a state-of-the-art performance of 'Run the World (Girls)' -- the lead single from her forthcoming album '4,' due this summer. Starting off solo on stage, the screen behind her multiplied into an army of pre-recorded Beyonce's marching and dancing in sync to the jungle beat. Dancers, some with flags, came out to help Beyonce kick up her heels under a waterfall of fireworks. Sasha Fierce was in the house and in full effect.
"I sang to Beyonce as a beautiful baby girl, but it wasn't too long before she was singing back to me and to the whole world," Tina Knowles said of her daughter before presenting the award. "Only 29 years old, for 15 of those years, you've been on the stage wowing crowd everywhere, raising the bar and setting new standards, but still managing to stay grounded and a beautiful person."
Calling her family her foundation, Beyonce thanked her father for her drive and work ethic. She graciously praised her Destiny's Child members -- Kelly Rowland and Michelle Williams -- saying she "wouldn't be standing on this stage if it wasn't for y'all." Then, showing she has the grace worthy to be on top of music's throne, she thanked DC's original members -- LaToya Luckett and LaTavia Roberson. And just when the thanking couldn't get any better, the 'Irreplaceable' singer went after her husband and "best friend" Jay-Z. With their personal life kept mostly out of the media, Beyonce first apologized for putting Jigga Man on the spot and the camera the award show would likely zoom in with, but noted she couldn't help herself because "I love me some Jay-Z."
"This is a moment I have to soak in, because it's gonna be, and it is, one of the best memories of my life," Beyonce concluded.


Watch Beyonce Perform 'Run the World (Girls)' at 2011 Billboard Music Awards