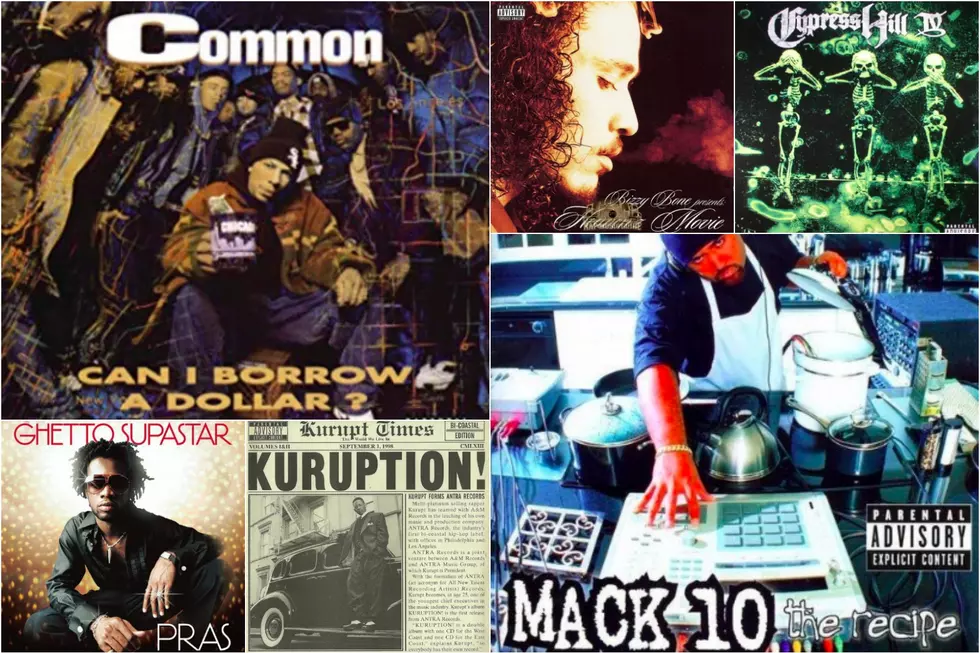 Common Asks to Borrow A Dollar: Oct. 6 in Hip-Hop History
Priority Records, Antra Records, Ruffhouse Records, Relativity Records
On this day in hip-hop history, Common makes his rap debut, Kurupt shows respect to his East and West Coast roots, Pras and Bizzy Bone make a solo go of it, and Mack 10 delivers The Recipe.
1992: Common asks to borrow a dollar 
In 1992, Common made his debut via Can I Borrow A Dollar? The album didn't make a big splash when it dropped but it did serve to help put Common's native Chicago on the rap map and signaled the arrival of one of the genre's elite emcees. Led by the single, "Take it EZ," which hit No. 5 on the Hot Rap Singles chart, the album prominently featured production by acclaimed producer No I.D. who at the time, was using the moniker Immenslope.
"I was thinking about how hip-hop was losing its pure heart and its soul," Common told NPR in 2007 about the making of his first project. "And it is like a person, that, you know, has the opportunity to make mistakes, but can keep improving."
1998: Kurupt releases his solo debut
After finding success on Death Row via his group Tha Dogg Pound with producer/rapper Daz Dillinger, Kurupt dropped his solo debut in 1998, Kuruption! A double album that played up both his Philly roots and his West Coast rearing, the project was released on Antra following Kurupt's split from the Death Row camp, and was literally divided into two records — one West Coast and the other East Coast. The album, which featured a slew of features from Daz, Noreaga, and Dr. Dre among others, peaked at No. 8 on the Billboard 200. While the offering was honestly too long, it did play up Kurupt's above-average lyricism, and also featured the Battlecat-produced banger, "We Can Freak It."
"Battlecat was one of the first producers to ever produce a record for Kurupt," Kurupt said in a 2018 interview. "I wanted that authentic sound that I had before I even went to Death Row, and I also wanted to take people to where I really started.  So, Battlecat was actually the first producer that I went to when I started working on Kuruption.  It was classic because as a kid Battlecat was one of the first ones I worked with, so we had a history and a rhythm together, taking it back to where Kurupt came from."
1998: Cypress Hill's fourth studio album arrives
Cypress Hill dropped their fourth studio album, IV with a cover that featured skeletons of the three wise monkeys— see no evil, hear no evil, speak no evil. The album went gold, further pushing them to legend status off the strength of DJ Muggs' grimy production and B-Real's one-of-a-kind flow.
"I think when we had first made the song 'Real Estate,' that was the first song that came into effect where I was using a different voice, the one people know me for now," B-Real explained in 2016. Because previous to that I was using this voice, my talking voice, that's the voice I was rapping with, and it just didn't go. So me and my boy Mellow Man Ace were fucking around one day, just bullshitting, and we came up with this thing what we now call the nasal style, which is not really nasal but it's just a higher tone. So I brought that to the table and the guys liked it a lot. At first I didn't really like it too much, you know what I mean, I thought it was fucking stupid. Boy was I wrong [laughs]… I had to get accustomed to doing it. But once we got it down it became my style, it became what I was and how I wrote the songs. Muggs liked it a lot and he wanted to make sure we [went in that direction]."
1998: Pras makes his solo debut with Ghetto Superstar 
Pras made a go of it as a solo artist with his debut album Ghetto Superstar. Riding high off the success of the Fugees monster hit album, The Score, Lauryn Hill's massive solo success via The Miseducation and Wyclef Jean's 1997 hit album, Carnival, Pras decided to get in on the action. The album is mostly known for the single of the same name, featuring Ol' Dirty Bastard and Mya, which was also featured on the Bulworth soundtrack, and hit No. 15 on the Billboard 200. While the album didn't fare as well as 'Clef or Ms. Hill's, Pras' solo entry nevertheless nabbed him a Grammy nomination.
1998: Mack 10 cooks up The Recipe
West Coast vet Mack 10 dropped off his third solo album, The Recipe in 1998. Featuring a slew of west coast artists, including Snoop Dogg, Ice Cube, Tray Dee and MC Eiht, along with other rap heavy weights like Fat Joe, Big Pun, Jermaine Dupri, Master P and Ol' Dirty Bastard, the album peaked at No. 15 on the Billboard 200 and later hit gold status. The album wasn't as good as his his solo debut, or as his work with Cube and WC in Westside Connection, but no matter, Mack had made enough connections in the business to garner a buzz and get the biggest names in rap fill out an overstuffed album.
"I'm just competitive and it's still fun to me and I'm still one of the best," he said back 2009 about his motivation to put out music. "When it gets to the point where I'm not one of the best anymore — when I'm trying to do it everybody knows that I'm doing it, and when I ain't around — you can tell I ain't around. When I'm trying to do this, I don't ever have a problem getting my position because I'm pretty good at making records. When I get to the point where I can't do it, like that then I'll hang it up. I don't want to be one of these dudes that's around doing this sh** and I don't need to be doing it no more. It's still fun to me right now."
1998: Bizzy Bone releases Heaven'z Movie 
Bizzy Bone made his solo debut in 1998 with the release of Heaven'z Movie. After achieving massive success with Bone Thugs-N-Harmony, Bizzy, who emerged as a favorite in the group, tried his hand a solo run. The 13-track project didn't have a lot of features, as Bizzy kept up his signature lightning-fast delivery while touching on everything from spirituality to living life.
"I think what I want to be remembered for remains to be seen," Bizzy said in 2004. "I think Bone Thugs-N-Harmony should be remembered for being part of the golden age of Hip Hop. The Pac, Biggie, Pun, Eazy, Aaliyah, that era. That '93 to '96 era was a big era for Hip Hop. And then in '97 Big passed away and that was the end of that age for Hip Hop. And then the new guys came in and started sounding like us. Now you have the new Pac, the new Biggie, the new New York guy. The new bald headed rebel with muscles and tattoos. The new fast rapping group, or the new fast rapper. So that is what I want Bone to be remember for."