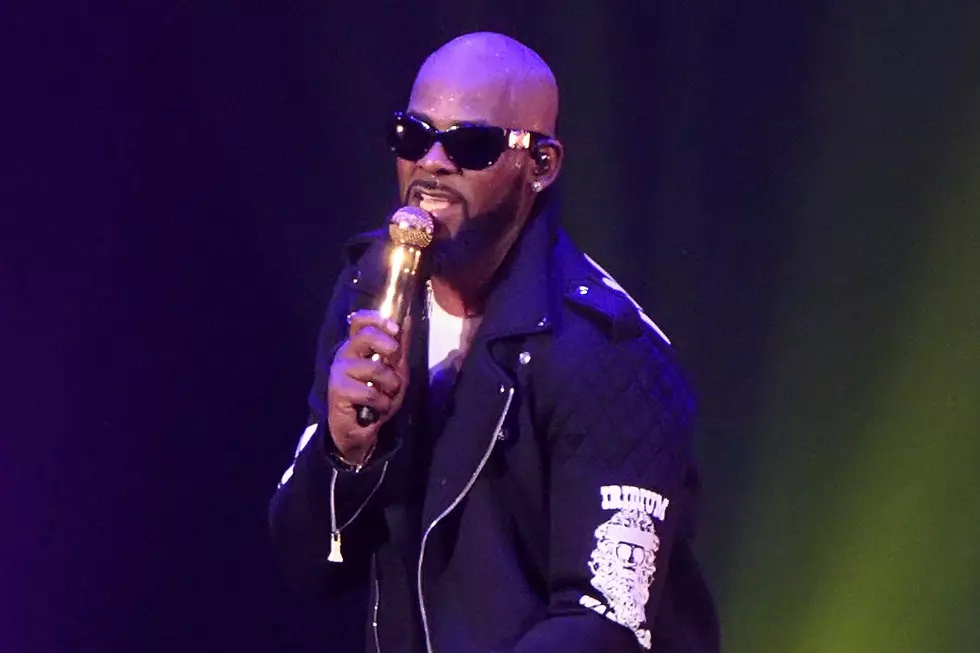 Happy 50th Birthday! 20 R. Kelly Songs That Made You a Fan
Daniel Boczarski, Getty Images
The sound of R&B has evolved over the years with many artists contributing new styles and approaches to making their music. A number of talented acts have been successful but only a few have dominated the R&B game like R. Kelly.
Born on January 8, 1967 in Chicago, R. Kelly was the product of a single-parent household and grew up in in the Ida B. Wells Homes, a notorious housing projects on the city's south side. With his mother being an avid singer herself, Kellz took to music at a young age, but would officially take it seriously after a music teacher goaded him into entering a high school talent show.
After his first performance drew rave reviews, Kelly would continue to cultivate his craft by performing around the city before forming a group named MGM with other male vocalists from the area. MGM would release a single,"Why You Wanna Play Me," but would disband soon after, leaving Kelly a soloist once again. But the young singer's fortunes would change when he secured a deal with Jive Records in 1991. Linking up with a local group named Public Announcement, they would release their one and only album, Born into the '90s, in 1992.
R. Kelly would eventually split from Public Announcement to becoming a solo artist and grew to become a R&B icon. Nearly twenty years deep in the game, R. Kelly has built up a catalog with classic albums and songs that have defined the genre.
The Pied Piper's discography is wide-ranging, which makes it virtually impossible to choose the best of the lot, but we have sorted and ranked some of R. Kelly's biggest tracks.
So in celebration of his 50th birthday, here are the 20 R. Kelly Songs That Made You a Fan. Enjoy!
20

"I'm the World's Greatest"

In light of the widespread success of "I Believe I Can Fly," it was no surprise that R. Kelly would be tapped to contribute another motivational anthem to a major motion picture soundtrack. And that's just what he did when he recorded "The World's Greatest" for the Muhammad Ali biopic Ali. The song would ultimately be included on his Chocolate Factory album and failed to receive a reaction similar to "I Believe I Can Fly." Nevertheless, "The World's Greatest" was still appreciated by many fans for its sentiment and its stellar music video directed by Billy Woodruff.

19

R. Kelly's "Bad Man" appeared on the soundtrack to the 2000 flick, Shaft. The song is the Chicago singer's testimonial of his rough and humble beginnings in his hometown of Chicago. "I was born in these streets / Raised in these streets / Walked in these streets / Taught by these streets / Lived in these streets / Hustled in these streets / Protected by these streets," he sings on the orchestral soul track that speaks to to essence of the inner-city blocks he and millions of other have walked on. Powered by tender drums and guitar riffs, "Bad Man" features Kelly coming to terms with the man in the mirror and rates high on his list of pivotal motion picture  soundtrack contributions.

18

Reaching his apex as an superstar with his R. album, expectations were high heading into the recording of his fifth album. In 2000, he released the TP-2.com album to a considerable amount of buzz. The LP's first single, "I Wish," peaked to No. 14 spot on the Billboard Hot 100 chart. Reaching back to his rough-and-tumble roots, the Chicago native reminisces on loved ones lost and sending shots at opportunists and haters. "I Wish" would be certified Gold by the RIAA and stands as one of Kelly's more somber moments.

17

"Did You Ever Think"

Featuring Nas

R. Kelly hooks up with Nas on the remix to his song "Did You Ever Think," their second collaboration to date after Kellz appeared on Nas' own "Street Dreams" remix. The song, which was another Top 40 hit for the singer, was co-produced by Trackmasters, Corry Rooney and Kelly himself. On the song, the veteran singer reflects back on his climb from humble beginning to the top of the music game. "I used to think about how I was gonna make it / Struggling day to day just tryna' get this paper/ Hoping the day would come when things would go my way / But now I'm living lavish and all I do is hear them say," he sings. Overall, R. Kelly concocts a tune that you can vibe and reflect to.

16

"Down Low"

Featuring The Isley Brothers

Already regarded as one of the strongest songwriters in the game, the Chicago crooner showed off his skills for storytelling on the sumptuous ballad, "Down Low." Featuring the Isley Brothers, the song features R. Kelly being seduced by a taken women and singing "You want me but he needs you / Yet you're telling me everything is cool / Trying to convince me, baby to do as you say / Just go along and see things your way." "Down Low" was another chart-topping hit for Kellz, peaking at No. 4 on the Billboard Hot 100 chart and giving him his fifth No. 1 R&B single. And aside from being an undisputed classic, few rivalries in the history of R&B have been as important as Mr. Biggs vs R. Kelly.

15

A good party isn't complete with a last song to catch a butt-rub to and few are as potent as the aptly titled, "Feelin' On Yo Booty." The fourth single released from R. Kelly's 2000 album, TP-2.com, the song was a hit on urban radio and among hip-hop fans alike and was a staple at nightclubs almost immediately after release. Crooning "Hey, pretty mama how you doing / Said I'm just in town for the weekend / Looking for a lil trouble to get into / Baby, tell me what ya drinking and I gotchu,'" the veteran hitmaker finesses his way into a raunchy slow dance with a random hottie. The accompanying music video was a plus as well, if only for the fact that it featured Lil Kim in her prime teasing us all while blessing the Pied Piper with a little "rotation." Memorable to say the least.

14

"I Can't Sleep Baby (If I)"

R. Kelly continued his hot street of singles with the addictive slow-jam, "I Can't Sleep Baby (If I)," which saw the Chicagoan pouring his heart out over the rich production. Inspired by a breakup, "I Can't Sleep Baby (If I)" is the ultimate heartbreak song. Singing "Girl, I must've been crazy to say that it was over  / I had to be a fool to yell out we were through / And now I'm all lonely and feeling down and out, baby / But I never meant for this to end / It was so so crazy of me," Kelly realizes his wrongdoings while making a last-ditch to rekindle the flame. The piano-driven ballad became Kelly's sixth No. 1 R&B hit and a Quiet Storm mainstay on urban radio that still resonates today.

13

"Fiesta Remix"

Featuring Jay Z, Boo & Gotti

Since R. Kelly is the King of R&B, it was only right for him to join forces with the King of Hip-Hop -- Jay Z. On the remix to his party single, "Fiesta," the track is a sonic excursion to the tropics. Produced by Trackmasters and Precision, the song features Kellz and Jigga rocking alongside rappers Boo & Gotti. Hov and R. Kelly predictably steal the show, with Jay's opening verse setting the tone for Kelly to come and smooth out with his feathery vocals. The "Fiesta Remix" would be the catalyst for the two titans to work on a collaborative album, Best Of Both Worlds, the following year before ending their musical and personal relationship on bad terms.

12

"You Remind Me of Something"

R. Kelly takes listeners to the parking lot on "You Remind Me of Something," a jeep-ready banger from his self-titled sophomore album. On the song, the Chicago native is smooth, yet blunt and to the point, with his intent on knocking boots. "It's something about your love that got me going crazy (baby, you know I want you real bad) / And girl, I really like your freaky style (how can I be down with you) / So get a little closer to my ride (I wanna get to know you, lady) / And hip me up on how to get inside you / listen, pretty baby," he sings as he lays down his mackadoshis vibe.

11

"Step In the Name of Love"

After appeasing fans with "Ignition" and its remix, R. Kelly took it one step further with Chocolate Factory's third final single, "Step In The Name Of Love." Largely influenced by Chicago's stepping scene, the song is a feel-good selection that caters to any and all celebrations. Singing "Now I now that it's some birthday tonight somewhere / And I know someone's gonna celebrate tonight, somewhere," R. Kelly throws on his white linen and cooks up another banger that will be around for generations to come.

10

"Ignition (Original & Remix)"

The early aughts may have been a highly controversial time in R. Kelly's career, but instead of cowering in hiding, he relied on his music and churned out his 2003 album, Chocolate Factory. And the album was a smash success, debuting atop the Billboard 200 chart, selling 532,000 in its first week of release. Those figures were largely off the strength of the LP's first single, "Ignition" and its accompanying remix. While the original version is in the classic mode of R. Kelly baby-making tunes, the remix is a bouncy affair that is tailor-made for the dance floor. The song became a pop culture phenomenon with everyone getting their groove on to this timeless party song.

9

"Girl you're in the kitchen cooking me a meal / Something makes me wanna come in there and get a feel / Walk around in your T-shirt with nothing else on / Strutting past, switching that ass while I'm on the phone," sings R. Kelly sings on "In the Kitchen," a delectable slice of love-making music. Featured on his TP.3: Reloaded album, the song featured Kellz and his significant other taking a rain-check on a dinner for a little bump and grind. From its humorous, yet brilliant hook, "Sex in the kitchen over by the stove / Put you on the counter by the butter rolls / Hands on the table, on your tippy toes / You'll be making love like the restaurant was closed" to the sensuous beat, "In The Kitchen" stands as one of the more popular deep cuts in the crooner's discography.

8

Taking three years off between his second and third solo album's, R. Kelly returned in 1998 with the first double album of his career, simply titled R. The album would go on to become his best-selling release to date, with over eight million copies sold in the U.S. alone. The collection features multiple crossover hits, including the fan favorite "Half on a Baby." The song was released as the second official single from the LP and is considered by many as one of the finest works of his career and a classic slow jam.

7

The public's introduction to R. Kelly came as a package deal, with his group, Public Announcement, joining him on his debut single, "Honey Love." Released in 1992 as the second single from their album, Born into the '90s, the song's lyrics like, "There's something in your eyes baby / It's telling me you want me, baby, tonight is your night / See, you don't have to ask for nothing, I'll give you everything you need so girl don't be shy" are an early glimpse at the songwriting prowess that would play a big part in R. Kelly becoming a legend. Peaking at No. 39 on the Billboard Hot 100 chart, "Honey Love" pushed Born into the '90s past the million sold mark, and adds to the singer's long list of bonafide hits.

6

"It Seems Like You're Ready"

R. Kelly's 1993 debut album 12 Play would serve as his official coming out party and turn the people into believers. In addition to a slew of singles that would go on to become definitive hits of the decade, the collection is also packed with some slow jams, most notably, the red-light special, "It Seems Like You're Ready." Crooning "Temperature's rising and your body's yearning for me / Girl, lay it on me, I place no one above thee / Oh, take me to your ecstasy," the Chicago singer is in full Casanova mode and ready to give the apple of his eye the time of her life. "It Seems Like You're Ready" is one of the more indelible songs from R. Kelly's career and is a staple in bedrooms worldwide to this day.

5

"Standing here looking in the mirror saying damn to myself," R. Kelly sings with a voice of regret on "When a Woman's Fed Up." Centered around a man in a toxic relationship, the song was one of the more serious tunes serviced to radio. The song also was a bit of a change from Kellz's usual musings centered around sex. Instead we hear the singer convey bitterness and regret over a failed relationship. Peaking at No. 22 on the Billboard Hot 100 chart, Kelly's artistic direction proved to be a hit to R&B fans worldwide going through their own trials and tribulations.

4

"It's unbelievable how your body's calling for me" R. Kelly sings on "Your Body's Callin'," a mid-tempo jam that's easy on the ears and heavy on yearning. While his previous releases were hits in their own right, "Your Body's Callin'" was the moment that R. Kelly officially perfected the art of making contemporary R&B for radio consumption. The third single released from his 12 Play album, "Your Body's Callin'" continued the hot streak that R. Kelly was on, landing in the Top 20 of the Billboard Hot 100 chart and the No. 2 spot on the Billboard R&B/Hip-Hop Songs chart. And the fact that the late great Notorious B.I.G. requested DJ Premier to sample "Your Body's Callin'" for his Ready to Die track, "Unbelievable," is further evidence of this song's brilliance.

3

R. Kelly may have been a certified star prior to the film Space Jam being released, but it would be his contribution to soundtrack that would catapult him to the top of music regardless of genre. That song, "I Believe I Can Fly," would prove to be the singer's biggest hit to date, peaking at No. 2 on the Billboard Hot 100 chart and garnering three Grammy Awards wins, including Best R&B Song. An inspirational anthem for those in need of a little confidence in times of adversity, lyrics like "If I can see it, then I can do it / If I just believe it, there's nothing to it" are filled with determination and could motivate the most pessimistic person. A staple song in pop culture, it has been referenced numerous of times by everyone from comedians to rappers and is among R. Kelly's signature songs in his expansive catalog.

2

Crafting an endless stream of catchy singles may be R. Kelly's claim to fame, but he also has a knack for making album cuts that are actually more revered than the chart-toppers. One of these instances is "Greatest Sex," an impassioned song featured on TP-2.com. The melodic song has been lauded as a masterpiece by R&B purists. Vivid lyrics, like, "From the bit of my eyes see / Ceiling fans with you on top of me / And the window-blinds are filled with rays of sun / And all your secret fantasies thy will be done," paint a scene of beautiful lovemaking that will influence you to go half on a child with your lover. So we suggest that listen to this lush ballad around your mate with discretion.

1

"Sex Me" may have been the first offering released from 12 Play, but it would be its follow-up single, "Bump N' Grind," that would truly be embrace by R&B fans. After leaving Public Announcement, R. Kelly was looking to emerge as the new face of R&B and "Bump N' Grind" would help make that a mission accomplished. Singing "See, I know just what ya want / And I know what ya need, girl so (so baby bring your body to me) / I'm not fooling around with you, baby, my love is true / With you is where I wanna be," the Chicagoan's passionate vocals earned him his first platinum plaque for a single, marking his arrival as a contender for the King of R&B crown.

BONUS

25 Best R&B Albums of 2016

[gallery galleryid="625:250812" galleryindex="0" ids="251834,228019,227999,251854,228007,251859,251845,251855,251830,228017,251826,231252,251831,251856,251840,251814,251812,251821,251813,251835,251820,251841,251858,251815,251811,251810" enablefullscreen="yes" showthumbs="no"]