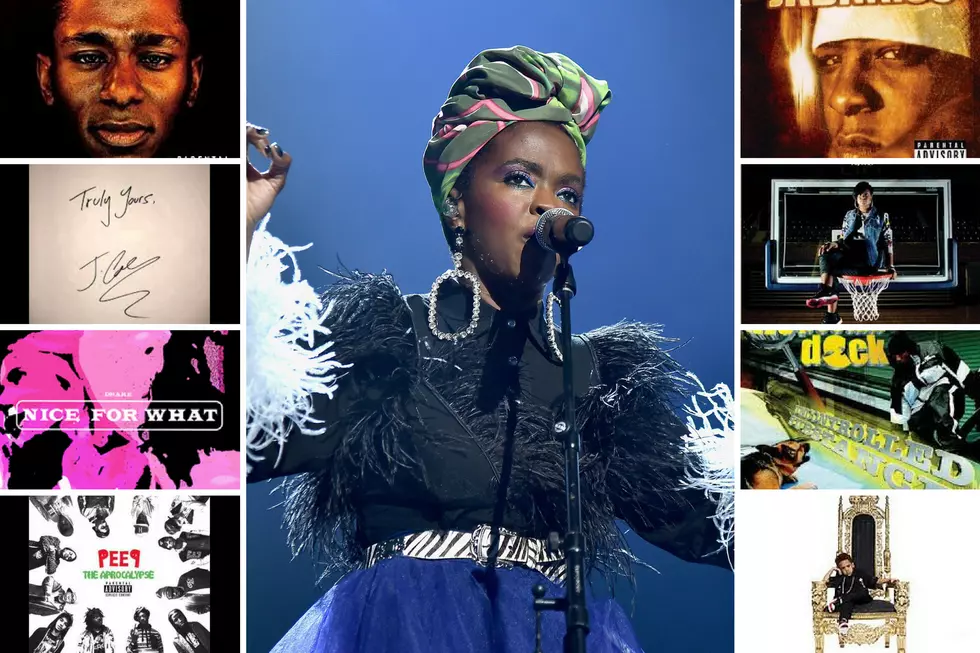 Lauryn Taught You: The Samples of 'The Miseducation'
Theo Wargo, Getty Images/ iTunes
Lauryn Hill's studio album, The Miseducation of Lauryn Hill, is one of the sweetest things we've ever known in hip-hop. Mixing elements of rap, reggae, and her honey-coated vocals, Lauryn created a masterpiece with this classic. Initially released in 1998, her work proves to stand the test of time as several artists share her songs by sampling them in their own.
Now twenty years after Miseducation, Ms. Hill continues to teach the new school her lessons through lyrics. Two mainstream artists, Drake and Cardi B, have used her samples to make monumental hip-hop hits this year. Her soulful sounds and effortless emcee skills on this album will be forever encapsulated in hip-hop's history books as of the greatest albums ever made. Rappers of today and tomorrow will keep The Miseducation of Lauryn Hill as a timeless testament through the art of sampling.
The Boombox has created a list of some of the best hip-hop tracks that sample songs from The Miseducation of Lauryn Hill.
"Know That" - Mos Def featuring Talib Kweli 
Mos Def and Talib Kweli met in the middle to make "Know That" off of the album, Black on Both Sides. Also in the middle, was the soul-filled and satisfying sample of "The Sweetest Thing [Mahogany Mix]" by our songstress, Lauryn. This tasty track was initially featured on the Love Jones Soundtrack in 1997 and later became a secret, yet, savory addition to The Miseducation of Lauryn Hill as a hidden track.
"Elevation" - Inspectah Deck
Wu-Tang Clan's music had a continuing influence on Lauryn Hill throughout her career. She sampled The Wu for her song "Ex-Factor" and even Raekwon's "Ice Cream," which featured Method Man, Cappadonna, and Ghostface Killah, during her time spent as a former member of The Fugees. Her showing love to the Shaolin of Staten Island came full circle in 1999 when Inspectah Deck used "Lost Ones" on his song "Elevation," as it played in the background as part of a skit towards the end of the record.
"Knock Yourself Out" - Jadakiss featuring Pharrell
"Kiss educates them like Lauryn Hill" in his single, "Knock Yourself Out." Jadakiss pays homage to Ms. Hill using the lyric, "You might win some, but you just lost one," from "Lost Ones." He then follows up the next line with using a reference to the rapper and her record-breaking album.
"Win" - Rapsody featuring Rah Digga
For her mixtape Return of the B-Girl, Rapsody teams up with Rah Digga to celebrate their triumphs together in their song, "Win." These ladies show off their lyricism in addition to showing love to the legendary Lauryn Hill. With "Win," the women wordsmiths refer back to Lauryn in clever, captivating bars over a beat that samples cuts from "Lost Ones."
"Florists" - Pro-Era
New York native, Kirk Knight, spreads love the Brooklyn way by honoring a few of hip-hop's heroes with "Florists." In his track off of Pro-Era's compilation mixtape, he incorporates scratches from The Notorious B.I.G., Audio Two, and of course, Lauryn Hill. Knight chose Lauryn's voice in "Lost Ones" to lead the way with this song.
"Can I Holla At Ya" - J. Cole
Carlos Santana is playing the guitar chords on Lauryn Hill's "To Zion," a touching ballad dedicated to her oldest son, Zion. Something special about the instrumentation spoke to J. Cole, as he sampled it for his song, "Can I Holla At Ya," off of his EP, Truly Yours, in 2013. Cole penned a personal letter to his loved one, similar to what Lauryn did to her soon-to-be son, Zion, in the original song.
"Cole Summer" - J. Cole
J. Cole looks to inspiration from Lauryn later in the year with "Cole Summer" on Truly Yours 2. Cole gets creative looping vocals from her and D'Angelo's duet, "Nothing Even Matters." In the song, J. Cole mentions his hopes of Ms. Hill not suing him for utilizing her work, as she hasn't always been so generous with granting sample clearance in the past. One example would be Kanye West trying to use Lauryn Hill's recording, "The Mystery of Iniquity," for his single, "All Falls Down." West was unfortunately not able to obtain legal permission. Instead, Kanye called on Syleena Johnson to interpolate the vocals for his breakout hit. Thankfully, Cole wasn't given the Kanye treatment with this being his second Lauryn Hill sample for the year.
"My Song" - Rapsody feat. Mela Machinko 
Rapsody and 9th Wonder are a match made in music heaven as a rapper-producer duo. Together, they make magic, yet again, joined by MeLa Machinko for Rapsody's "My Song." The North Carolina-born rapper has noted Lauryn Hill as one of her influences in music and used "Ex-Factor" as part of the beat for her song from the mixtape, She Got Game. Although Lauryn's style left a significant imprint on her, she states that she is here to make her own mark. "I ain't the next Ms. Hill / I ain't the next him or her, I'm just the one y'all feel." 
"Draft Day" - Drake
Drake scores a winner with his athlete-inspired anthem, "Draft Day." Drizzy name drops some of the biggest names in sports all while a sample from one of the biggest names in hip-hop plays in the background. Producer, Boi-1da, teamed up with Drake to make a more than interesting flip on our favorite Fugges' cult classic, "Doo Wop (That Thing)."
"Lituation" - Fabolous 
"It's funny how money change a situation" was Lauryn's opening line on "Lost Ones" as the opening song on Miseducation. Fabolous turned his situation into a "Lituation" sampling said lyric for his lead single off of his sixth studio album, The Young OG Project. Fab paid tribute to an era full of anthems with a '90s themed album and looked to a line from Lauryn's landmark album as his sample of choice. The Miseducation of Lauryn Hill was definitely a body of work that defined that decade and made Fabolous' "Litutation" extra lit.
"Real One" - Fabolous featuring Jazzy
Killing them softly with a Lauryn sample again is "Real One" by Fabolous featuring Jazzy off of his Summertime Shootout mixtape. The beat contains a sample of Lauryn Hill singing The Fugees' cover of "Killing Me Softly" as Fab interpolates Lauryn's "Lost One" lines throughout the track.
"Nice For What" - Drake
Murda Beatz meets Miseducation in Drake's female-focused "Nice For What." According to his interview on TIDAL's Rap Radar podcast, Murda Beatz revealed Drake developed the idea for his Billboard No. 1 single over a game of NBA 2K18 and suggested using Lauryn Hill's "Ex-Factor." "We picked the part, chopped it up, I made the beat while he was playing 2K," said the platinum-hit producer. "He's like, 'This shit fire.' He sat there, wrote the shit in front of me, cut the shit in front of me. We got the shit done, beat and song, probably in like an hour and a half."
"Be Careful" - Cardi B
Cardi B came with back-to-back hits coming out of her debut album, Invasion of Privacy. In her smash single, "Be Careful," Cardi B interpolates the second chorus on Lauryn Hill's "Ex-Factor" to help explain her own heartache. She cries out for her need for consistency and commitment, along with her desire to be cared for.