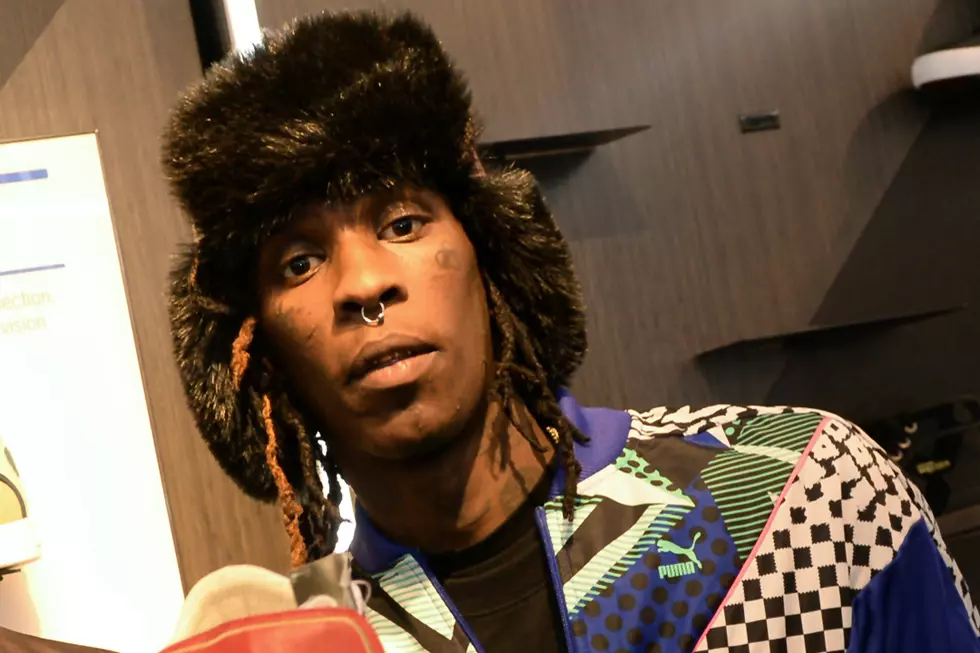 Young Thug's Baby Daughter Caught Using Profanity in Viral Video
Rick Diamond, Getty Images
Young Thug usually causes a stir on social media with his outlandish feminine outfits, but now his baby daughter is raising eyebrows in a profanity-laced video that has since gone viral.
In a clip that was posted on Instagram, a young child, which is supposedly Thugger's daughter, is yelling at a woman and using profanity. What's even more shocking is that the baby girl has a top row full of what appears to be gold-capped teeth.
Thug's daughter repeatedly tells the woman she's "muthaf---in' tied," which in ratchet speak means, "I need a nap." Among the many retweeters was rapper Plies who also captioned the video "Current Mood."
However, it appears that Young Thug doesn't like the attention the video is getting. He slid into the Florida rhymer's mentions and demanded that he remove the clip.
"Get this s--- off yo page or its problems my n----, not asking no more on slime," Thug wrote. For those who don't speak Thugga, "on slime" means, "right now or else."
Plies has not complied with the ATL rapper's thuggish demand and so far the video has garnered over 50,000 likes.
Reactions to the video have been mixed. Some are appalled that a young baby is learning to be ratchet at such an early age while others think it's a hilarious clip.
"His kid looks mad dirty, she has a filthy mouth and her teeth are decayed that's why she has those silver caps.. I'm disgusted," wrote one fan. Another follower commented, "Lmaoooo why she have gold teeth at like 4."
What do you think of Young Thug's daughter using profanity and being ratchet? Tell us in the comments below.
10 Young Thug Lyrics That Will Leave You Saying "WTF?"