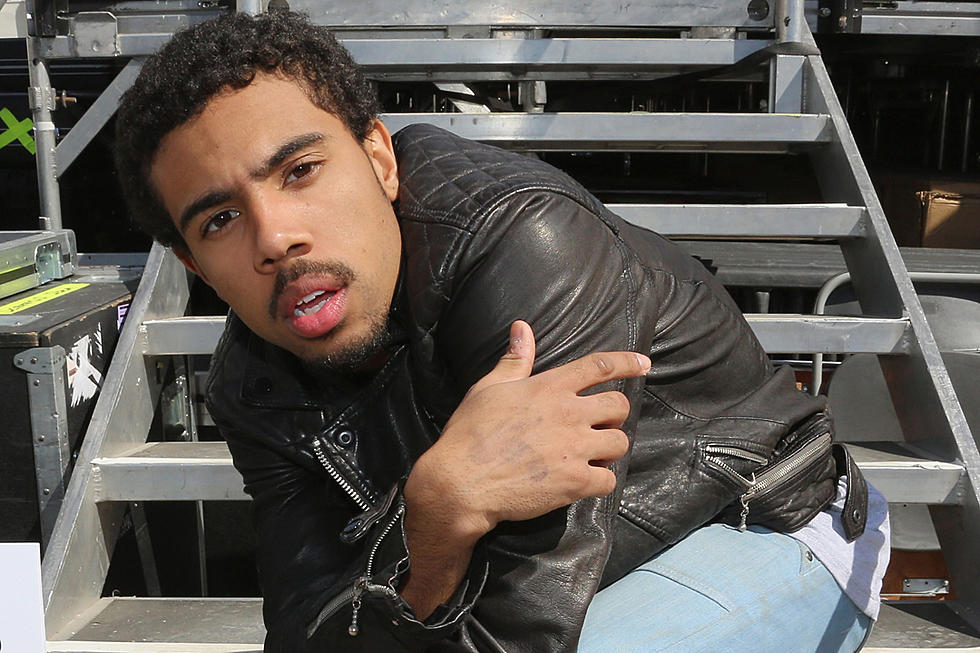 Vic Mensa Bashes President Obama's Problem-Solving Skills, Talks 'Traffic' Album [EXCLUSIVE INTERVIEW]
Rachel Murray, Getty Images
While Common's tribute to slain teen Mike Brown at the 2014 BET Hip Hop Awards made a strong impact on Tuesday (Oct. 14), there were other rappers who took the opportunity to share their own thoughts about the chaos in Ferguson, Mo., that night. Vic Mensa used the verse he delivered during a cypher to voice his opinion.
During the cypher, which also featured David Banner, Treach, Snow tha Product and King Los, the Chicago rapper decided to highlight President Barack Obama's reaction to the violence in Ferguson following Brown's death by a police officer in August.
"While Ferguson was looting in the streets / Obama was on the treadmill moving in repeat," Vic spit in the cypher.
Why did he decide to include that bit? Simple. Vic wrote his piece soon after the tragic incidents occurred in Ferguson. "I called [out] Obama in that verse because when I wrote it, it was the week that Mike Brown got shot. And I saw Obama get on TV and heard what he said, and it was completely ignoring the problem," the 'Innanetape' creator tells The Boombox. "I think he ignores the problem."
Despite his current feelings toward the president, the 'Wimme Nah' rapper voted for Obama in the 2012 Presidential Election.
"I voted for Obama, when I was 18, when I was first old enough to vote," he reveals. "I just think in his presidency, especially earlier, through to this day, he's just not taking a strong stance on things of importance. You know when Ferguson and Mike Brown got shot, Obama got on TV and he told people not to loot. He said, 'Don't loot in the streets.' And he ignored the actual problem, which was that police officers are gunning down unarmed black youth in the streets of America. And that's not something you're going to hear Obama say."
While serving as America's first African-American president is a step towards progress, Vic thinks that "he's far from a revolutionary." The rhymer believes voters were pleased with the symbolism of his re-election rather than the changes he could actually make while in office.
"I think people, in voting for Obama, and black grandmothers crying that there's any African-American person in the White House, were more focused on the symbolism of it than the actual person that was put in office," Vic says. "And the actual person is not taking a strong stand for important matters, especially when it comes to being black and being a minority in America. For the under-represented, he's not increasing the representation. And I'm not saying that Obama's got to get in there and be 'super black' or something."
Politics aside, Vic has been focusing his energies on working on a full-length album and other music-centered projects. "I'm been working on a full-length album called 'Traffic,'" he reveals. "People should just know that I have a lot of music for you right now, and I'm super excited about it. And I know people are going to love it, and come check me out live. You might see something new."
And if you've been to one of his shows recently, you've witnessed him perform 'I Ain't Trippin,' which is one of the newer track he favors. "It's just fun," he admits. "I've been doing it lately. It's something new that people have heard if they've been coming to shows over the last couple of weeks. And it just goes up every single time I do that one."
Before his 'Traffic' album arrives, there's still that 'Street Lights' EP he's working on. The status of that is unclear since the 21-year-old MC is staying quiet on the release date. Despite the hush surrounding that project, it's apparent he's at least enjoying the ride while creating his new material.
Watch Vic Mensa Perform in 2014 BET Hip Hop Awards Cypher