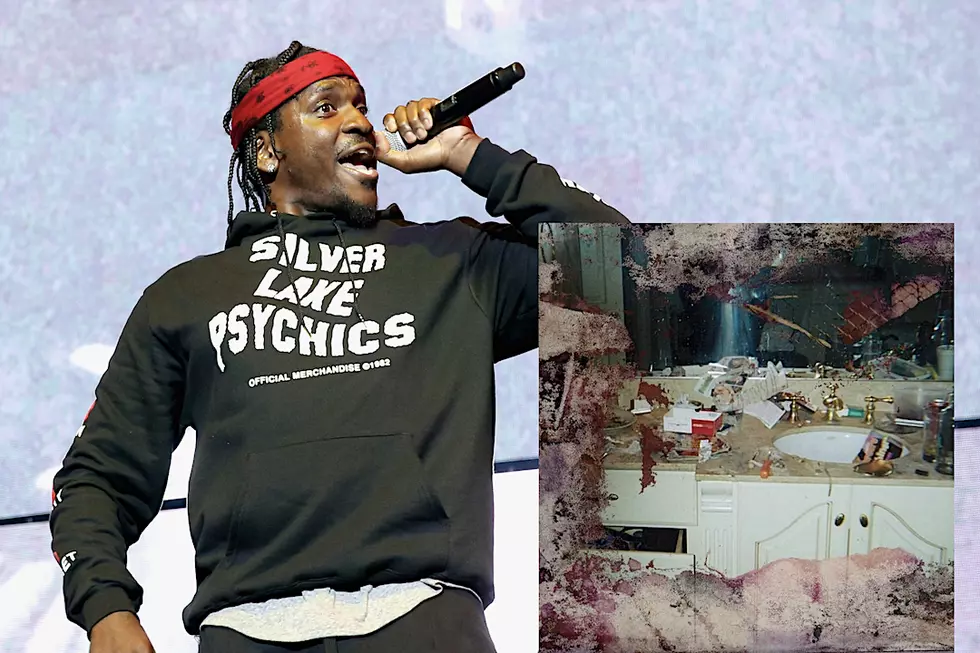 The Best Cocaine Bars from Pusha T's 'DAYTONA' Album
Bennett Raglin, Getty Images / G.O.O.D. Music
As promised, Pusha T delivered his fifth studio project DAYTONA on Friday (May 25). The album (or rather the EP?) clocks in at 20 minutes and features seven fishscale-pure bangers all produced by Kanye West.
Aside from the controversial artwork, the G.O.O.D. Music lyricist's album is phenomenally dope with each song featuring drug-laced bars and a few acidic verses to his rap foes -- notably, Drake on the haunting "Infrared." On the standout track "What Would Meek Do?" both Pusha T and Yeezy spit fiery bars at critics who are talking unfavorably about them. 'Ye especially shines on this song as he addresses his TMZ Live interview and him wearing a MAGA hat.
Reactions to the album have been overwhelmingly positive with Diddy calling it a "Modern Day Masterpiece!" and Nas calling it "a classic."
After repeated listens, we wanted to highlight some of Pusha T's quotable rhymes on the project. So peep our list of King Push's Cocaine Bars on DAYTONA. Eghck!
1

"This thing of ours, oh, this thing of ours / A fraternity of drug dealers ringing off / I just happen to be alumni..."

Right out the gate, on the head-nodding banger "If You Know You Know," Pusha T makes it known that he's part of a fraternity of street hustlers who made it safely out of the drug game.

2

"A rapper turned trapper can't morph into us / But a trapper turned rapper can morph into Puff..."

Again, on "If You Know You Know," King Push wears his former life as a street hustler like a badge of honor. He states that drug dealers who become rappers (like himself) can become rap moguls like Diddy. Case in point: Pusha T is the President of G.O.O.D. Music. Eghck!

3

"The only kingpin who ain't sinkin' / Chess moves, that means my third eye ain't blinkin'..."

On the guitar-sampled banger "The Games We Play," Pusha T boasts about his validity in the streets and in the rap game. The Virginia rhymer also brags that he's the realest in rapper since the LOX and N.W.A. Pusha T spits the hardest bars on this fantastic track.

4

"Never trust a bitch who finds love in a camera / She will fuck you, then turn around and fuck a janitor..."

As the title suggests, "Hard Piano" features a hard piano groove and a grinding beat. On the song, Pusha T drops some abrasive lyrics on conniving women, art investments and the current state of the rap game. On this verse, Push drops a line about women clout cashing on Instagram.

5

N---- wrist for wrist let's have a glow off / Fuck it, brick for brick let's have a blow off..."

The bass-heavy "Come Back Baby" is another street banger with King Push spitting fishscale-pure lyrics about drugs and money. He raps some of the best drug metaphors money can buy on this song.

6

Lit my pastor, build out buildings / Rapped on classics, I been brilliant / Now we blend in, we chameleons..."

There are so many great lyrics on "Come Back Baby," but we had to mention this line. Again, Pusha T metaphorically rhymes about his days as a street hustler. On this verse, he pretty much is saying that he went from hustling in the streets to hustling the rap game. We in the building!

7

"Know that it's no price tag when I wage war / It's no more to pray for, n***as get preyed on..."

"Santeria" is Pusha T's emotional song as it relates to the death of his late road manager De'Von "Day-Day" Pickett who was stabbed to death at a Philadelphia bar in February 2015. On the song, he spits fire and brimstone at Day-Day's killer and anyone else who even tries to cross him.

8

"Devil on the other, 'What would Meek do?' / Pop a wheelie, tell the judge to Akinyele..."

A major standout track on DAYTONA, "What Would Meek Do?" boasts a slew of rap quotables. Pusha T and Kanye West spit defiant bars over a stirring beat. On the song, King Push and 'Ye respond to their critics who are talking shit. On this verse, Pusha T offers his opinion on Meek Mill's case. For the Akinyele reference, click here.

9

"Seven pill nights, who know what that feel like? / No more hidin' the scars, I show 'em like Seal, right?..."

We couldn't leave out Kanye West's verse on "What Would Meek Do?" - it's a big highlight on the album. Yeezy spits a few subtle lines about the backlash he received from his TMZ Live interview. He talks about wearing the MAGA hat and his opium addiction, among other things. On this verse, 'Ye says he's revealing his internal scars like Seal shows his facial scars. And look how we responded.

10

"How could you ever right these wrongs / When you don't even write your songs?..."

Another major standout on DAYTONA, "Infrared" is a haunting diss song aimed directly at Drake. The two rhymers had a lyrical tit-for-tat a few years back, trading shots at each other with Push dropping "Exodus 23:1" and Drake responding with "Two Birds, One Stone." On "Infrared," The Virginia rapper admonishes rappers who spit fictional rhymes. On this verse, King Push accuses Drizzy of using ghostwriters to pen his hits.

11

"S**t I've been exposed, I took the crack and built 'The Wire' / Now who do you admire?..."

Again, on "Infrared," King Push sends a direct shot at Drake who questioned his street credibility on "Two Birds, One Stone." If you look at Pusha T's rap career/discography, he has successfully rapped about the drug game without being monotonous. Yes, King Push delivered The Wire to rap music.