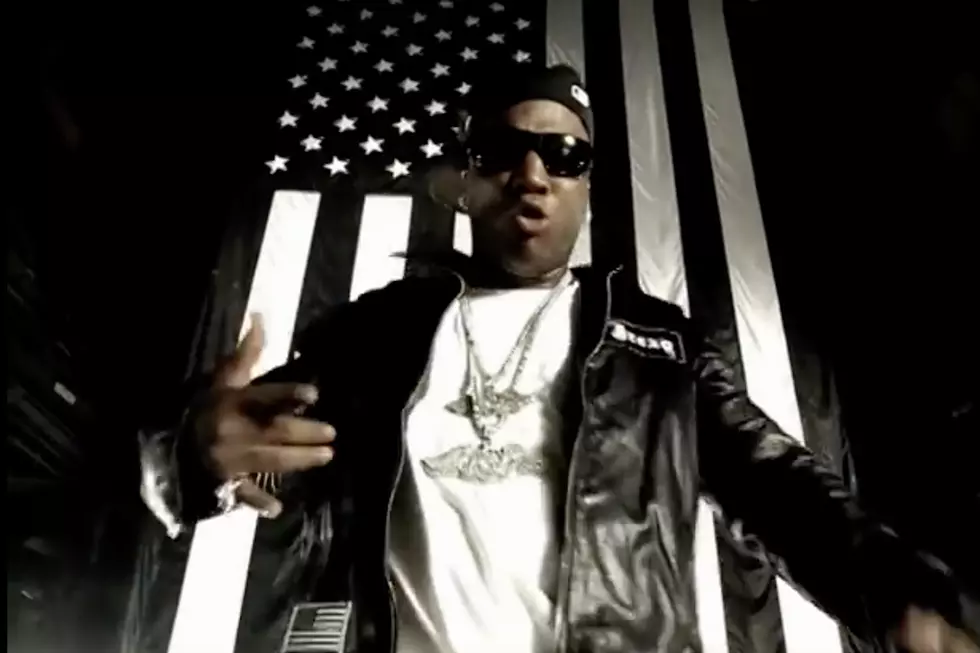 Jeezy Is the Man of the People in 'Put On' Video With Kanye West
YouTube
In 2008, Jeezy dropped his third studio album, The Recession on Def Jam. The Atlanta rhymer's project, which is considered a classic among rap purists, boasts several memorable tracks including, "Put On" featuring Kanye West.
Produced by Drumma Boy, the anthemic song features Snowman and Yeezy saluting their native hometowns Atlanta and Chicago, respectively. "I put on for my city, on-on for my city / I put on for my city, on-on for my city / Put on (Eastside) put on (Southside) / Put on (Westside) put on, let's go," Jeezy raps on the chorus.
The song was also a pivotal moment for West as well. It marked the rapper-producer's return to the rap game after the death of his mother, Dr. Donda West, in late 2007 due to cosmetic surgery complications. On his verse, West somberly pays tribute to his late mother and vows to put Chicago on the map in her honor. It's also the first time he used Auto-Tune on a song before utilizing it fully on his experimental album, 808s & Heartbreak, which also came out in 2008.
Watch Jeezy's "Put On" Video Feat. Kanye West
For the video, Jeezy enlisted Gil Green to direct. The politically-charged clip features the ATL rhymer repping for his people along with images of people dealing with the recession, which affected many lower-income black families economically in the South. In other scenes, Jeezy is rapping his fiery lyrics behind a huge silver and black U.S. flag, as he takes a stand against the high unemployment rate, foreclosures and inflated gas prices.
West also makes a cameo in the clip, rocking a black-and-charcoal gray military scarf as he delivers the poignant line, "I got the money and the fame and that don't mean s--- / I got the Jesus on the chain, man, that don't mean s---."
Model-actress Amber Rose makes her first high-profile appearance in the video as well. Rumor has it that West first met Rose on the set and soon after that they started dating.
"Put On" received an added boost with the remix featuring JAY-Z. On the song, the rap mogul vows to rep Brooklyn and hip-hop to the fulllest. "I put Marcy on the map / I put Brooklyn on my back / I put [Fabolous] back on the charts / I put Biggie in my raps / I put Nas with Def Jam / I let Diddy do my tracks / I put on for my city, that's a motherf---ing fact," he raps.
Jeezy's "Put On" was nominated for Best Rap Performance by a Duo or Group at the 2009 Grammy Awards but lost to JAY-Z and T.I.'s "Swagga Like Us" featuring Kanye West and Lil Wayne.
Watch Jeezy's "Put On" Video (Remix) Feat. JAY-Z
15 Rappers Who Discovered Other Legendary Rappers