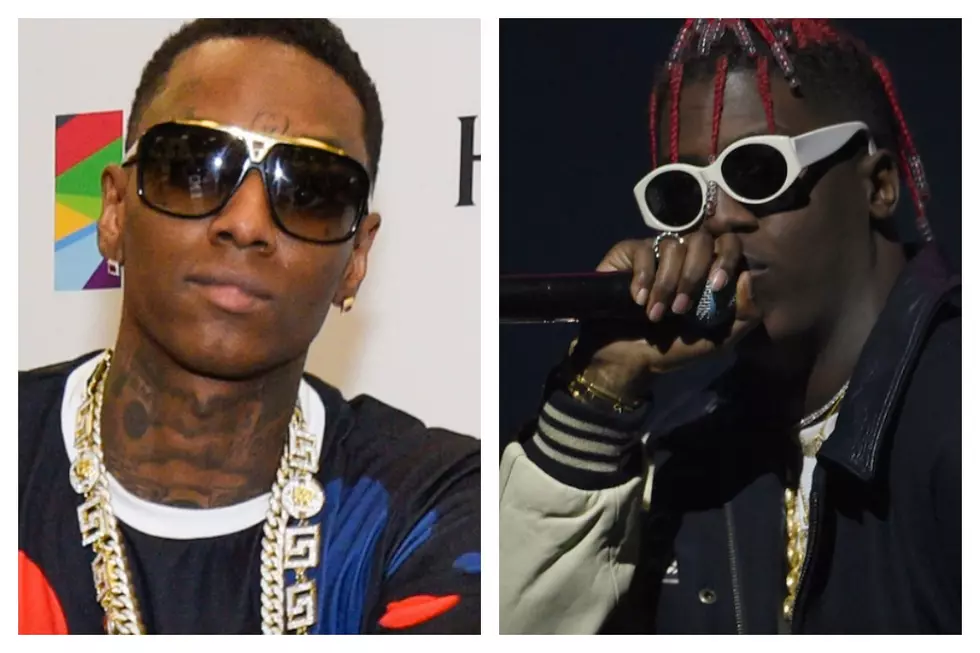 Soulja Boy Squashes Beef With Lil Yachty: 'You Know I Love You'
Noel Vasquez/Bryan Bedder, Getty Images
The whole thing apparently started over model India Love. Soulja posted an image on his Instagram account of what appears to be a text conversation he had with Lil Boat. Yachty wanted Soulja to take down a photo of himself hugging on India "Love" Westbrooks.
"Yo G, why you whylin on the gram," Yachty supposedly asked him. "India my shorty. I f— wit u bro u know dat but u gotta take dat down."
Soulja Boy replied, saying that India and Yachty don't even know each other and that he was dating her first. The back and forth eventually led to Yachty to aiming a live diss song at Souja Boy on Saturday while performing at a concert in San Antonio. Yachty rapped, "F— Soulja Boy. F—in' on yo bitch, I know that you mad / It's Lil Boat b----, I'm so glad." 
But now, all appears to be well. Or at least on the way to getting there. In a couple of Instagram videos that have since been deleted, Soulja Boy admitted that he was tripping because he needed to smoke.
"Lil Yachty, you know I love you," SB said in the video. "I just need to smoke a blunt. You know how big Soulja start tweaking when he ain't got no weed. I feel like everything was just exaggerated."
He continues, "I feel like n----s keep trying me, man. I'm not no bitch. Lil Yachty texted me telling me to take a picture down of India Love. I've been with this girl for years and she ain't even met this n----. Then Sizzle start dissing me. N---- for what? But right now, I ain't got no beef with nobody. I done shot n----s before. Everybody that's beefing with me, Lil Yachty, let's squash that s--- bro. The Lil Yachty beef over."
This is good news because Lil Boat clearly admires Soulja, naming him as one of his top five rappers ever. Hopefully, this is truly the end of it. Watch SB's videos below.
20 Rappers & Singers Social Media Loves To Hate