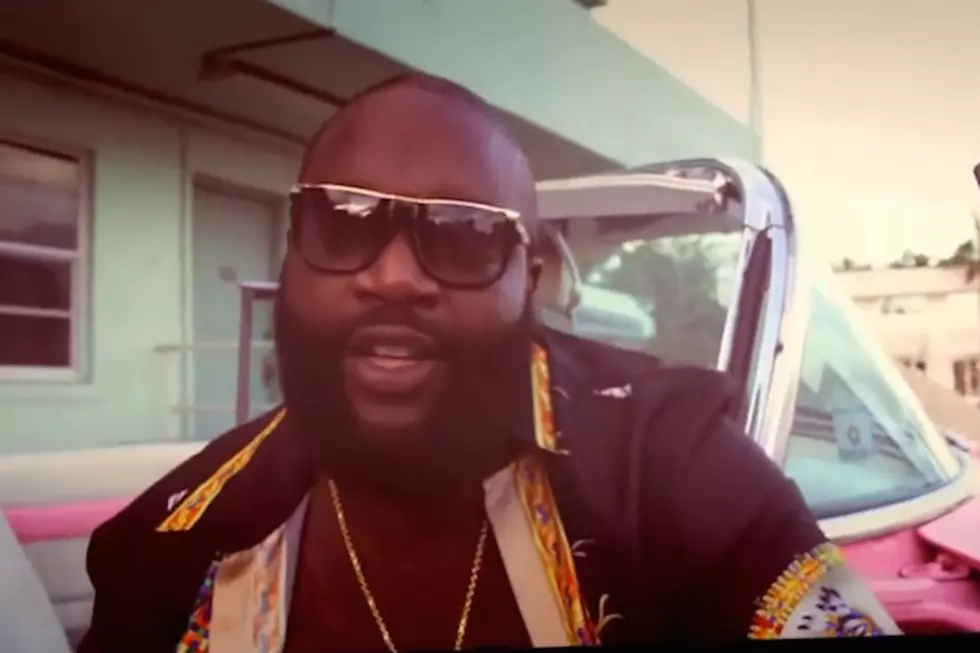 Rick Ross Debuts 'Elvis Presley BLVD' Video, Announces 'Hood Billionaire' LP
YouTube
Rick Ross cruises the streets of Memphis in his new video for his latest single, 'Elvis Presley BLVD.'
The NSFW clip features Rozay rapping drug-filled tales while two bandits who dress like Elvis impersonators commit bank robberies while on the road.
"I'm ridin' down Elvis Presley boulevard," bellows Ross as he drives down the highway in a pink Cadillac. "I got Priscilla, I got Priscilla / I got vanilla, boy, I got vanilla," he later declares.
The video also stars fellow rapper and Memphis native Project Pat, who introduces viewers to some of the street toughies that inhabit the neighborhood.
The visual also informs us that Ross' seventh album, 'Hood Billionaire,' is due to hit stores on Black Friday (Nov. 28). This will be the Miami rapper's second album in 2014. Back in March, Rozay dropped 'Mastermind,' which debuted at No. 1 on the Billboard 200 chart.
Black Friday is shaping up to be a huge music release day. Along with Rozay's album, Nicki Minaj's third effort, 'The Pinkprint,' is scheduled to drop on the same day. Not to mention, Eminem's greatest-hits album, 'Shady XV,' will be in stores as well.
Watch Rick Ross drive like a boss through Memphis in his edgy street video above.