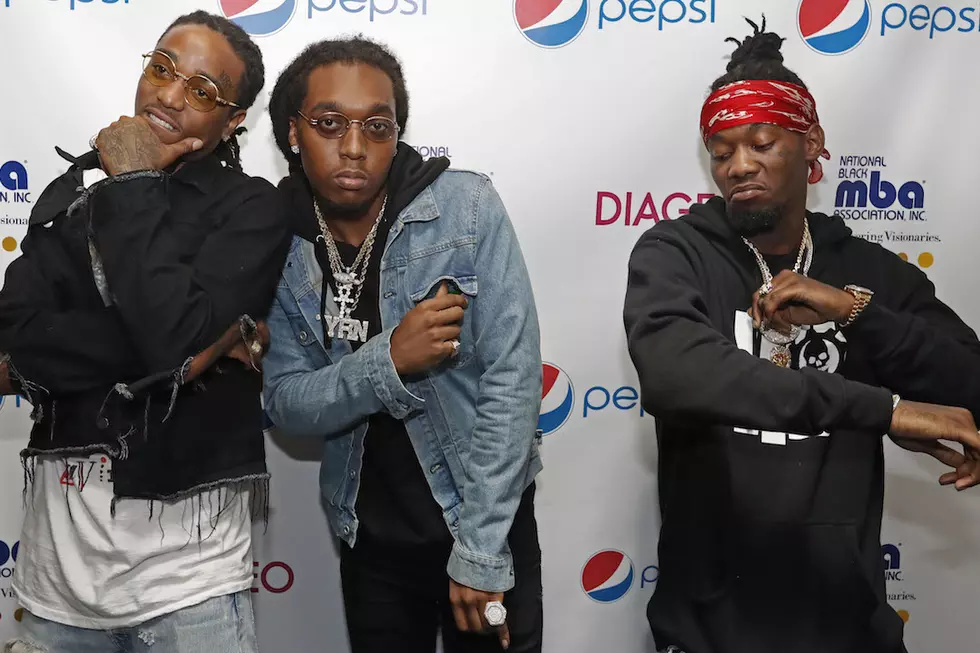 Migos Give Atlanta Falcons a Pre-Super Bowl Pep Talk, Gifts Julio Jones 'Culture'-Inspired Cleats
Tyler Kaufman, Getty Images
Although the Migos won't be performing at the Super Bowl LI halftime show, much to the chagrin of their fans, the trio are cheering on their hometown team Atlanta Falcons who are playing against the 4-time Super Bowl champions New England Patriots.
In a Sports Illustrated video interview above, Migos deliver a pre-game pep talk to their Falcons who they believe will bring home the "golden egg" (aka the Vince Lombardi Trophy).
This one right here is for all the marbles," said Quavo. "And fight for your brothers. "You need your brothers. Love your brothers. Take them to the top. This is the time that you need everybody to play their part and play their role and do their job"
"We gonna go to the house," said Offset with Takeoff adding, "It's a team. Y'all didn't get here with one player."
True indeed. Let's hope the Falcons heard their message and are pumped up to play the game.
Meanwhile,Falcons wide receiver Julio Jones was gifted with a custom pair of cleats featuring the artwork inspired by Migos' Culture album and Donald Glover's Golden Globe-winning FX show Atlanta. The footwear are in red and black and feature the NFC Champion's slogan, Rise Up.
Of course, fellow Atlanta rappers T.I., Big Boi and Gucci Mane have been cheering on the Falcons to win Super Bowl LI on Twitter. Peep their tweets below.
50 Inspirational Quotes From Your Favorite Rappers