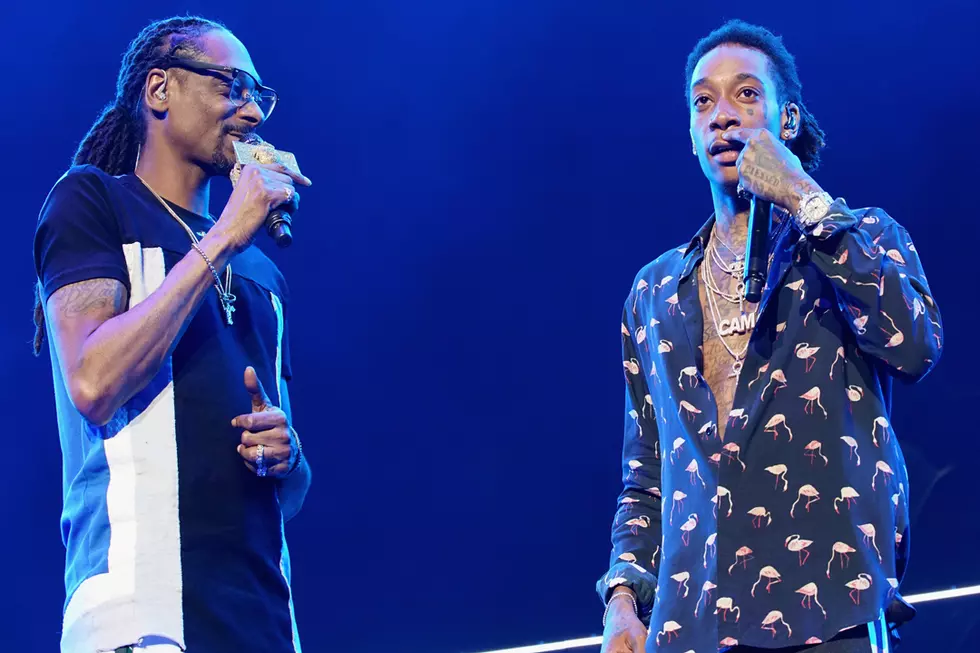 10 Rappers From the '90s Who You Can See in Today's Artists
Bennett Raglin,Getty Images
In today's hip-hop climate, it seems the divide between the generation of rappers couldn't be wider. Often, an older rapper will diss a younger one or vice verse and it usually has to do with style, or musical approach. Veteran rappers like Pete Rock have been critical of new rappers not paying homage to older artists, who helped pave the way in hip-hop.
But conversely, there's a good number of the younger generation rappers who've praised the veteran artists and admitted they've been influenced by them, including Kendrick Lamar and Anderson .Paak, who've both been vocal about paying respect to rappers who came before them, and call upon their influences in their own work.
To that end, below we've compiled a list of 10 rappers from this generation whose works has been inspired by rappers from the 1990s.
NOW: EarthGang

THEN: Outkast

Out of the many younger rappers who've hit the scene, it seems like the Atlanta duo EarthGang has been inspired by Outkast the most — outside of possibly Big K.R.I.T, who seems to have pulled inspiration from the entire Dungeon Family, particularly Goodie Mob.

Of course, you can point to EarthGang and Outkast both being from The A and having two members who spit intelligent rhymes to make a comparison, but that would be far too easy.

Arguably, the part of Big Boi and 3 Stacks that can been seen the most in Johnny Venus and Doctur Dot is a willingness to challenge hip-hop norms. Also like Outkast, EarthGang seems extremely comfortable existing in that same space of making left-of-center music that's still relatable.

NOW: Kendrick Lamar

THEN: Nas

While Kendrick has cited Tupac, Eminem, Lil Wayne and JAY-Z has huge influences on his style, one doesn't have to look any further than Kendrick's album good kid m.A.A.d city and Nas' Illmatic to see that K Dot has studied the Queensbridge legend a great deal.

Illmatic was a young man's documentation of both the harshness and beauty that he was surrounded by, while at the same time trying his hardest not to succumb to the temptations that took some of his peers under.

The same could be said about the concept of good kid m.A.A.d city, since Kendrick also shared his experiences of trying to transcend his difficult surroundings and not be swallowed up by them.

NOW: Wiz Khalifa

THEN: Snoop Dogg

It's safe to say that a lot of folks saw some of The Dogg Father in Wiz as soon as he hit the scene. The laid back personality, the tall, lanky frame and of course making weed part of his brand makes him extremely similar to Snoop.

Whether he planned it or not, the "Black and Yellow" spitter followed Snoop's blueprint of appealing to both rap fans and non-rap fans alike, which is a rare and very profitable space to be in.


NOW: Rapsody

THEN: Lauryn Hill

It's easy to detect that Rapsody was influenced by Lauryn's poetry and spoken word approach to songwriting. It's also clear that she's always had a desire to not just stand lyrically toe to toe with the guys but to take them out.

The Fugee member's slick wordplay and soulfulness can also be heard in Rapsody's music, especially early on. In fact, the North Carolina rhymer said she tried to channel Lauryn while she made her debut album The Idea of Beautiful.

"Direction-wise, I'm a big Lauryn Hill fan," she told HipHopDX. "I'm heavily influenced just by what she represents and the type of music she puts out, so we wanted the feeling of it. Not necessarily the sound but the feeling of it to be like if Lauryn made an album, a rap album that would be like after The Fugees and with [The Miseducation of Lauryn Hill], like if she rapped the whole thing."

NOW: Flatbush Zombies

THEN: Gravediggaz

It's hard not to think of the Gravediggaz when you see the Flatbush Zombies' Meechy Darko, Erick Arck Elliott and Zombie Juice, mainly because of the dark imagery, the dope music and repping the horrorcore sub-genre.

For the most part, the Zombies have followed in the tradition of the Gravediggaz by combining unique conceptual themes in heavy metal songs. However, the cuts are still unmistakably hip-hop, which isn't an easy thing to pull of.


NOW: Odd Future

THEN: Wu-Tang Clan

Any group that came out as a large unit with individual acts owes something to Wu-Tang, who were the first rappers to really brand themselves as a rap collective.

Although the two acts are vastly different in terms of sound and style, the Odd Future members all had colorful characters, like the Shaolin bunch, and each brought different ingredients to the pot.

The personalities of the Wu and Odd Future members were just as important to their success as their music was. But it's too bad the Cali crew couldn't stick together like Wu-Tang, who's now been a group for nearly three decades.

NOW: Nicki Minaj

THEN: Lil' Kim

Nicki Minaj isn't considered a newer generation rapper, but it's still worth noting how much she's pulled from Kim— even if they're beefing.

No matter how much Barbz has accomplished at this point in her career, the Brooklyn rapper's fans will always remind her who combined raunch with lyrical skill first.

Of course, the chatter first began when Nicki re-made Kim's Hardcore cover when she was promoting her 2007 mixtape Playtime is Over.

At the same time, however, the Young Money spitter has created a style all her own, and now finds herself being mimicked by a new generation of rappers.


NOW: Nick Grant

THEN: Common

You may be able to hear a little Nas and some of the other East Coast greats in South Carolina spitter Nick Grant, but you can notably hear some early Common as well, particularly around the Chicago rhymer's Resurrection days.

Also like Com, the Return of the Cool creator is able to deliver thought-provoking metaphors that you don't see coming but are still able to fully grasp.

NOW: Dave East

THEN: LL Cool J

Most probably think of LL as more of an 80s rapper, but he actually has more albums that were released in the 90s.

Either way, the legendary spitter was and is a huge sex-symbol— rap's first in fact — but he was still able to impress the fellas with sharp bars.

Dave East can be put into that category as well, because although it seems like he's not trying to be the sex-symbol type, the ladies haven't given him much choice. At the same time, however, fellas flock to his shows and support his movement in large numbers, which could mean huge amounts of success for the Harlem native.

NOW: Migos

THEN: Bone Thugsn-N-Harmony

The similarities between Migos and the Cleveland natives were a topic of discussion in January when Offset said the "Bad & Boujee" creators were the biggest group of all time.

It's something that Bizzy Bone took offense too and reminded people that Bones have been rhyming in triplets since the early 90s.

Sure, one could argue that Migos' rhyme style — or the Versace Flow as it's now called — was influenced by Memphis rappers like DJ Paul and Lord Infamous, but not as much as it was by Bizzy, Krayzie, Wish, Layzie and Flesh-n-Bone.