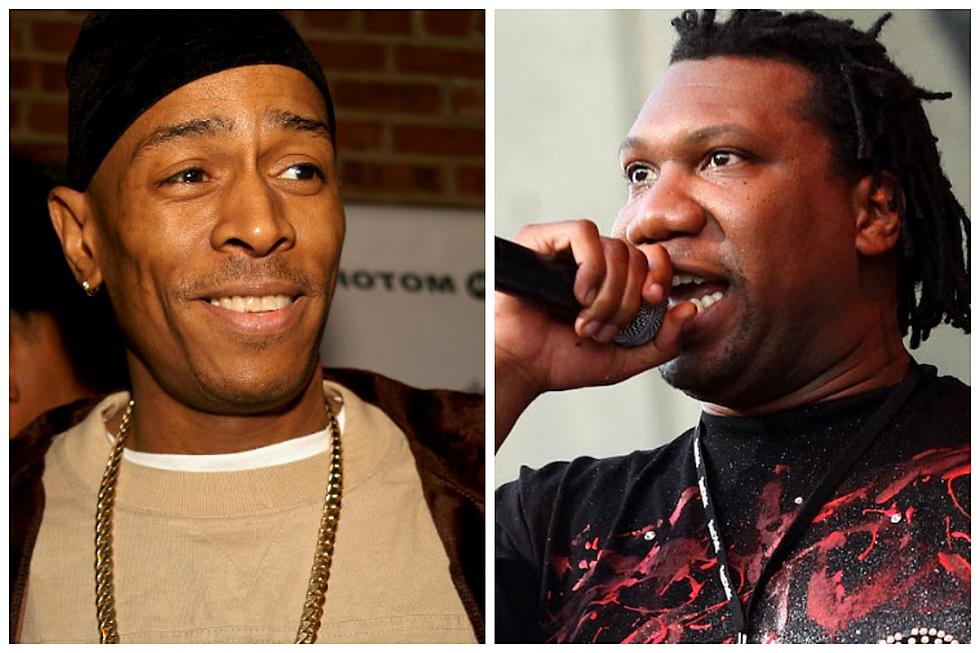 MC Shan Blasts KRS-One's Defense of Afrika Bambaataa: 'You Got Something to Hide'
Gregorio Binuya/Astrid Stawiarz, Getty Images
In a recent appearance on Murder Master Music Show, MC Shan said that he doesn't respect KRS-One for his defense of Afrika Bamabaataa following allegations that he sexual molested several boys. Shan has previously blasted KRS-One for his support of Bambaataa, revealing his own history of sexual abuse.
When news of the sexual molestation allegations first surfaced, KRS-One staunchly defended the rapper. Then, in a July interview, he doubled down on his misguided loyalty, calling the claims of several men who said they'd been sexually assaulted by Bambaataa "accusations and gossip." He went on to say that the "Planet Rock" creator invented hip-hop, and therefore should be untouchable.
"When you're talking about Afrika Bambaataa, first of all, you're talking about the person who invented hip-hop," KRS-One said. "Not participated in it. There was no hip-hop before Afrika Bambaataa. Let's start there. So anyone who has a problem with Afrika Bambaataa should quit hip-hop."
Now, MC Shan is speaking out against KRS-One once more, saying he can't respect him for his defense of Bambaataa, and going as far as to suggest maybe the veteran rapper is trying to hide something himself.
"I don't even listen to what that man say no more because I don't respect that man," Shan said about Bambaataa during a recent appearance on the Murder Master Music Show. "I don't care what you did for Hip Hop and when I used to see 'Bam, he used to embrace me like, 'Shan, Shan Shan,' but you can't even talk to me right now. You can't say nothing to me. I don't care what you did for Hip Hop, none of that. And I keep saying, KRS-One you got something to hide, my n----! Because for you to keep standing up somebody that did what they did and you still standing up for this man, you got something to hide and you don't want it to come out."
Shan later supported Hassan Campbell, known as Poppy, for coming out against Bambaataa. Poppy also received support from Furious 5 member Raheim for speaking out.
"That bulls--- that KRS was talking about with regards to people need to get out of Hip Hop if they don't support Bambaataa, first of all, one thing has absolutely nothing to do with the other," Rahiem said. "Bambaataa's contribution to the Hip Hop culture can never be diminished and no one was ever questioned his credibility with regards to Hip Hop, people were questioning his moral integrity. Once you have sexual improprieties with minors your morals should come into question. So whatever KRS-One was saying that wasn't consistent with how sensitive he should have handled it on the victim's behalf, I was absolutely taken aback by that. The only conclusion I can possibly derive from all of that KRS said is he must be a homosexual, straight up and maybe Bambaataa touched him, too."
Listen to the full interview below.
25 Historic Moments in Run-DMC's Career