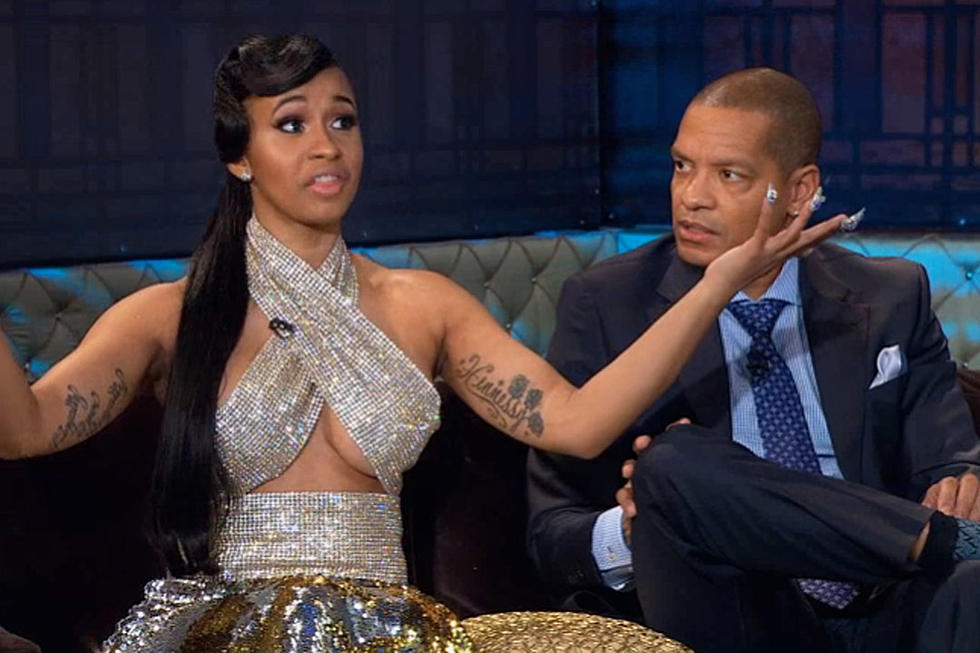 'Love & Hip Hop' Season 6 Reunion Part 2 Recap
VH1
After finding out that Amina Buddafly is also pregnant with Peter Gunz's baby in the first part of the Love & Hip Hop season 6 reunion, everyone -- from Tara Wallace to fans in the crowd -- was shocked. But Amina explained that she and Peter were together one night, one thing led to another, and now she's carrying his child again. Despite her straightforward explanation, Tara accused Amina of doing this just to reclaim the spotlight as well as ruining her relationship with Peter. This blows everyone's mind. Despite the fact Tara and Peter have been on and off for years, she never became his wife and continued a relationship with him--even though she's the mistress.
While the two ladies argued about this situation, Cardi B, this season's sweetheart, placed the blame on Peter. While defending the fact that men who she's been with have paid her bills, she called Peter out for creeping on both Tara and Amina. She claimed that he was selfish for just wanting to be with them and left them both pregnant -- more than once. While Peter called what she was doing "hoeing," she wasn't afraid to blast him for playing two different women and causing them more pain than pleasure.
Cardi also got some limelight for being one of the more memorable parts of the sixth season. From her ridiculous phrases to that indistinguishable accent, the episode recapped all of Cardi's big moments.
DJ Self was then put into the hot seat for playing both his girlfriend Yorma and frequent business associate Rose. Yorma was clearly still mad at Self for playing her, but we discovered that the two have still been hooking up despite the breakup. Meanwhile Rose also admitted that she has been sleeping with Self, too. Although Rose claims that Yorma is nobody to Self, Yorma clapped back by revealing that there's a third girl in the mix who Self has been dealing with.
Perhaps the most heartbreaking part of the episode was Mendeecees Harris' absence because he's serving his prison sentence. Since he had to head to prison right before the reunion was to take place, cameras followed Mendeecees, Yandy Smith and their family during his last moments before jail. The trip not only showed tender moments between him and his family, but we even see a moment where Mendeecees breaks down on the ride to jail. Host Nina Parker also surprised Yandy with a special video message from her husband, which she accepted graciously.
Unfortunately it wasn't all smooth on that front. Samantha, the mother of Lil Mendeecees, and her mom Kim were onstage along with Mendeecees' mom, Judy. Once everyone started discussing this, arguments flared about whether or not the children should see Mendeecees while he's in prison. Although Yandy and Judy believe they should, Samantha and Kim aren't. Even though Remy and Papoose try to give their input since they went through the same experience, Samantha and Kim are still hesitant about it.
The episode ended with a Remy's performance of "Hands Down" as well as Rich Dollaz's special announcement. He's heading back to Los Angeles to get his ex, Moniece Slaughter, back. So I guess that means we'll be seeing Rich on the new season of Love & Hip Hop Hollywood.
With this chapter of Love & Hip Hop done, come back next week to find out what the cast of Love & Hip Hop Atlanta. And even though Joseline Hernandez and Steve J were in Los Angeles with their own spin-off, the feisty couple along with the rest of the stars will be causing a ruckus in the ATL starting next Monday (April 4).